Illinois Counties and Historical Facts
Illinois County records vary widely from county to county in both quality and quantity. Some have been carefully preserved while others have been much abused and neglected. Some Illinois records have simply disappeared.
For genealogists doing research in Illinois there is no effective replace for an on-site search of county courthouse records.
Illinois County Records
The circuit court clerk's office holds administrations, probate documents, and wills. The recorder of deeds holds leases, deeds, and mortgages.
Researchers submitting requests in writing should use the county officer title and the heading "County Courthouse," along with the address.
Researchers should note that many Illinois counties were divided into other counties. Therefore, some counties may have deed records available from their parent counties.
Although, most deed records begin with the date that the present county was founded.
The records from the earliest courts should be consulted for information on counties from the territorial period.
Those records are: St. Clair: Court of the District of Cahokia; Randolph: French Provincial Council; Madison, Gallatin, and Johnson: court of common pleas; Edwards, White, Jackson, Pope, Monroe, Crawford, and Bond: county court; Franklin, Union and Washington: justices' court.
The early records from the counties of Franklin, Cook, and Jackson no longer exist. Fires destroyed them.
See also a list of links to county and county seat government run websites.
List of Illinois Extinct Counties
Kentucky has counties that no longer exist because they were discontinued, renamed or merged with another county.
A lot of these counties were established and disbanded within the 19th century; county borders have changed very little since 1900.
These are important for genealogy research purposes. Pay attention where the courthouse records went to if the county was eliminated or joined with some other county.
See the History of Illinois Counties for more details.
List of Illinois Counties with Burned Courthouses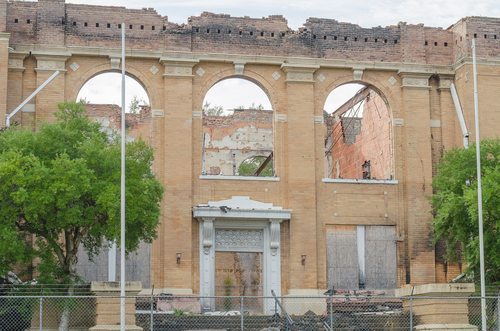 The damage to courthouses greatly has a bearing on genealogists in every way.
Not only are these historic structures torn from our lifetimes, so are the records they housed: marriage, wills, probate, land records, and others.
Once destroyed they're lost forever. Although they have been placed on mircofilm, computers and film burn too.
However, not all records were damaged or lost in some counties.
Adams County Courthouse– Some records lost or damaged in a fire on December 9, 1835. Second courthouse was destroyed by fire January 9, 1875. Third Courthouse was damaged beyond repair by a tornado that roared thru Quincy April 12, 1945.
Brown County Courthouse – Some records lost or damaged in a fire on March 8, 1939
Clark County Courthouse – Some records lost or damaged in a fire on December 30, 1902
Cook County Courthouse – Total record loss (1831–1871) due to a Fire on October 9, 1871
Crawford County Courthouse – Fire on March 28, 1999. Some records lost or damaged.
Cumberland County Courthouse – Total record loss (1843–1885) due to a Fire on November 5, 1885
Franklin County Courthouse – Most records lost (1818–1843) due to a fire on November 18, 1843
Hardin County Courthouse – Most records lost (1839–1884) due to a fire on May 19, 1884
Iroquois County Courthouse – Some records lost or damaged (18 years) due to a Fire on October 16, 1866
Jackson County Courthouse – Some records lost or damaged in a fire on June 10, 1843
Kane County Courthouse – Some records lost or damaged in a fire in 1843. Volumes saved; 5,000 court files burned in a Fire on March 13, 1890
Logan County Courthouse – Total record loss (1839–1857) due to a Fire on April 15, 1857
McLean County Courthouse – Some records lost or damaged in a fire on June 19, 1900
Morgan County Courthouse – Most records lost (1823–1827) due to a Fire on December 6, 1827
Moultrie County Courthouse – Most records lost (1843–1864) due to a Fire on November 25, 1864
Pike County Courthouse – Some records lost or damaged in a fire in 1831
Pulaski County Courthouse – Most records lost in a Fire on November 22, 1879. Some records damaged by water in a 1837 Flood.
Shelby County Courthouse – Some records lost or damaged in a fire on November 17, 1894
Vermilion County Courthouse – Some records lost or damaged in a fire on 1872
Wabash County Courthouse – Most records lost (1824–1857) due to a Fire on April 5, 1857
Wayne County Courthouse – Total record loss (1819–1886) due to a fire on November 17, 1886
Williamson County Courthouse – Some records lost or damaged in a fire on May 30, 1875
List of Illinois Counties
| County | Date Formed | Parent County | County Seat |
| --- | --- | --- | --- |
| Adams | 1825 | Pike County | Quincy |
| Alexander | 1819 | Union County | Cairo |
| Bond | 1817 | Crawford County, Edwards County, and Madison County | Greenville |
| Boone | 1837 | Winnebago County | Belvidere |
| Brown | 1839 | Schuyler County | Mount Sterling |
| Bureau | 1837 | Putnam County | Princeton |
| Calhoun | 1825 | Pike County | Hardin |
| Carroll | 1839 | Jo Daviess | Mount Carroll |
| Cass | 1837 | Morgan County | Virginia |
| Champaign | 1833 | Vermilion County | Urbana |
| Christian | 1839 | Sangamon County | Taylorville |
| Clinton | 1819 | Crawford County | Carlyle |
| Clark | 1824 | Wayne, Lawrence, Fayette, and Crawford County | Marshall |
| Clay | 1824 | Washington, Bond, and Fayette County | Louisville |
| Coles | 1830 | Clark and Edgar County | Charleston |
| Cook | 1831 | Putnam County | Chicago |
| Crawford | 1816 | Edwards County | Robinson |
| Cumberland | 1843 | Coles County | Toledo |
| De Kalb | 1837 | Kane County | Sycamore |
| Douglas | 1839 | Macon and McLean County | Tuscola |
| DeWitt | 1859 | Coles County | Clinton |
| DuPage | 1839 | Cook County | Wheaton |
| Edgar | 1823 | Clark County | Paris |
| Edwards | 1814 | Gallatin County and Madison County | Albion |
| Effingham | 1831 | Fayette and Crawford County | Effingham |
| Fayette | 1821 | Bond, Wayne, Clark, Jefferson, and Crawford County | Vandalia |
| Ford | 1859 | Vermilion County | Paxton |
| Franklin | 1818 | White County and Gallatin County | Benton |
| Fulton | 1823 | Pike County | Lewistown |
| Gallatin | 1812 | Randolph County | Shawneetown |
| Grundy | 1821 | Madison County | Morris |
| Greene | 1841 | LaSalle County | Carrollton |
| Hamilton | 1821 | White County | McLeansboro |
| Hancock | 1825 | Adams County | Carthage |
| Hardin | 1839 | Pope County | Elizabethtown |
| Henry | 1841 | Warren County | Oquawka |
| Henderson | 1825 | Fulton County | Cambridge |
| Iroquois | 1833 | Vermilion County | Watseka |
| Jackson | 1816 | Randolph County and Johnson County | Murphysboro |
| Jasper | 1831 | Clay and Crawford County | Newton |
| Jo Daviess | 1819 | Edwards and White County | Galena |
| Jefferson | 1839 | Greene County | Mount Vernon |
| Jersey | 1827 | Henry, Mercer, and Putnam County | Jerseyville |
| Johnson | 1812 | Randolph County | Vienna |
| Kendall | 1836 | LaSalle County | Geneva |
| Kankakee | 1853 | Iroquois and Will County | Kankakee |
| Knox | 1841 | LaSalle and Kane County | Yorkville |
| Kane | 1825 | Fulton County | Galesburg |
| Lake | 1839 | McHenry County | Waukegan |
| Lawrence | 1831 | Putnam and Tazewell County | Lawrenceville |
| Lee | 1821 | Crawford and Edwards County | Dixon |
| Livingston | 1839 | Ogle County | Pontiac |
| Logan | 1837 | LaSalle and McLean County | Lincoln |
| La Salle | 1839 | Sangamon County | Ottawa |
| Madison | 1829 | Shelby County | Edwardsville |
| McDonough | 1829 | Greene County | Macomb |
| McHenry | 1812 | St. Clair County and Randolph County | Woodstock |
| McLean | 1823 | Fayette and Jefferson County | Bloomington |
| Macon | 1839 | Putnam County | Decatur |
| Menard | 1841 | Tazewell and Menard County | Petersburg |
| Mercer | 1843 | Pope and Johnson County | Aledo |
| Morgan | 1826 | Schuyler County | Jacksonville |
| Moultrie | 1836 | Cook and LaSalle County | Sullivan |
| Macoupin | 1830 | Tazewell County | Carlinville |
| Marion | 1839 | Sangamon County | Salem |
| Monroe | 1825 | Schuyler County | Waterloo |
| Massac | 1816 | Randolph County and St. Clair County | Metropolis |
| Marshall | 1821 | Bond and Madison County | Lacon |
| Mason | 1823 | Sangamon County | Havana |
| Montgomery | 1843 | Shelby and Macon County | Hillsboro |
| Ogle | 1836 | Jo Daviess | Oregon |
| Peoria | 1825 | Fulton County | Peoria |
| Perry | 1827 | Randolph and Jackson County | Pinckneyville |
| Piatt | 1841 | DeWitt and Macon County | Monticello |
| Pike | 1821 | Madison, Bond, and Clark County | Pittsfield |
| Pope | 1816 | Gallatin and Johnson County | Golconda |
| Pulaski | 1843 | Alexander and Johnson County | Mound City |
| Putnam | 1825 | Fulton County | Hennepin |
| Randolph | 1795 | St. Clair County | Chester |
| Richland | 1841 | Clay and Lawrence County | Olney |
| Rock Island | 1831 | Jo Daviess County | Rock Island |
| Saline | 1847 | Gallatin County | Harrisburg |
| Sangamon | 1821 | Madison and Bond County | Springfield |
| St. Clair | 1790 | original two counties | Belleville |
| Schuyler | 1825 | Pike and Fulton Counties | Rushville |
| Scott | 1839 | Morgan County | Winchester |
| Shelby | 1827 | Fayette County | Shelbyville |
| Stark | 1839 | Knox and Putnam County | Toulon |
| Stephenson | 1837 | Jo Daviess and Winnebago County | Freeport |
| Tazewell | 1827 | Sangamon County | Pekin |
| Union | 1818 | Johnson County | Jonesboro |
| Vermilion | 1826 | Edgar County | Danville |
| Wabash | 1824 | Edwards County | Mount Carmel |
| Warren | 1825 | Schuyler County | Monmouth |
| Washington | 1818 | St. Clair County | Nashville |
| Wayne | 1819 | Edwards County | Fairfield |
| Will | 1815 | Gallatin County | Joliet |
| Winnebago | 1836 | Jo Daviess and Henry County | Rockford |
| Woodford | 1836 | Cook and Iroquois County | Eureka |
| Whiteside | 1839 | Franklin County | Morrison |
| Williamson | 1836 | Jo Daviess | Marion |
| White | 1841 | Tazewell and McLean County | Carmi |