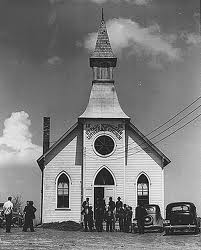 Illinois Church records are a abundant resource for the genealogical and historical researcher. In many parts of Illinois, church records predate civil records. They therefore record vital occasions, giving birth, marriage, and death details that may often be lost. Besides offering names and dates, church records may reveal relationships between people and show a family's position in the community. In addition, entries of a personal nature are not unheard of, and these could offer a peek into an ancestor's character or habits.
Prior to Illinois County and city governments gathered vital records, many people noted important dates, events, and names in their family Bible. Family Bibles are helpful research tools. Although the dates can't be guaranteed, Family Bibles are a tangible link with past generations.
Although there were several Catholic missionaries in Illinois during its early development, the Catholic Church had almost vanished from the area by the Revolutionary War era. However, several English-speaking Catholics came to the state later on, reestablishing the Catholic presence in Illinois. Nevertheless, as of 1850, the largest religious denomination in the area was the Methodist Church, not the Catholic Church. Other congregations that followed included Baptists, Presbyterians, Roman Catholics, Lutherans, Congregationalists.
By 1835 there were some Episcopalians in the state. Disciples of Christ came to the area a few years prior to that. However, it took until the Scandinavian and German migration of the 1840s for Lutherans to really establish themselves in the region.
Approximately 5,000 Latter-day Saints were relocated to Illinois from Missouri and Ohio by Joseph Smith in 1839. They set up their own community of Mormons at Nauvoo, which was originally known as Venus and Commerce. As their community grew, so did opposition against them. Dissension inside their own church eventually led to Joseph Smith being murdered. The Mormons were eventually removed from the state in September, 1845, causing them to push to the west.
Several Swedish immigrants created Henry County's Bishop Hill Colony. In 1846 Eric Janson led 1,500 of them, creating a "Bible only" sect. However, he was murdered in 1853 and the community was dissolved by 1860. Most of the Janson followers eventually became members of the Methodist religious group.
Baptist records from Illinois and other states can be found at the Primitive Baptist Library. Various other church records from Illinois may be found in quarterlies and periodicals published by the state's many genealogical and historical societies.
The Illinois State Archives holds the original "Guide to Church Vital Statistics Records in Illinois; Historical Records Survey" documents. That inventory lists quite a bit of useful information including:
Name of County and City/Town
Name and Address of Church
Denomination
Organization Date
Lapse Date
If Now Defunct
Minute Book Descriptions (By Years, Volumes, and File Boxes)
Baptism Registry Books
Marriages
Confirmations
Member Names
Deaths
Sunday School or Similar Organization Records
Financial Records
Condition of Records
Locations of Records
Church Sketch Bibliographies
Previous Names of Church
School, Orphanage and Rest Home Records Relating to the Church
The FHL may also have church records available. If so, they will be organized according to town or city.
Illinois Church and Bible Links