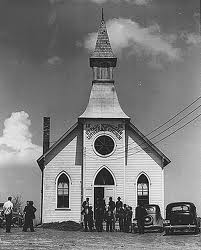 Mississippi Church records tend to be a abundant source for the genealogical and historical researcher. In many parts of Mississippi, church records predate civil records. They therefore record vital occasions, supplying birth, marriage, and death facts that could otherwise be lost. Besides providing names and dates, church records may show you relationships between people and portray a family's status in the community. In addition, records of a personal nature are not unusual, and these can provide a glimpse into an ancestor's persona or behaviors.
Well before Mississippi County and city governments stored vital records, many people recorded very important dates, events, and names in their family Bible. Family Bibles are valuable research tools. Even though the dates are not guaranteed, Family Bibles are a tangible link with past generations.
Colonial Mississippi was explored by the Spanish, who brought Catholicism to the area. However, Mississippi Territory was mainly inhabited by Protestants. Only a few Catholic families remained in the area at that time. Some priests from Mobile and Louisiana administered to those remaining families in 1798.
It wasn't until 1840, when Irish immigrants came to the state in large groups, that Catholicism really regained a foothold in the region. In 1837 a diocese was founded at Natchez, but it was eventually relocated to Jackson. Clipping files from 1850 to present can be found at the Catholic Diocese of Jackson Archives. Also there are Mississippi Catholic Church bishop papers from 1837 to present. National Catholic directories from 1843 to present, sacramental record books, and other books dealing with the history of Southern church histories can also be found there.
The Methodist Church became the largest during the early days of Mississippi's statehood, although no churches experienced particularly large expansion booms during that time period. Records from the Methodist Episcopal Church to its later form, the United Methodist Church, can be found at the J. B. Cain Archives of Mississippi Methodism (Millsaps-Wilson Library, Millsaps College). Those records include conference minutes from 1817 onward, church histories, nineteenth century manuscripts, and periodicals. Although many of those materials can not be viewed or removed in their original forms, they can be photocopied, in most cases. There is also a large collection of Methodist records located at the Archives and History Center of the United Methodist Church, Drew University in Madison, NJ.
The first group of Baptists, led by Richard Curtis, gathered near Natchez at Coles Creek in 1791. The Baptist church began strengthening its presence in the region at that point.
Around 1806 the Mississippi Baptist Association was founded. It consisted of 6 churches and had a total of 706 congregation members. It now has the largest membership in Mississippi. The Mississippi Baptist Historical Commission, Mississippi College Library holds its historical records. That collection includes biographical information, church minutes, minutes, Baptist convention information, photographs, newsletters, newspapers, and other documents. However, some of those records are restricted from public access.
The Presbyterian Church in Mississippi was founded in 1800, thanks to the Synod of the Carolinas sending three missionaries to the area. They were James Bowman, William Montgomery, and James Hall. Uniontown in Jefferson County was home to Bethel, the first Presbyterian Church in the area. In 1835 the Synod of Mississippi was founded.
The Belhaven College, Hood Library holds some Presbyterian records. The Historical Foundation of the Presbyterian and Reformed Churches also has many records available.
In 1790, Episcopal Church services took place in Mississippi. However, the first Episcopalian church wasn't founded in the area until 1815. It was called Christ Church and it was established in Jefferson County, at Church Hill. Its founder was Adam Cloud. In 1826, the Episcopal Diocese of Mississippi was founded and other churches were established. They were located at Woodville, Natchez, and Port Gibson. There is no central repository of records from those churches.
The last Protestant church to be established in Mississippi was the Lutheran Church. In 1846, the New Hope Lutheran Church was established in Attala County, near Sallis. Then, in 1855, the Mississippi Synod was organized under the United Synod of the South. At that time, there were nine Lutheran churches in Mississippi. The Lutheran Theological Southern Seminary in Columbia, SC is the southern Lutheran record repository.
Mississippi Church and Bible Links
James J. Pillar, "Religious and Cultural Life, 1817–1860," in McLemore, A History of Mississippi, vol. 1, 378-410
Elizabeth Shown Mills, "Spanish Records: Locating Anglo and Latin Ancestry in the Colonial Southeast," National Genealogical Society Quarterly 73 (December 1985): 243-61
Records of the Diocese of Louisiana and the Floridas, 1576–1803, 12 reels (South Bend, Ind.: University of Notre Dame Archives Microfilm Publications, 1967)
Gene R. Miller, A History of North Mississippi Methodism, 1820–1900 (Nashville, Tenn.: Parthenon Press, 1966)
Richard A. McLemore, A History of Mississippi Baptists, 1780–1970 (Jackson, Miss.: Mississippi Baptist Convention Board, 1971)
Gordon A. Cotton, Of Primitive Faith and Order: A History of the Mississippi Primitive Baptist Church, 1780–1974 (Raymond, Miss.: Keith Press, 1974)
Walter B. Posey, The Presbyterian Church in the Old Southwest, 1778–1838 (Richmond, Va.: John Knox Press, 1952)
Documentary Material Relating to the Early History of the Presbyterian Church in Mississippi," Journal of the Presbyterian Historical Society 21 (December 1943): 196-200
Nash K. Burger and Charlotte Capers, "Episcopal Clergy of Mississippi, 1790–1940," Journal of Mississippi History 8 (April 1946): 59-66
Mississippi Church Books (amazon.com)
Mississippi Bible Books (amazon.com)