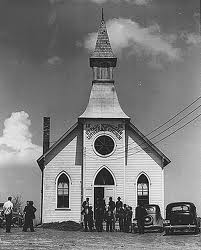 Kansas Church records undoubtedly are a extraordinary resource for the genealogical and historical researcher. In many parts of Kansas, church records predate civil records. They therefore document vital occurrences, supplying birth, marriage, and death information which may otherwise be lost. Besides offering names and dates, church records may expose associations between people and portray a family's standing in the community. In addition, records of a personal nature are not uncommon, and these could provide a peek into an ancestor's personality or behaviors.
Well before Kansas County and city governments gathered vital records, many people noted crucial times, events, and names in their family Bible. Family Bibles are invaluable research tools. Despite the fact that the dates cannot be guaranteed, Family Bibles are a tangible link with past generations.
Native tribes established their own churches in Kansas before it was ever even a territory. As white settlers moved to the area, major denominations established churches and missions. Some of them were: Methodists, Baptists, Society of Friends, Roman Catholics, Presbyterians.
The Friends University in Wichita has Quaker records on file. Methodists records are located in Baldwin City, at Baker University. Bethel College, which is located in Newton, holds Mennonite records. Bethany College at Lindsborg has Lutheran records (mainly Swedish Lutherans) on file. There are also several records from various religious sects located at the Hays, Kansas Forsyth Library at Fort Hays University, including a large collection of records relating to Volga Germans.
Histories, membership lists, records, and church rolls can be found at the Kansas State Historical Society. The library holds the published documents, while the manuscript department is home to the unpublished documents. Some church documents have also been placed on microfilm.
Kansas Church and Bible Links