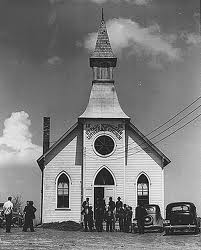 Early residents of New Mexico were typically Spanish-speaking Catholics. Therefore, Catholic sacramental records are an excellent source of information for researchers. In fact, a single document may list many generations of the same family's members. Sacramental records are made up of burial, marriage, and baptism records for church members. Therefore, in situations where public vital records are closed, church records can be extremely valuable to researchers.
There are several early records in existence from the Archdiocese of Santa Fe. They can be found in multiple locations, including the FHL, Special Collections Library, and New Mexico State Records Center and Archives. The FHL also has some records on file from the Diocese of Las Cruces. Some records from the Diocese of Gallup have been published by the Hispanic Genealogical Research Center of New Mexico. They are also in the process of abstracting those records. The New Mexico Genealogical Society and other organizations have published many Catholic records. Those records generally span all the way from the late 1600s to 1955. They contain records pertaining to censuses, burials, baptisms, marriages, and in some cases even Native American record information.
The New Mexico State University Library is home to several Protestant records. However, most Protestant records are kept by the Protestant churches around New Mexico.
The Menaul Historical Library of the Southwest is the best source of records for the Presbyterian Church. It is located in Albuquerque.
New Mexico Church and Bible Links