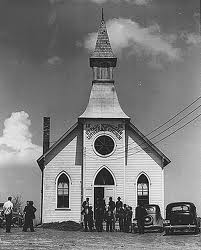 A Historical Records Survey led to an inventory being taken of Pennsylvania church archives. However, only the portion for the Society of Friends was published. The Pennsylvania State Archives holds that inventory, which is organized according to county. Many church records have been individually published and some have been published in periodical form, such as those in the Western Pennsylvania Genealogical Society Quarterly and the Pennsylvania Genealogical Magazine. The Pennsylvania State Library (DAR collection), the Historical Society of Pennsylvania, and other libraries have manuscript copies available. Many of the materials that have been published relate to Quaker meetings and German churches.
Many religious groups in the state also have their own collections and libraries, which may include information about their Pennsylvania branches, as well as branches in other states. Some of those include: Friends Historical Library, Swarthmore College,
The Lancaster Mennonite Historical Society,
The Evangelical and Reformed Historical Society of the United Church of Christ.
Each of those places has microfilmed records and other records available for research. In fact, the Evangelical and Reformed Historical Society of the United Church of Christ has records available for numerous churches, including those in the counties of: Adams, Berks, Bucks, Chester, Columbia, Dauphin, Lancaster, Lebanon, Lehigh, Monroe, Montgomery, Northampton, Northumberland, Perry, Philadelphia, Schuylkill, York.
They also have records on file for a few of their churches in Virginia and Maryland as well.
Several of the records from the German Reformed and Evangelical Church have been published, along with other records from German Churches.
Over 20,000 churches have records located at the Presbyterian Historical Society. Since 1901, the Journal of Presbyterian History has regularly been published. The Reformed Presbyterian Historical Society in Pittsburgh and the Presbyterian Historical Society of Western Pennsylvania each also have newspapers, journals, and other records on file.
Western Pennsylvania is also home to two Methodist repositories, which are the United Methodist Archives of Western Pennsylvania, Allegheny College and the Methodist Archives and History.
A collection of cemetery records and Jewish synagogue records is located on microfilm at the Historical Society of Pennsylvania. The Philadelphia Jewish Archives Center also has Jewish records on file, as does the Historical Society of Western Pennsylvania, which is located in Pittsburgh.
The Catholic Archives and Records Center, Cardinal Dean Center keeps western Pennsylvania parish records.
The Brethren in Christ Church, the Church of the Brethren, the Schwenkfelders, the Moravians, and the Lutherans also keep valuable genealogical records.
Pennsylvania Church and Bible Links
Pennsylvania, Christenings, 1709-1950 (familysearch.org)
The Mennonite Encyclopedia, 4 vols. (Hillsboro, Kans.: Mennonite Brethren Publishing House, 1955-59)
Howard Weigner Kriebel, The Schwenkfelders in Pennsylvania A Historical Sketch (Lancaster: The Pennsylvania-German Society, 1904)
Samuel Kriebel Brecht, ed., The Genealogical Record of the Schwenkfelder Families (New York and Chicago: Rand McNally & Company, 1923)
The Brethren Encyclopedia, 3 vols. (Philadelphia: Brethren Encyclopedia, 1983)
History of the Church of the Brethren of the Eastern District of Pennsylvania (Lancaster: Era Printing Company, 1915)
Pennsylvania Church Books (amazon.com)
Pennsylvania Bible Books (amazon.com)