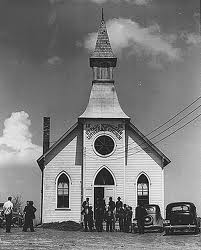 The Missouri State Archives has an online catalog available. Researchers can check that catalog for "church records on microfilm" in order to find the church records that the archives has available. Those microfilm rolls must be viewed at the Missouri State Archives, unless individual churches authorize the sale of copies. Some church records can be found in the Western Historical Manuscript Collection at the various campuses of the University of Missouri, which are in: Columbia, St. Louis, Rolla, Kansas City
Those records can be easily searched using the catalog online. Histories and photographs from churches statewide can also be found at the Columbia campus. However, many potentially useful records are privately kept.
Prior to Missouri County and city governments compiled vital records, many people noted very important times, events, and names in their family Bible. Family Bibles are important research resources. Despite the fact that the dates can't be guaranteed, Family Bibles are a tangible link with past generations.
Missouri Church and Bible Links