Statewide Missouri Census records that exist are 1800 (missing), 1810, 1820 (missing), 1830, 1840, 1850, 1860, 1870, 1880, 1890 (fragment, see below), 1900, 1910, 1920, 1930 and 1940.
There are Industry and Agriculture Schedules 1850, 1860, 1870 and 1880. The Mortality Schedules for the years 1850, 1860, 1870 and 1880. Slave Schedules exist for 1850 & 1860. The Union Veterans Schedules exist for 1890.
Missouri took territorial censuses during in 1814, 1817, and 1819. There are listings of heads of families of New Madrid for 1797 and 1803. Heads of families were enumerated for St. Charles in 1817 and 1819 only.
Census records up to 1880 are available from them via inter-library loan programs. Independence, Missouri is home to the Mid-Continent Public Library, which holds Soundexes and microfilmed federal census record copies for the state. Those are also available through inter-library loan programs.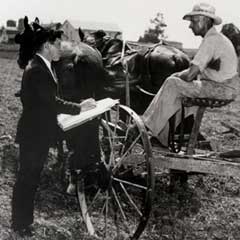 The
Missouri State Archives
is home to the original 1880 federal supplement to the population census of that year. That supplement listed "defectives, delinquents, and dependents." The supplement is entitled "Supplemental Schedules Numbers 1-7." It features lists of "Insane, Idiots, Deaf-mutes and Blind, Homeless Children, Prisoners, Paupers and Indigents." The list of such people was made using information from private homes and schools. In cases where a person was institutionalized, the supplement lists their last known address before they were transferred to the institution in question.
The original mortality, slave, agriculture, and industry schedules can be found in St. Louis at the Missouri Historical Society. Microfilmed copies of those schedules can also be found in Columbia at the State Historical Society of Missouri.
Researchers can search the Missouri State Archives using the keyword "census" in order to see which records are available for a given county. However, some record inventories have not been completed yet. So, the database is not complete.
Missing Missouri Censuses
Both the 1810 and 1820 Missouri census records have been lost. The 1890 population census is also missing. The remaining records are on microfilm at the State Historical Society of Columbia.
Missouri State and Territorial Census
When Missouri was a territory, several censuses were taken. The years that they were taken were 1814, 1817, and 1819. However, only the statistical summaries of those records are still extant. New Madrid head of family listings for 1797 and 1803 are also extant.
In 1817 and 1819, the heads of household for St. Charles were recorded. Certain records from Upper Louisiana when it was under Spanish rule have been published. Those records include portions of what is now Missouri.
There were several state censuses taken in Missouri, but many of those records no longer exist. Only the statistical abstracts are still available. However, there was a state census taken at the same time as the 1840 federal census. After the 1911 capitol building fire, only 9 of those lists survived. They are for the following counties: New Madrid, Newton, Pike, Randolph, Ray, Shelby, Stoddard, Warren, Rives (Now Henry).
The Missouri State Archives holds those original records. Some of the state census listings for 1844, 1852, 1856, and 1868 have survived. For the most part, those surviving records consist of statistical abstracts. Around a fifth of Missouri's counties have surviving records from the 1876 census. Many counties hold their own original census records. However, the Missouri State Archives has copies of those records on microfilm.
In 1880, a special census was taken in Schulyer County. Those records list people according to age group. They also list insane, deaf, dumb, and blind people, along with some agricultural and livestock information.
Searchable Missouri Census Databases