Statewide Michigan Census records that exist are 1800, 1810, 1820, 1830, 1840, 1850, 1860, 1870, 1880, 1890 (fragment, see below), 1900, 1910, 1920, 1930 and 1940.
There are Industry and Agriculture Schedules 1850, 1860, 1870 and 1880. The Mortality Schedules for the years 1850, 1860, 1870 and 1880. The Union Veterans Schedules exist for 1890.
The State Archives of Michigan/Library of Michigan is home to a full set of federal population census records, as well as their supplemental schedules. Copies of those schedules can be found in other repositories across the state, including in Detroit in the Burton Historical Collection. Census records for Michigan and many other states can also be found in Fort Wayne, Indiana, at the Allen County Public Library.
Michigan State and Territorial Census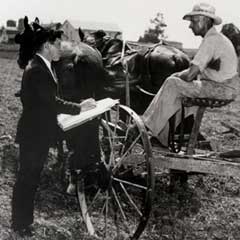 There were many
territorial and state censuses
taken in Michigan over the years. However, only a few of those records have survived to the present day.
The first census was taken by the French in 1710. Census records from 1710 through 1792 mainly included residents living in and around Detroit, Michigan.
In 1780, a census was taken of Fort Saint Joseph. Information about that census can be found in (Michigan Pioneer and Historical Collections, vol. 10, 1908, 406-07).
The National Genealogical Society Quarterly 64 (1981): 185-94 published a census of Wayne County, which was taken in 1796.
In 1802, a tax list was taken in that county as well. It is almost as good as a population census, for genealogical purposes.
So is the resident list taken in 1805 for Detroit. Americans (Detroit: Detroit Society for Genealogical Research, 1982), Donna Valley Russell's Michigan Censuses 1710–1830 Under the French, British, and State Censuses of Michigan: A Tragedy of Lost Treasures, Family Trails 6 (Summer/Fall, 1978) each contain valuable information about Michigan census records.
The State Archives of Michigan has census records on file for the following years: 1845, 1854, 1864, 1874, 1884 and 1894
Both territorial and state records of census information dating back as far as 1827 can also be found at the Allen County Public Library, as well as at the Library of Michigan, which is located in Lansing. Only heads of households are listed on state censuses taken before 1884. However, the 1884 census can be useful to researchers because it lists months and locations of marriages that occurred during that year.
The 1884 and 1894 state census records also include mortality schedules. Researchers should also look at the manuscript of the 1888 Civil War Veteran Census, which can be found in the state archives.
Extant territory and state census records are listed according to county in a publication by McGinnis. The University of Michigan's Bentley Historical Library also has a list of schedules and where they can be found.
Searchable Michigan Census Databases