Statewide Illinois Census records that exist are 1800  (missing), 1810, 1820, 1830, 1840, 1850, 1860, 1870, 1880, 1890 (fragment, see below), 1900, 1910, 1920, 1930 and 1940.
There are Industry and Agriculture Schedules 1850, 1860, 1870 and 1880. The Mortality Schedules for the years 1850, 1860, 1870 and 1880. The Union Veterans Schedules exist for 1890.
The 1850 census of Edgar County lists each person's birth county. Other copies of that index are located at the National Archives – Great Lakes Region and at Newberry Library.
Other indexes of census records can be found online, as well as in printed form. The only surviving records from the 1890 census are from McDonough County. Federal census records for Illinois through 1870 can be found in several genealogical libraries and societies.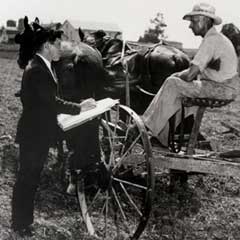 There were two censuses taken when Illinois was still a territory. One was taken in 1810, when it was Indiana Territory. The other was taken in 1818, when it was Illinois Territory.
The only 1810 records that are still extant are those for Randolph County. AISI has created an index of records that still exist from both censuses. The Illinois State Archives holds all of the original records that have survived.
The only information listed on state censuses is the name of the head of household and the number and age categories of the other household members.
The Illinois State Archive holds an index of 1810 to 1855 federal census records and government documents. That index is available at the Salt Lake City Family History Library (FHL) and through inter-library loan programs. It is called "Name Index to Early Illinois Records."
During the 1930s, several censuses were taken in certain cities in Illinois. A military census taken in 1862 is also available. It is organized according to county. It is a record of men at the time who were ages 18 to 45. The Illinois State Library can supply it via inter-library loan.
Missing Illinois Censuses
Illinois census records that are missing include the following:
Illinois State and Territorial Census
1810 – (as Indiana Territory)
1818 – (as Illinois Territory)
1820 – Eighteen counties, which included all of Illinois except Edwards County
1830 – Morgan County only (includes present counties of Cass, Morgan, and Scott)
1835 – Fayette, Fulton, Jasper, and Morgan counties (includes present counties of Cass, Morgan, and Scott)
1840 – Thirty-five counties included. Consult Descriptive Inventory of the Archives of the State of Illinois for list of counties.
1845 – Cass, Madison, Putnam, and Tazewell counties only
1855 – For all counties except Carroll, Champaign, Franklin, Gallatin, Henry, Jefferson, Lake, Stark, Will, and Woodford
1865 – For all counties except Gallatin, Mason, Monroe, and Tazewell (Elm Township in Tazewell County has survived)
Searchable Illinois Census Databases