There are Industry and Agriculture Schedules 1850, 1860, 1870 and 1880.
The Mortality Schedules for the years 1850, 1860, 1870 and 1880.
The Union Veterans Schedules exist for 1890.
In 1860, Humboldt, St. Mary's and Carson counties were considered to be part of Utah Territory. That means that they were part of the Utah Territory census, not the Nevada census.
The Nevada Historical Society has mortality and industry schedules on file for 1870 and 1880. It also has the agriculture schedules for 1870 on file.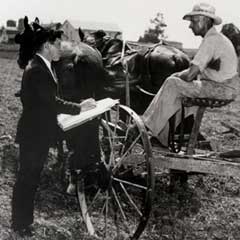 However, the 1880 agriculture schedule is held at the Nevada State Library, along with an indexed typescript of the 1880 mortality schedule.
A partial census for Nevada Territory, which was taken in 1862 and 1863, is on file at the Nevada State Library and Archives, along with full 1875 census records, including lists of all members of each household.
The Las Vegas FHC also has those records on file.
Searchable Kansas Census Databases and other Helpful Links
Nevada Census Extraction Forms
United States Federal Census for Nevada