Statewide Tennessee Census records that exist are 1800 (part), 1810 (part), 1820, 1830, 1840, 1850, 1860, 1870, 1880, 1890 (fragment, see below), 1900, 1910, 1920, 1930 and 1940.
There are Industry and Agriculture Schedules 1850, 1860, 1870 and 1880. The Mortality Schedules for the years 1850, 1860, 1870 and 1880. Slave Schedules exist for 1850 & 1860. The Union Veterans Schedules exist for 1890.
All Tennessee census records are on microfilm at the Tennessee State Library and Archives. There are also published indexes for certain counties available from 1870, 1880 and 1900, as well as 1910. Several mortality schedules have also been published. Although, those from 1870 no longer exist.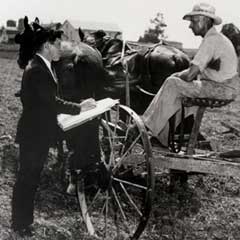 Some genealogical data may be found in Tennessee's public school records, which were also known as common schools. All eight school districts for Meigs County are included in its 1838 Scholastic Population record, for example. The head of household and the number of children from 6 to 16 is listed for each family in that record.
Some counties and cities also took their own census records. For example, in 1869 the 3rd Ward of Memphis was enumerated. There is also an 1857 Tennessee Agricultural Census available. Both can be found on microfilm at the FHL and the Tennessee State Library and Archives (TSLA).
Only the Union Veterans and Widows listing from the 1890 federal census for Tennessee has survived. It was actually taken in 1891. It shows all men ages 21 and up at that time. The TSLA has those records on microfilm.
The 1800 census has 3 published indexes, while the 1810 census has 2 available.
Missing Tennessee Censuses
In 1795 a territorial census was taken. The results of that census showed that residency in the area had doubled in 4 years time and that the requirements for statehood had been met.
Early settler petitions can fill in some missing census information. Several societies and journals have published those petitions. Early tax lists from the state can also fill in missing data.
There are federal census records from 1820 available for 26 of the counties in Tennessee. Those counties are: Bedford, Davidson, Dickson, Franklin, Giles, Hardin, Hickman, Humphreys, Jackson, Lawrence, Lincoln, Maury, Montgomery, Overton, Perry, Robertson, Rutherford, Shelby, Smith, Stewart, Sumner, Warren, Wayne, White, Wilson, and Williamson.
A complete list of Tennessee households does not exist, except for Grainger, for any years prior to 1830.
Tennessee State and Territorial Census
Tennessee Territory censuses were recorded in 1823, 1825, and 1827, only the 1823.
Searchable Tennessee  Census Databases