Statewide Arizona Census records that exist are 1870, 1880, 1890 (fragment, see below), 1900, 1910, 1920, 1930 and 1940.
There are Industry and Agriculture Schedules 1870 and 1880. The Mortality Schedules for the years 1870 and 1880. The Union Veterans Schedules exist for 1890.
Census records for Arizona are available for 1864 and 1866, long before it became a state. The Arizona State Archives has the original 1864 census records, copies of those records, and microfilmed versions of them.
It also houses information from the 1882 census for Yuma, Yavapai, Gila, Pima, Mohave, Cochise, Graham, and Maricopa counties.
The "great registers" of voters can be used to learn a lot of information in a similar way to how tax records or census records would be used. The FHL has many of those voter registers available on microfilm and several can also be found at the Arizona State Archives.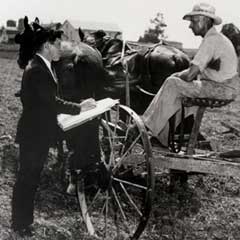 That includes records for the following counties: Apache (1884-1910), Cochise (1882-1910), Coconino (1894-1910), Gila (1882-1910), Graham (1882-1911), Maricopa (1876-1938), Mohave (1866-82), Navajo (1895-1932), Pima (1876-1913), Pinal (1894-1911), Santa Cruz (1902-35), Yuma (1882-1910), Yavapai (1882-1906).
The 1890 federal census records for Arizona have been lost, but the 1890 Great Register for Arizona Territory still exist and has been published and indexed by the Arizona Genealogical Advisory Board.
It's important to note that only white males over 21 years old were included on those voter lists until African Americans and females were added in 1913. It wasn't until 1948 that Native Americans were also added.
Arizona  State and Territorial Census
The FHL has many different pre-statehood census records from Arizona on file. That includes census records from 1862, 1866, and 1867, as well as 1831 census records specifically for Santa Cruz County.
Before Arizona became a territory, its southern region was owned by Mexico and known as Pimeria Alta. The Mexicans took a census of that area in 1801 and the Arizona Genealogical Society has published those records.
They have also published the District of Altar, Sonora records from the Mexican census of 1852. The District of Altar, Sonora was part of Pimeria Alta at the time.
Searchable Arizona Census Databases