Statewide Louisiana Census records that exist are 1810, 1820, 1830, 1840, 1850, 1860, 1870, 1880, 1890 (fragment, see below), 1900, 1910, 1920, 1930 and 1940.
There are Industry and Agriculture Schedules 1850, 1860, 1870 and 1880. The Mortality Schedules for the years 1850, 1860, 1870 and 1880. Slave Schedules exist for 1850 & 1860. The Union Veterans Schedules exist for 1890.
Federal censuses were taken every 10 years. Louisiana became a state in 1803. So, the first federal census records for the state were taken in 1810. Many of those records are widely available and published.
However, researchers should note that both Spanish and French people listed in federal census records may have had their names misspelled, or their names may not have been properly transcribed when copies were being made. Certain pieces of information may also be omitted completely.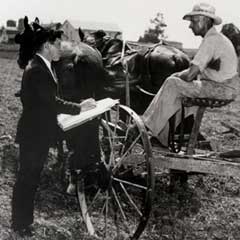 The federal government started to list Native Americans in various records starting in the 1860s. There were special Indian schedules created in 1900 and 1910. While similar to other population schedules of the time, they included a second page.
That page listed the tribes of the individual and their parents, as well as the racial mixture, if not fully Native American. Researchers can find those schedules in the district or ward that was home to the Native American of interest.
Duke University in Durham, North Carolina holds some federal census supplements for the state of Louisiana. The National Archives has microfilmed copies of the mortality schedules for Louisiana from 1850 to 1880 on file.
Control of Louisiana was taken from the French by the Spanish during the colonial period. The United States did not gain possession of it until 1803. The Spanish and the French took census records up to that point, while the first United States federal census of the area was not taken until 1810. Many of the Spanish records have been translated to English and published.
The Spanish city of Nuestra Se?ora del Pilar de los Adaes was the capital of Texas from 1721 to 1773. It was located near what is now Robeline, Louisiana, at what is now Natchitoches Parish. In 1773, the city was abandoned and those who left it went to San Antonio, instead.
However, the mission at Nacogdoches, Texas was reestablished in 1779, when many settlers moved back to the Adaes area from San Antonio. The census reports for that mission for each year from 1792 to 1806 are extant, along with the report from 1909.
Louisiana State and Colonial Census
Colonial Censuses – Louisiana went from French to Spanish control during the colonial times. The Spanish and French keep great records, and many censuses exist for Colonial Louisiana. Listed below are some of the French and Spanish censuses:
French Period

December 1699: Census of the Inhabitants of the first settlement on the Gulf Coast, Fort Maurepas
25 May 1700: Census of the Officers, petty officers, sailors, Canadians, freebooters, and others located at Biloxi as of 25 May 1700
1704: List of marriageable girls who arrived aboard the Pelican at Biloxi in the year 1704
1 August 1706: Census of the inhabitants of Fort Louis de la Louisianne at Mobile, taken by Nicolas de la Salle
1 August 1706: Census of families and inhabitants of Louisiana, taken by Nicolas de la Salle
1711: Census of Fort Louis de la Mobile from the map of 1711
25 October 1713: List of officers commissioned at Fort Louis, Biloxi
October 1713: Persons mentioned in the colony by Antoine de la Mothe Cadillac
24 November 1721: General census of all the inhabitants of New Orleans and environs, as reported by Le sieur Diron
26 June 1721: Census of the inhabitants in the area of Biloxi and Mobile, as reported by Le sieur Diron
13 May 1722: Census of the inhabitants of the concessions along the Mississippi River; reported by Le Sieur Diron
1 May 1722: Census of the inhabitants of Natchitoches, Fort St. Jean Baptist, taken for Sieur Diron, General of the Troops
1722: Officials of the colony at Fort Louis, Biloxi, appointed in 1722
8 April 1723: Some colonists of Louisiana mentioned in a letter by de La Chaise
18 October 1723: Some colonists of Louisiana mentioned in a letter by de La Chaise
12 November 1724: Census of inhabitants of German villages located ten leagues above New Orleans along the river, under command of D'Arensbourg
20 December 1724: Census of inhabitants along the Mississippi River from New Orleans to Ouacha, or the German villages
March 1725: Census of the inhabitants of Dauphin Island, along the Mobile River, Cat Island, and Penscagoula [Pascagoula], compiled by M. Gorty
1 January 1726: General census of all the inhabitants of the colony of Louisiana, including the entire coast bordering the Gulf of Mexico, from Mobile to New Orleans, and the colonies along the Mississippi River, including the region known as Illinois
October 1726: List of those persons requesting Negroes from the company
1 July 1727: Census of New Orleans as reported by M. Perier, commander general of Louisiana; also continuation of the census of M. Perier, being the inhabitants in the environs of New Orleans, along the river
9 June 1730: List of persons massacred at Natchez, 28 November 1729, as reported by R. P. Philibert, Capuchin priest
1731: List of property owners of New Orleans on the map published by Gonichon in 1731; census of inhabitants along the Mississippi River, unsigned, initialled N. S.; and list of landowners located along the Mississippi River from its mouth to the German villages, with indications of how they acquired the land. Date mentioned "after 1731."
January 1732: Census of the inhabitants and property owners of New Orleans; and census of the inhabitants of Illinois, both unsigned but initialled N. S.

Spanish Period

1766: List of inhabitants of Pointe Coupee; census of Pointe Coupee; list of Cote des Allemands; general census of Pointe Coupee; general census of Villere at Allemands
1770: Reports of Eduardo Nugent and Juan Kelly on the number of inhabitants and livestock in the districts of Atakapas, Natchitoches, Opelousas, and Rapides
1771: Census of Atakapas and Opelousas
1771: Census of Louisiana
1772: Left Bank of the Mississippi from Bayou de Placaminas to Ile au Marais; 1773 Rapides; 1774 negroes and mulattoes at Natchitoches
1772: Census of Rapides
1774: Census of Atakapas
1776 (dated wrong, 1766): Census of parish of St. Charles (Allemands)
1777: Census of Louisiana
1777: Census of Atakapas and Opelousas
1782: Census of Baton Rouge; 1786 census of Baton Rouge; 1798 census of the district of Nueva Feliciana; census of the district of la Metearie
1784 (?): Census of the German Coast
1785: Census of Avoyelles
1786: Census of Atakapas and Opelousas
1787: Census of Pointe Coupee
1788 and 1789: Census of Rapides; 1789 census of Natchitoches
1790: Census of Ouachita
1790: Recensements de la Pointe Coupee et Fausse Riviere
1795: Census of Baton Rouge and Manchak
1795 (slaves): Census of Primer Cote des Allemand; census of the second and third wards of New Orleans; census of slaves at Allemands, Atakapas, Natchitoches; 1796 census of the Quartier de la Metairie of New Orleans
1795 (slaves): General census of slaves of New Orleans and masters who contributed to indemnity for slaves lost at Pointe Coupee; 1778 census of the third ward of New Orleans; 1803 census of Pointe Coupee
1796: Census of Opelousas.
1799: Census of Allemands and Atakapas; general census of New Orleans
1803: Census of Atakapas (six documents)
1805: Census of Baton Rouge
Searchable Louisiana Census Databases