Statewide North Carolina Census records that exist for North Carolina are 1790 incomplete, 1800, 1810 incomplete, 1820 incomplete, 1830, 1840, 1850, 1860, 1870, 1880, 1890 (fragment, see below), 1900, 1910, 1920, 1930 and 1940.
There are Industry and Agriculture Schedules 1850, 1860, 1870 and 1880. Slave Census Schedules exist for 1850 & 1860. The Mortality Schedules for the years 1850, 1860, 1870 and 1880. In 1790 the first federal census took place.
Those records for North Carolina have survived, except for the records from Granville, Orange, and Caswell counties. Similarly, the records from the 1810 federal census for North Carolina have survived, except for a handful of counties. Those counties are New Hanover, Greene, Craven, and Wake.
As for the 1820 North Carolina federal census records, those for the counties of Wake, Martin, Franklin, Randolph, Montgomery, and Currituck are missing.
Population schedules for North Carolina in 1890 that have survived are those for the townships of River Bend and South Point, each located in Gaston County, as well as the records for Cleveland County's Township No. 2. North Carolina original census records or microfilmed copies can be found at the North Carolina State Archives.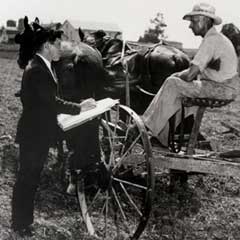 There were no North Carolina colonial censuses taken. However, there are tax records from that time period, which contain quite a bit of useful census-like information. In 1775, the Continental Congress ordered that a census of North Carolina be taken. However, the only surviving records are those from
Pitt County
.
Census records generally list people according race, gender, and age. Some counties did not respond to the 1775 census requirement until as late as 1786. Some records seem to indicate that there was another census taken in 1787. Therefore, what is known as the State Census of North Carolina, 1784-1787 may actually be records from two separate censuses.
Missing North Carolina Censuses
Searchable North Carolina Census Databases
The North Carolina, Compiled Census and Census Substitutes Index, 1790-1890 collection contains the following indexes: 1790 Federal Census Index; 1800 Federal Census Index; 1810 Federal Census Index; 1812-14 Muster Rolls; 1820 Federal Census Index; 1830 Federal Census Index; 1840 Federal Census Index; 1840 Pensioners List; 1850 Federal Census Index; 1860 Federal Census Index; 1870 Federal Census Index; 1890 Veterans Schedule; Early Census Index.
State census of North Carolina, 1784-1787 contains a transcription of a state census taken in North Carolina between 1784 and 1787. A 1784 act in North Carolina gave county courts the responsibility of enumerating their population.
This count took place between 1785 and 1787, which means it may include individuals who were no longer living in North Carolina when the first federal census was taken in 1790.
Created from original records in the North Carolina Department of Archives and History, this census lists 14,000 heads of households and provides an enumeration of individuals in each household by age, sex, and race.