Statewide Oklahoma Census records that exist are 1860 (partial), 1890 (fragment, see below), 1900, 1910, 1920, 1930 and 1940.
There are Industry and Agriculture Schedules 1860, 1870 and 1880. The Mortality Schedules for the years 1860, 1870 and 1880. The Union Veterans Schedules exist for 1890.
The federal census of 1860 included anyone who lived in Indian Territory, but was not actually Native American. All of those recorded schedules follow the enumeration of Yell County, Arkansas in the microfilm version and are listed under the heading of "Indian Lands." The slave schedules of 1860 also listed some of the natives.
The state of Oklahoma was divided into two parts in both the 1890 and 1900 censuses. The two parts were Indian Territory and Oklahoma Territory.
The 1890 returns no longer exist, but special enumerations for Union veterans and their widows for 1890 do exist still on one reel of microfilm. There are also some population enumerations for the Cherokee nation that still exist from 1890.
The territories of Wyoming, Alaska and Hawaii precede the Indian Territory information on the 1900 microfilm reels.
Greer County was part of the 1900 census for Oklahoma Territory, which marked the resolution of a dispute over its jurisdiction. The first federal census for Oklahoma after it got its statehood was taken in 1910.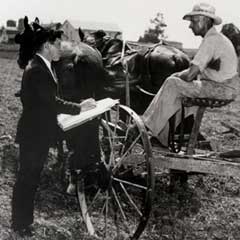 There are some
agriculture schedules
in 10-year increments for the decades of 1850 through 1880. However, certain counties are missing information for some of those years. There are also mortality schedules available for those decades.
In 1890, Union veteran schedules were taken. Those included Union veterans and widows of Union veterans and listed address, disabilities relating to their military service and other information.
In 1880 and 1890 the census for the Cherokee nation was taken by that nation itself and is believed to be fairly accurate, according to the Oklahoma Historical Society's Indian Archives.  Some copies also exist in other repositories.
There was also a census of the Cherokee nation was taken in 1896 by the Dawes Commission in order to determine Cherokee citizenship statuses, but it is not believed to be as accurate.
Territorial Censuses
There was an Oklahoma Territorial Census for 1890 and 1907.
In June of 1890, there was a territorial census was taken of Beaver, Canadian, Cleveland, Kingfisher, Logan, Oklahoma and Payne counties in the Oklahoma Territory.
In 1907, only the records for Seminole County for that year have survived. Each county's superintendent of schools may be able to provide some old school census information. That could include the names, birthdays and parent names of students.
The 1890 territorial census is important because the 1890 U.S. Federal Census was damaged and destroyed by fire in 1921, and none of the Oklahoma population schedules survived.
Because of this, the 1890 Oklahoma Territorial Census is very important, as it provides a wealth of information that would otherwise be found in the Federal Census.