Statewide Arkansas Census records that exist are 1830, 1840, 1850, 1860, 1870, 1880, 1890 (fragment, see below), 1900, 1910, 1920, 1930 and 1940.
There are Industry and Agriculture Schedules 1850, 1860, 1870 and 1880. The Mortality Schedules for the years 1850, 1860, 1870 and 1880. Slave Schedules exist for 1850 & 1860. The Union Veterans Schedules exist for 1890.
There is a large collection of published and compiled federal census records and indexes available at the Arkansas History Commission. All federal census records for the state can also be found there on microfilm.
The University of Arkansas Special Collections Library holds the mortality schedules, industry schedules, and agriculture schedules for the state. However, the Arkansas History Commission and the National Archives each hold copies of the state's slave schedules.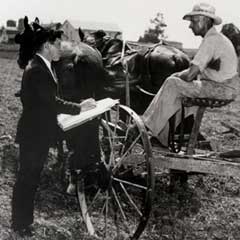 The 1890 federal census records for Arkansas no longer exists. However, tax records and other records from the state were compiled by the
Arkansas Genealogical Society
in an effort to replace that lost data.
Many counties have published those records. Researchers can contact the Arkansas Genealogical Society for more information on that replacement project.
Arkansas River settlements, settlements in St. Francis, and settlements in the District of Hopefield (West Memphis) were all included in the 1810 federal territorial census. However, those records no longer exist.
The 1820 federal territorial census records, which included the partially Spanish-controlled Miller County, which was also partially located in Texas, also no longer exist.
Arkansas State and Territorial Census
Arkansas Territory censuses were recorded in 1823, 1825, and 1827, only the 1823. Starting in 1823 sheriffs in Arkansas Territory were given the task of instituting biennial enumerations. Those took place in 1823, 1825, and 1827, but only the Arkansas County record from 1823 still exists today. 1829 sheriff's census records contained the head of household name, but only parts of those records still exist today. Complete returns are available for the counties of: Arkansas , Chicot, Clark, Conway, Crawford, Crittenden, Independence, Lawrence, Miller (Old), St. Francis and Washington.
Sevier and Pope County records from that time have been lost. Sheriffs in Izard, Lafayette, Hempstead, Pulaski, and Phillips counties only submitted the total number of inhabitants. Both the 1823 and 1829 records that still exist are published and publicly available.
Searchable Arkansas Census Databases
Arkansas Census, 1819-70 – This Collection contains the following indexes: 1819-1829 Tax Lists Index; 1820 Federal Census Index; 1823 Sheriff's Census Index; 1829 Sheriff's Census Index; 1830 Federal Census Index; 1830-1839 Tax Lists Index; 1840 Federal Census Index; 1840 Pensioners Index; 1850 Federal Census Index; 1850 Slave Schedule; 1860 Federal Census Index; 1870 Federal Census Index.
Arkansas Census, 1840 – This is an index to the 1840 Census of Arkansas, the first Federal Census taken after Arkansas was admitted to the Union on June 15, 1836. Information in the Census includes, where available, the name of the head of the household, city or county of residence, number of free white males and females by age group, number of free colored males and females by age group, number of persons in each family employed in mining, commerce, manufacturing and trades, etc., pensioners for Revolutionary War or military services, schools, and the number of persons over 20 who can't read or write.
State Census Records Guides
[mapsvg id="12990″]