Crawford County, Arkansas Records
Crawford County, Arkansas (Map It) was created on October 18,1820 and was formed from Pulaski County. When Crawford County was created, it contained a large part of what is now the State of Oklahoma. Crawford County was named in honor of William H. Crawford (1772–1834), a politician who served as Secretary of the Treasury and Secretary of War.
Crawford County is bordered by Washington County (north), Madison County (northeast), Franklin County (east), Sebastian County (south), Le Flore County, Oklahoma (southwest), Sequoyah County, Oklahoma (west), Adair County, Oklahoma (northwest).
Crawford County Cities and Towns include Alma, Cedarville, Chester, Dyer, Kibler, Mountainburg, Mulberry, Rudy, Van Buren.
A Map of Crawford County, Arkansas contains detailed information about roads and boundaries, these maps may include rural communities, churches, and cemeteries..
There is a collection of old Arizona maps at MapGeeks.org
Crawford County, Arkansas Courthouse Records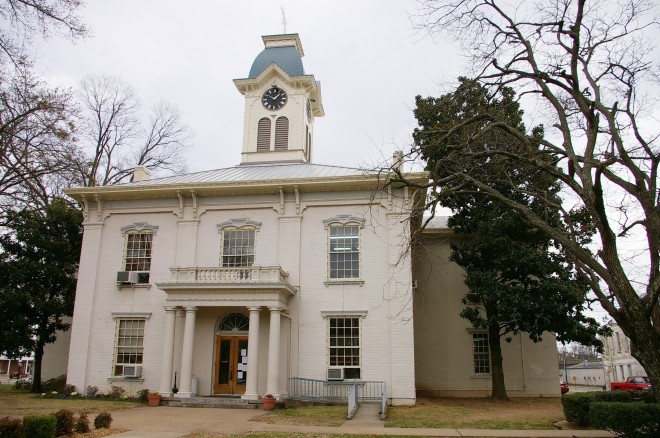 Crawford County, AR Courthouse
The Crawford County Courthouse is located in Van Buren, Arkansas. The records from 1818 to 1820 are on file at Little Rock. On March 23, 1877, the courthouse was destroyed by fire and all records were destroyed except those of the treasurer and a few deeds and mortgages. Since that date, however, the records are complete and are kept in fire-proof vaults. Learn More About State of Arkansas Court, Tax, Land and Probate Records.
The Clerk's Office DOES NOT DO RESEARCH. Most staff will assist people in finding the materials, but it is up to the individual to do the research.
The following dates indicates what vital, land, probate, and court records are in Crawford county. The date listed for each record is usually the earliest registration filed. The date does not indicate that there are alot records for that year and does not mean that all such events were actually filed with the clerk.
Crawford County, Arkansas Census Records
Learn More: State of Arkansas Census Records
U.S. Federal Population Schedules: 1830, 1840, 1850, 1860, 1870, 1880 (free index), 1890 (fragmented), 1900, 1910, 1920, 1930, 1940
U.S. Census Reconstructed Records: Compiled Census and Census Substitutes Index, 1819-1870
State Population Schedules: None
U.S. Federal Census Mortality Schedules: 1850, 1860, 1870 and 1880
Selected U.S. Federal Census Agriculture Schedules: 1850, 1860, 1870 and 1880
Selected U.S. Federal Census Industry Schedules: 1850, 1860, 1870 and 1880
Union Veterans Schedules: 1890
Crawford County, Arkansas Vital Records
Learn More: State of Arkansas Vital Records
Birth and Death Records: from February 1, 1914 to present.
Marriage Records: from January 1917 to present. 
Divorce Records: from  January 1923 to present. Full certified copy may be obtained from the County Circuit or Chancery Clerk.
Locations: Arkansas Office of Vital Records, 4815 W. Markham Street, Slot 44, Little Rock, AR 72205; (602) 364-1300, 501-661-2336, 800-637-9314
Vital Records Online: USAVital or Social Security Death Index
Vital Records by Mail: Birth Certificate, Marriage Certificate, Divorce Certificate, Death Certificate Applications.
Crawford County, Arkansas Resources
Crawford County, Arkansas External Links