Statewide Ohio Census records that exist are 1790 destroyed, 1800 destroyed, 1810, 1820, 1830, 1840, 1850, 1860, 1870, 1880, 1890 (fragment, see below), 1900, 1910, 1920, 1930 and 1940.
There are Industry and Agriculture Schedules 1850, 1860, 1870 and 1880. The Mortality Schedules for the years 1850, 1860, 1870 and 1880. The Union Veterans Schedules exist for 1890.
The 1810 census records for Ohio are missing, but Ohio duplicate tax lists are capable of replacing a lot of that information.
An 1880 census every-name surname index has been compiled by the Ohio Genealogical Society. That original census record is also located at the Ohio Genealogical Society.
Many Ohio federal census record indexes are available through online subscription services, but several can also be found at various research libraries and family history centers in print form.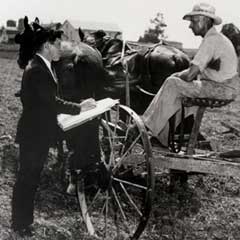 Only the 1890
Hamilton County
(Cincinnati) population census and that of
Clinton County
(Wayne Township) for that year still exist. A microfilmed index to those records can be found at the
National Archives
.
Some county census records in Ohio were taken, mainly for the purpose of creating a militia. Real estate and personal tax lists also exist. Many of those records have been referred to as state census records, but they are not.
Voting district enumerations were taken every 4 years from 1803 to 1911. Those records from before 1863 only included white males over 21. They listed the county of residence, address, occupation, race, and land owned.
Later records included non-white males as well. Unfortunately, not all county records from each of those enumerations still exist. Also, some records that do exist still do not include each township.
The Ohio Historical Society has a list of the records that are available. Some records are on microfilm, while others are originals. The "enumerations of school-aged youth" records from some counties in certain years can also be found at the Ohio Historical Society.
The Ohio Historical Society Microfilm Department can supply copies of the "Special Enumeration of Blacks Immigrating to Ohio, 1861-1863, by the Auditor of the State" for a fee. That collection, which includes a 4-part index, is on microfilm there. It includes names, previous residences, county, and questionable names of African Americans who came to Ohio between March 1, 1861 and March 3, 1863.
The list is made up of a total of 1,375 names from 47 Ohio counties, but it is nowhere near complete and the information was scattered. Some counties only contributed a few names. Many of the Ohio Genealogical Society newsletters have included published portions of those enumerations.
Missing Ohio Censuses
Ohio State and Territorial Census
Ohio had no state census records although there are a few county census records taken for militia purposes. When Ohio was a Territory it recorded territorial censuses for the years 1823, 1825, and 1827.
Quadrennial enumerations was taken every four years from 1803 to 1911 to determine voting districts.
Searchable Ohio Census Databases