Ohio Counties and Historical Facts
Ohio County records vary widely from county to county in both quality and quantity. Some have been carefully preserved while others have been much abused and neglected. Some Ohio records have simply disappeared.
For genealogists doing research in Ohio there is no effective replace for an on-site search of county courthouse records.
Ohio County Records
Prior to 1867, it is difficult to find birth and death records. After this time, birth and death records were recorded at the probate court office in the county where the event occurred until 1908.
Since 1908, event have been recorded at the county's health department and also with the Vital Records Office in Columbus.
If you are looking for a marriage record before 1949, consult the probate court office of the county where the marriage took place.
All deeds from a county, regardless of the year, are held in the county recorders office.
If you are making a request by mail, use the name of the county and "County Courthouse," and below that list the address.
Listed addresses are usually the location of the county government building. Sometimes records are located at a different address.
See also a list of links to county and county seat government run websites.
List of Ohio Extinct Counties
Kentucky has counties that no longer exist because they were discontinued, renamed or merged with another county.
A lot of these counties were established and disbanded within the 19th century; county borders have changed very little since 1900.
These are important for genealogy research purposes. Pay attention where the courthouse records went to if the county was eliminated or joined with some other county.
See the History of Ohio Counties for more details.
List of Ohio Counties with Burned Courthouses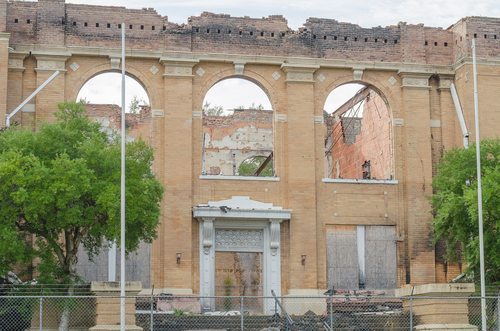 The damage to courthouses greatly has a bearing on genealogists in every way.
Not only are these historic structures torn from our lifetimes, so are the records they housed: marriage, wills, probate, land records, and others.
Once destroyed they're lost forever. Although they have been placed on mircofilm, computers and film burn too.
However, not all records were damaged or lost in some counties.
Adams County Courthouse caught fire in 1910, resulting in the loss of most of the will books and other probate files, as well as some other records.
Belmont County Courthouse, 1980;
Brown County Courthouse, 1977;
Champaign County Courthouse, 1948;
Columbiana County Courthouse, 1976;
Crawford County Courthouse, 1831;
Delaware County Courthouse, 1835;
Fayette County Courthouse, 1828;
Franklin County Courthouse, 1879;
Fulton County Courthouse, before 1860;
Gallia County Courthouse, 1981;
Hamilton County Courthouse, 1814, 1849, 1884;
Henry County Courthouse, 1847;
Licking County Courthouse, Destroyed by fire on 2 April 1875. Records in the Recorder's, Sheriff's, Auditors and Treasurer's offices were saved. The marriage records between 1829-1839 were possibly lost completely in the fire. Some estate records also were burned in the fire. There are gaps in records for this county. Also on 29 Mar 1879 the tower of the New Licking County Courthouse caught fire. No records were destroyed.
Monroe County Courthouse, 1840, 1867;
Seneca County Courthouse, 1841;
Trumbull County Courthouse, 1895.
Researchers should note that some records may have survived in each case. So, it is important to contact the county courthouses first and see which records are still available. Courthouse record keepers may also be able to point researchers to other resources.

List of Ohio Counties
| County | Date Formed | Parent County | County Seat |
| --- | --- | --- | --- |
| Adams | 1797 | Hamilton County | West Union |
| Allen | 1820 | Shelby County | Lima |
| Ashland | 1846 | Wayne, Richland, Huron, and Lorain Counties | Ashland |
| Ashtabula | 1807 | Trumbull and Geauga Counties | Jefferson |
| Athens | 1805 | Washington County | Athens |
| Auglaize | 1848 | Allen, Mercer, Darke, Hardin, Logan, Shelby, and Van Wert Counties | Wapakoneta |
| Belmont | 1801 | Jefferson and Washington Counties | St. Clairsville |
| Brown | 1818 | Adams and Clermont Counties | Georgetown |
| Butler | 1803 | Hamilton County | Hamilton |
| Carroll | 1833 | Columbiana, Stark, Harrison, Jefferson, and Tuscarawas Counties | Carrollton |
| Champaign | 1805 | Greene and Franklin Counties | Urbana |
| Clark | 1818 | Champaign, Madison, and Greene Counties | Springfield |
| Clermont | 1800 | Hamilton County | Batavia |
| Clinton | 1810 | Highland and Warren Counties | Wilmington |
| Columbiana | 1803 | Jefferson and Washington Counties | Lisbon |
| Coshocton | 1810 | Muskingum and Tuscarawas Counties | Coshocton |
| Crawford | 1820 | Delaware County | Bucyrus |
| Cuyahoga | 1807 | Geauga County | Cleveland |
| Darke | 1809 | Miami County | Greenville |
| Defiance | 1845 | Williams, Henry, and Paulding Counties | Defiance |
| Delaware | 1808 | Franklin County | Delaware |
| Erie | 1838 | Huron and Sandusky Counties | Sandusky |
| Fairfield | 1800 | Ross and Washington Counties | Lancaster |
| Fayette | 1810 | Ross and Highland Counties | Washington Court House |
| Franklin | 1803 | Ross and Wayne Counties | Columbus |
| Fulton | 1850 | Lucas, Henry, and Williams Counties | Wauseon |
| Gallia | 1803 | Washington and Adams Counties | Gallipolis |
| Geauga | 1806 | Trumbull County | Chardon |
| Greene | 1803 | Hamilton and Ross Counties | Xenia |
| Guernsey | 1810 | Belmont and Muskingum Counties | Cambridge |
| Hamilton | 1790 | One of the original counties | Cincinnati |
| Hancock | 1820 | Logan County | Findlay |
| Hardin | 1820 | Logan County | Kenton |
| Harrison | 1813 | Jefferson and Tuscarawas Counties | Cadiz |
| Henry | 1820 | Shelby County | Napoleon |
| Highland | 1805 | Ross, Adams, and Clermont Counties | Hillsboro |
| Hocking | 1818 | Athens, Ross, and Fairfield Counties | Logan |
| Holmes | 1824 | Coshocton, Wayne, and Tuscarawas Counties | Millersburg |
| Huron | 1809 | Portage and Cuyahoga Counties | Norwalk |
| Jackson | 1816 | Scioto, Gallia, Athens, and Ross Counties | Jackson |
| Jefferson | 1797 | Washington County | Steubenville |
| Knox | 1808 | Fairfield County | Mount Vernon |
| Lake | 1840 | Geauga and Cuyahoga Counties | Painesville |
| Lawrence | 1815 | Gallia and Scioto Counties | Ironton |
| Licking | 1808 | Fairfield County | Newark |
| Logan | 1818 | Champaign County | Bellefontaine |
| Lorain | 1822 | Huron, Cuyahoga, and Medina Counties | Elyria |
| Lucas | 1835 | Wood, Sandusky, and Huron Counties | Toledo |
| Madison | 1810 | Franklin County | London |
| Mahoning | 1846 | Columbiana and Trumbull Counties | Youngstown |
| Marion | 1820 | Delaware County | Marion |
| Medina | 1812 | Portage County | Medina |
| Meigs | 1819 | Gallia and Athens Counties | Pomeroy |
| Mercer | 1820 | Darke County | Celina |
| Miami | 1807 | Montgomery County | Troy |
| Monroe | 1813 | Belmont, Washington, and Guernsey Counties | Woodsfield |
| Montgomery | 1803 | Hamilton and Wayne Counties | Dayton |
| Morgan | 1817 | Washington, Guernsey, and Muskingum Counties | McConnelsville |
| Morrow | 1848 | Knox, Marion, Delaware, and Richland Counties | Mount Gilead |
| Muskingum | 1803 | Washington and Fairfield Counties | Zanesville |
| Noble | 1851 | Monroe, Washington, Morgan, and Guernsey Counties | Caldwell |
| Ottawa | 1840 | Erie, Sandusky, and Lucas Counties | Port Clinton |
| Paulding | 1820 | Darke County | Paulding |
| Perry | 1818 | Washington, Fairfield, and Muskingum Counties | New Lexington |
| Pickaway | 1810 | Ross, Fairfield, and Franklin Counties | Circleville |
| Pike | 1815 | Ross, Scioto, and Adams Counties | Waverly |
| Portage | 1807 | Trumbull County | Ravenna |
| Preble | 1808 | Montgomery and Butler Counties | Eaton |
| Putnam | 1820 | Shelby County | Ottawa |
| Richland | 1808 | Fairfield County | Mansfield |
| Ross | 1798 | Adams and Washington Counties | Chillicothe |
| Sandusky | 1820 | Huron County | Fremont |
| Scioto | 1803 | Adams County | Portsmouth |
| Seneca | 1820 | Huron County | Tiffin |
| Shelby | 1819 | Miami County | Sidney |
| Stark | 1808 | Columbiana County | Canton |
| Summit | 1840 | Medina, Portage, and Stark Counties | Akron |
| Trumbull | 1800 | Jefferson and Wayne Counties | Warren |
| Tuscarawas | 1808 | Muskingum County | New Philadelphia |
| Union | 1820 | Delaware, Franklin, Logan, and Madison Counties | Marysville |
| Van Wert | 1820 | Darke County | Van Wert |
| Vinton | 1850 | Athens, Gallia, Hocking, Jackson, and Ross Counties | McArthur |
| Warren | 1803 | Hamilton County | Lebanon |
| Washington | 1788 | One of the original counties | Marietta |
| Wayne | 1808 | From non-county area | Wooster |
| Williams | 1820 | Darke County | Bryan |
| Wood | 1820 | Refactored from non-county territory | Bowling Green |
| Wyandot | 1845 | Marion, Crawford, and Hardin Counties | Upper Sandusky |