Wisconsin Counties records can vary extensively from county to county in either quality not to mention quantity. Some are already very carefully maintained while some have been significantly abused and neglected. Some Wisconsin records have merely disappeared. For genealogists performing research in Wisconsin you will find no valuable replace for an on-site research of county court house records. For Definitions of all court terms see the Genealogy Encyclopedia.
Wisconsin Counties – There are 72 counties that exist in Wisconsin. The register of deeds office in each county holds the land records for that county, as well as death, birth, and marriage records. The clerk of the courts holds court records, while the county probate court holds probate records for that county.
County governments were generally established in three phases. The first phase, known as "establishment," defined a specific area as a county. The second phase, known as "organization for county purposes," created a land registry office, a fiscal structure, and a governing body. The third phase, known as "organization for judicial purposes," created a system of law enforcement, including a county court. In certain counties, all of those phases went into effect at the same time. However, the process took several years in other counties. In those cases, the parent county might have maintained records for the new county for several years. So, researchers need to familiarize themselves with the dates of total county establishment for the counties of interest.
One good example is Ashland County. In 1866, it was judicially attached to Bayfield County, even though the Ashland County courthouse stayed open. Marriages, land transactions and county board meetings were all still recorded in Ashland County by the register of deeds. Ashland County also continued to collect its own taxes. However, Bayfield County kept Ashland County's law enforcement records from 1866 to 1873.
Estimates indicate that fewer than half of all vital records in Wisconsin were actually permanently filed for years before 1907. Typically, probate records, court records, and land deeds go back to the date of each county's organization. Earlier records can be found in parent counties (the counties from which new counties were formed). Some property deeds from parent counties were transcribed and kept with deed records for the new counties.
In mailing requests to any Wisconsin county office, use the name of the county and "County Courthouse," with the address listed on the county page (linked below). Records at the county level are the responsibility of the following offices: birth, marriage, death, and land—register of deeds; court—clerk of courts; probate—county probate court.. See also a list of links to county and county seat government run websites.
List of Wisconsin Extinct Counties
Wisconsin contains counties that no longer exist. They were established by the state, provincial, or territorial authorities. Many of these counties were created and disbanded in the 19th century; county borders have adjusted very little since 1900 in the vast most of states. These counties need to be checked out when performing family history and genealogy research. Pay close attention where the courthouse records went to if the county was abolished or merged with a different county.
Bad Ax County: Formed on March 1, 1851. Renamed Vernon County in 1862
Dallas County: Formed in 1859. Renamed Barron County in 1874
Gates County: Formed in 1901 from Chippewa County. Renamed Rusk County in 1905
La Pointe County: Formed in 1845 from St. Croix County. Renamed Bayfield County in 1866
New County: Formed in 1879 from Oconto County. Renamed to Langlade County in 1881
List of Wisconsin Counties with Burned Courthouses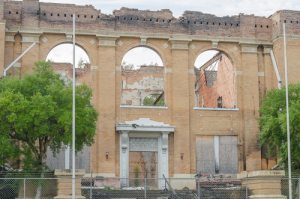 The harm to Wisconsin courthouses considerably has a effect on genealogists in every way. Not only are these historic structures torn from all of our lifetimes, so are the documents they housed: marriage, wills, probate, land records, among others. Once destroyed they're lost permanently. Although they have already been placed on mircofilm, computers and film burn up too. The most tragic side of this is the reason that virtually all of our courthouses are destroyed at the hands of arsonist. However, not all records were destroyed. Many Wisconsin counties have suffered a loss of records due to courthouse fires, floods, and theft.
Calumet County Courthouse – Courthouse was destroyed by fire in 1882.
Dodge County Courthouse – A fire in 1877 destroyed birth, marriage, and death records from before that date, though the indexes still refer to the records.
Manitowoc County Courthouse – The County Courthouse was destroyed by fire in 1852.
Oconto County Courthouse – County's first courthouse burned down in 1891.
Rock County Courthouse – first Courthouse was built in 1841 and was destroyed by fire in 1859.
Waushara County Courthouse – On April 30, 1928, the Waushara County Courthouse was completely destroyed by fire. Fortunately, the vaults withstood the intense heat and the records and valuable papers were saved. More About Fire
List of Wisconsin Counties
List of Wisconsin Counties
| County | Date Formed | Parent County | County Seat |
| --- | --- | --- | --- |
| Adams | 1848 | Portage County | Friendship |
| Ashland | 1860 | La Pointe County | Ashland |
| Barron | 1859 | Polk County | Barron |
| Bayfield | 1845 | St. Croix County | Washburn |
| Brown | 1818 | unorganized territory | Green Bay |
| Buffalo | 1853 | Jackson County | Alma |
| Burnett | 1856 | Polk and Douglas Counties | Siren |
| Calumet | 1836 | Brown County | Chilton |
| Chippewa | 1845 | Crawford County | Chippewa Falls |
| Clark | 1853 | Jackson County | Neillsville |
| Columbia | 1846 | Portage County | Portage |
| Crawford | 1818 | unorganized territory | Prairie du Chien |
| Dane | 1836 | Crawford, Iowa and Milwaukee Counties | Madison |
| Dodge | 1836 | Brown and Milwaukee Counties | Juneau |
| Door | 1851 | Brown County | Sturgeon Bay |
| Douglas | 1854 | La Pointe County | Superior |
| Dunn | 1854  | Chippewa County | Menomonie |
| Eau Claire | 1856 | Chippewa County | Eau Claire |
| Florence | 1882 | Marinette and Oconto Counties | Florence |
| Fond du Lac | 1836 | Brown County | Fond du Lac |
| Forest | 1885 | Langlade County | Crandon |
| Green Lake | 1858 | Marquette County | Green Lake |
| Grant | 1836 | Iowa County | Lancaster |
| Green | 1836 | Iowa County | Monroe |
| Iowa | 1829 | Crawford County | Dodgeville |
| Iron | 1893 | Ashland County | Hurley |
| Jackson | 1853 | La Crosse County | Black River Falls |
| Jefferson | 1836 | Milwaukee County | Jefferson |
| Juneau | 1856 | Adams County | Mauston |
| Kenosha | 1850 | Racine County | Kenosha |
| Kewaunee | 1852 | Door County | Kewaunee |
| Lafayette | 1846 | Iowa County | Darlington |
| Langlade | 1879 | Oconto County | Antigo |
| La Crosse | 1851 | Crawford County | La Crosse |
| Lincoln | 1874 | Marathon County | Merrill |
| Manitowoc | 1836 | Brown County | Manitowoc |
| Marathon | 1850 | Portage County | Wausau |
| Marinette | 1879 | Oconto County | Marinette |
| Marquette | 1836 | Brown County | Montello |
| Menominee | 1961 | Oconto and Shawano Counties | Keshena |
| Milwaukee | 1834 | Brown amd Iowa Counties | Milwaukee |
| Monroe | 1854 | La Crosse County | Sparta |
| Oconto | 1851 | Brown County | Oconto |
| Oneida | 1885 | Lincoln County | Rhinelander |
| Outagamie | 1851 | Brown and Winnebago Counties | Appleton |
| Ozaukee | 1853 | Washington County | Port Washington |
| Pepin | 1858 | Dunn County | Durand |
| Pierce | 1858 | St. Croix County | Ellsworth |
| Polk | 1853 | St. Croix County | Balsam Lake |
| Portage | 1836 | Brown, Crawford, Iowa and Milwaukee Counties | Stevens Point |
| Price | 1879 | Chippewa and Lincoln Counties | Phillips |
| Racine | 1836 | Milwaukee County | Racine |
| Richland | 1842 | Crawford and Sauk Counties | Richland Center |
| Rock | 1836 | Milwaukee County | Janesville |
| Rusk | 1901 | Chippewa County | Ladysmith |
| Sauk | 1840 | Crawford, Dane and Portage Counties | Baraboo |
| Sawyer | 1883 | Ashland and Chippewa Counties | Hayward |
| St. Croix | 1840 | Crawford County and unorganized territory. | Hudson |
| Shawano | 1853 | Oconto, Waupaca and Winnebago Counties | Shawano |
| Sheboygan | 1836 | Brown County | Sheboygan |
| Taylor | 1875 | Chippewa, Clark, Lincoln and Marathon Counties | Medford |
| Trempealeau | 1854 | Buffalo, Chippewa, Jackson and La Crosse Counties | Whitehall |
| Vernon | 1851 | Crawford County | Viroqua |
| Vilas | 1893 | Oneida County | Eagle River |
| Walworth | 1836 | Milwaukee County | Elkhorn |
| Washburn | 1883 | Burnett County | Shell Lake |
| Washington | 1836 | Brown and Milwaukee Counties | West Bend |
| Waukesha | 1846 | Milwaukee County | Waukesha |
| Waupaca | 1851 | Brown and Winnebago Counties | Waupaca |
| Waushara | 1851 | Marquette County | Wautoma |
| Winnebago | 1840 | Brown, Calumet, Fond du Lac and Marquette Counties | Oshkosh |
| Wood | 1856 | Portage County | Wisconsin Rapids |