Arkansas Counties and Historical Facts
Arkansas County records vary widely from county to county in both quality and quantity. Some have been carefully preserved while others have been much abused and neglected. Some Arkansas records have simply disappeared.
For genealogists doing research in Arkansas there is no effective replace for an on-site search of county courthouse records.
Arkansas County Records
Arkansas is divided into 75 counties. The county clerk in each Arkansas county holds vital records, probate records, and land records. Researchers should note, however, that there are two courthouses in some Arkansas counties.
County clerks may also have some court records on file, but those records are more likely to be found at the circuit court clerk's office.
Generally, there are no online services for most counties in the state. However, the county judge's office can be contacted for information on county records.
Researchers should keep in mind that the 1914 death and birth registration requirement wasn't followed well for nearly a decade after it was passed.
Boundary changes and divisions of counties over the years may also have a large impact on whether or not records exist and, if so, where they can be found.
See also a list of links to county and county seat government run websites.
List of Arkansas Extinct Counties
Arkansas has counties that no longer exist because they were discontinued, renamed or merged with another county.
A lot of these counties were established and disbanded within the 19th century; county borders have changed very little since 1900.
These are important for genealogy research purposes. Pay attention where the courthouse records went to if the county was eliminated or joined with some other county.
See the History of Arkansas Counties for more details.
List of Arkansas Counties with Burned Courthouses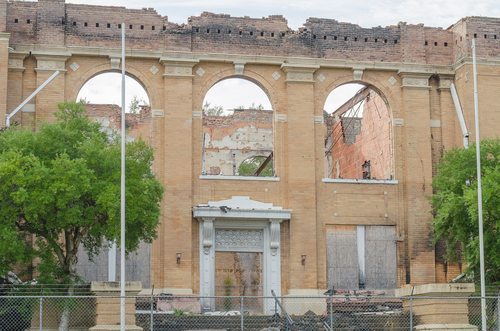 The damage to courthouses greatly has a bearing on genealogists in every way.
Not only are these historic structures torn from our lifetimes, so are the records they housed: marriage, wills, probate, land records, and others.
Once destroyed they're lost forever. Although they have been placed on mircofilm, computers and film burn too.
However, not all records were damaged or lost in some counties.
Ashley County Courthouse – A courthouse fire in 1921 destroyed most of the county's records.
Benton County Courthouse – S.J. Bloucher in 1906 makes no mention of record loss; however, Arkansas History Commission sources say an "1865 courthouse fire destroyed many early records." D.Y. Thomas mentiones a log courthouse built in 1837, a brick structure in 1840, and another brick courthouse built in 1873, but does not mention a fire.
Carroll County Courthouse – A fire in December, 1869, destroyed all the county records. Arkansas History Commission information says there was a courthouse fire in 1870.
Clay County Courthouse – It is reported "the will and deed records begin in April, 1881, and are complete to date except deed record E from March 1, 1891, to January 31, 1892. This record was burned. The following records are missing: Book E named above, the entire records of Clayton County, and the records of Clay County from December 1875, to February 29 [sic], 1893. The latter records were burned at Piggott when the courthouse was destroyed by fire.
Cleveland County Courthouse – It is reported, "the records are incomplete and some are not in good condition. Several tax books, one marriage record, and one or more court records are missing."
Conway County Courthouse – Lewisburg, situated on the Arkansas River, was subject to periodic floods – some records were lost; a fire about 1899 destroyed and damaged some records; loose probate packets date from 1899.
Craighead County Courthouse – It was reported, "All records were destroyed by a fire in 1869 and again in 1878. The records are therefore incomplete. Since 1886, the records have been kept in a fire-proof vault and no records have been injured or lost since March 28, 1878."
Crawford County Courthouse – It was reported, "The records from 1818 to 1820 are on file at Little Rock. On March 23, 1877, the courthouse was destroyed by fire and all records were destroyed except those of the treasurer and a few deeds and mortgages. Since that date, however, the records are complete and are kept in fire-proof vaults."
Crittenden County Courthouse – It was reported, "The records of this county are intact except that during the reconstruction period, a few pages of the deed records and of the chancery court records were mutilated, and the taxbooks for the year 1878 are missing. There are deed records much older than the county and the original deed records, A and B, are now hardly legible. Many of these early deeds are in Spanish. The records are in good state of preservation with the exceptions named above."
Desha County Courthouse – Information from the Arkansas History Commission indicates record loss from a courthouse fire in the 1860s.
Faulkner County Courthouse – It was reported the records complete despite a courthouse fire; the records were stored in a fire-proof vault. Note: I, Desmond Walls Allen, personally climbed into the courthouse Dumpster in the mid-1980s and fished out many of the loose probate packets that had been dumped in with the Kentucky Fried Chicken boxes, etc., from the sheriff's department's lunch. Three of us dried the records in my momma's microwave oven, arranged them in folders, took them to be microfilmed at the Arkansas History Commission, then placed the records in the University of Central Arkansas' Archives in Torreyson Library in Conway. Some of the records are now stored in what used to be the old jail.
Franklin County Courthouse – It was reported, "The records of the county, common pleas, probate, and circuit courts are complete from the date of the first court in 1839. The deed and mortgage records are incomplete; the courthouse was burned in 1863, but G.H. Ross, the clerk, saved from the fire all except the deed records. Since that date the deed records are complete. The records of the Charleston district are complete from 1891, they having been burned in that year. For the most part however, they have been rewritten."
Fulton County Courthouse – Material from the Arkansas History Commission indicates a fire in 1870 destroyed most county records.
Garland County Courthouse – In 1906, C.D. Greaves reported the records "were complete until Feb. 25, 1905, when fire and heat charred, damaged, or destroyed everything except tax books of 1904 then in the hands of the collector. The deed and mortgage records, except two, have been recopied or reproduced as they were left after the fire, edges being badly burned and only portions legible. As records will have considerable value, these consist of books designated by alphabet (26) and about 39 by number, 1 to 39. Circuit court records were totally destroyed, 10 books; chancery records practically destroyed, book I has been recopied, 8 (A to H) being burned. Probate records all except last one destroyed; so also the county court records, the marriage license records were partially destroyed, one will record burned, one partially restored, mechanic's lien judgement record destroyed, probate docket partially restored, pending cases in chancery court partially saved, all law and probate papers destroyed. The county never had vaults. New courthouse just completed… has complete set of vaults." Garland County apparently had another serious fire in 1913.
Grant County Courthouse – It was reported all the records destroyed through Mar. 13, 1877, but complete thereafter and kept in fire-proof vaults.
Greene County Courthouse – A courthouse fire in 1876 destroyed most records.
Hempstead County Courthouse – It was reported the circuit court records complete from March 15, 1824; deed records complete since Oct. 9, 1820; records prior lost through "carelessness of officials"; first record of county court dated 1837.
Izard County Courthouse – It was reported the loss of all records before April 11, 1869; information from the Arkansas History Commission indicates another fire in 1889 destroyed all county records.
Little River County Courthouse – It was reported the following records missing: county court records from 1867 to Jan. 1876, destroyed by fire in 1882; marriage record from 1867 to Dec. 1880, cause of destruction unknown; real estate tax books from 1867 to 1882, destroyed by fire in 1882. At that time records were kept in "a temporary courthouse, an unsafe frame building."
Logan County Courthouse – It was reported all records from county formation to 1878 destroyed by fire.
Madison County Courthouse – It was reported the probate records complete from 1860; county court records complete from 1873; will records complete from 1880; deed records complete from 1843. A fire in 1902 destroyed deed record A and all will records except those recorded on court records.
Marion County Courthouse – Arkansas History Commission sources say a courthouse fire in 1888 destroyed many of the records.
Old Miller County Courthouse – There was a courthouse fire in 1828. Available records for Old Miller County are in the George T. Wright Collection, Miller County Records, Territory of Arkansas, July 20, 1835 – March 17, 1838, University of Texas, Austin. Probate records have been published – see Old Miller County under books for sale www.ArkansasResearch.com
Mississippi County Courthouse– Arkansas History Commission information shows record loss from a courthouse fire in 1865.
Newton County Courthouse – It was reported all records destroyed by a fire in 1866 but complete from that time.
Ouachita County Courthouse – It was reported all records destroyed by a fire, Dec. 19, 1875; but complete since that time.
Perry County Courthouse – It was reported one small chancery volume saved in the 1881 fire and the records complete from that time.
Phillips County Courthouse – It was reported most of the records intact though some were "slightly damaged by being moth-eaten"; records were removed during the War but returned in good condition; entries kept in "Irregular D" volume while records were gone.
Pike County Courthouse – Arkansas History Commission sources report destruction of most records in an 1895 courthouse fire; an abstract book was saved.
Poinsett County Courthouse – It was reported loss of all records in a courthouse fire Sept. 1873, but complete since that time.
Polk County Courthouse – It was reported all records prior to 1883 destroyed in a courthouse fire except one probate record dating from Sept. 1876, one county court record dating from July 1876, and one circuit court record dating from Feb. 1877.
Prairie County Courthouse – It was reported the records destroyed by an Sept. 16, 1854 fire at Brownsville but complete from 1855 and kept in fire-proof vaults.
St. Francis County Courthouse – It was reported a fire in the latter part of 1874 destroyed many of the county records, but many of the deed records were only partially burned. They have since been recopied as far as possible. All the records were destroyed by fire during the War. They are therefore complete since 1874, and almost complete since 1865.
Scott County Courthouse – Arkansas History Commission sources show a courthouse fire in 1882 destroyed all records.
Searcy County Courthouse – It was reported destruction of the records in Jan. 1864, partial destruction in March 1877, and destruction again in Aug. 1885. "All records prior to 1881 are missing except deed record A, one chancery court record, one probate court record, one circuit court record."
Sebastian County Courthouse – It was reported the courthouse at Greenwood burned in 1881 and again in 1882, "but few records being saved. All records since 1882 are in good condition and those prior to that date have been recopied as far as possible."
Sharp County Courthouse – It was reported a fire of Jan. 20, 1880, destroyed all the county records, but they are complete from that time, housed in fire-proof vaults at Evening Shade and Hardy. The newspaper editor of the Sharp County Record published marriages prior to the fire. See the books by this publisher.
Van Buren County Courthouse – It was reported "Nearly all county records were destroyed by fire in 1863. A few of the old books were hidden by the clerk in a cliff and were thus saved. Records are complete since 1863 and are in a fair state of preservation.
Washington County Courthouse – It was reported, "County court records are complete from Aug. 3, 1835; probate records from Oct. 9, 1837; marriage records from 1845, except the record of the period between 1861 and 1864. Probate and will records, A and B, were stolen. During the War, Presley R. Smith, clerk, hid the county records in a dry case in the mountains south of Fayetteville to prevent their falling into the hands of the Federals. Only one record was thus lost. The records are in good condition and are kept in fire-proof vaults."
Yell County Courthouse – It was reported records complete since 1865. "In addition for the period prior to 1865, the county has the probate records from May 7, 1858, to Feb. 10, 1862; the marriage records from July 23, 1841, to Mar. 24, 1849; and the deed records from Mar. 2, 1841, to Dec. 4, 1848. The missing records were destroyed by fire during the War."
List of Arkansas Counties
List of Arkansas Counties
County
Date Formed
Parent County
County Seat
Arkansas
1813
1st County (Eastern Arkansas)
De Witt and

Stuttgart
Ashley
1848
Drew and Union counties
Hamburg
Baxter
1873
Fulton, Izard, Marion, and Searcy counties
Mountain Home
Benton
1836
Washington County
Bentonville
Boone
1869
Carroll and Marion counties
Harrison
Bradley
1840
Union County
Warren
Calhoun
1850
Dallas and Ouachita counties
Hampton
Carroll
1833
Izard County and later by Madison County (1870)
Berryville and

Eureka Springs
Chicot
1823
Arkansas County
Lake Village
Clark
1818
Arkansas (1818)
Arkadelphia
Clay
1873
Randolph and Greene counties, and originally named Clayton before 1875
Piggott and

Corning
Cleburne
1883
White, Van Buren, and Independence counties
Heber Springs
Cleveland
1873
Bradley, Dallas, Jefferson counties, and formerly named Dorsey County (from 1885)
Rison
Columbia
1852
Formed from Lafayette, Hempstead, and Ouachita counties
Magnolia
Conway
1825
Pulaski County
Morrilton
Craighead
1859
Mississippi, Greene, Poinsett counties
Jonesboro and

Lake City
Crawford
1820
Pulaski County
Van Buren
Crittenden
1825
Phillips County
Marion
Cross
1862
St. Francis, Poinsett, and Crittenden counties
Wynne
Dallas
1845
Clark and Bradley counties
Fordyce
Desha
1838
Arkansas, Union counties, then from Chicot County (prior to 1880), and Lincoln (prior 1930)
Arkansas City
Drew
1846
Bradley, Chicot, Desha, Union counties
Monticello
Faulkner
1873
Pulaski and Conway counties
Conway
Franklin
1837
Crawford and Johnson counties
Ozark and

Charleston
Fulton
1842
Izard County and then later from Lawrence County (prior 1850)
Salem
Garland
1873
Montgomery, Hot Springs, and Saline counties
Hot Springs
Grant
1869
Jefferson, Hot Spring, Saline counties
Sheridan
Greene
1833
Lawrence County and later on by Randolph
Paragould
Hempstead
1818
Arkansas (1818)
Hope
Hot Springs
1829
Clark County and later from Montgomery County (prior 1880)
Malvern
Howard
1873
Pike, Hempstead, Polk, Sevier counties.
Nashville
Independence
1820
Lawrence County (1820)
Batesville
Izard
1825
Independence, Crawford counties, and later from Fulton (prior 1880)
Melbourne
Jackson
1829
Lawrence and St. Francis counties
Newport
Jefferson
1829
Arkansas and Pulaski
Pine Bluff
Johnson
1833
Pope County, and a small portion from Madison County (prior 1890)
Clarksville
Lafayette
1827
Hempstead County and later from Columbia County (prior 1910)
Lewisville
Lawrence
1815
Arkansas and New Madrid (MO) in 1815
Walnut Ridge
Lee
1873
Phillips, Monroe, Crittenden, and St. Francis counties.
Marianna
Lincoln
1871
Arkansas, Bradley, Desha, Drew, and Jefferson counties
Star City
Little River
1867
Sevier County
Ashdown
Logan
1871
Franklin, Johnson, Pope, Scott, and Yell counties (Formally named Sarber County)
Booneville and

Paris
Lonoke
1873
Prairie and Pulaski counties
Lonoke
Madison
1836
Washington County
Huntsville
Marion
1835
Izard County
Yellville
Miller
1874
Lafayette County
Texarkana
Mississippi
1833
Crittenden
Blytheville and

Osceola
Monroe
1829
Phillips and Arkansas counties
Clarendon
Montgomery
1842
Hot Spring
Mount Ida
Nevada
1871
Columbia, Hempstead, Ouachita counties
Prescott
Newton
1842
Carroll
Jasper
Ouachita
1842
Union
Camden
Perry
1840
Conway County
Perryville
Phillips
1820
Arkansas and Lawrence County
Helena
Pike
1833
Clark and Hempstead counties
Murfreesboro
Poinsett
1838
Greene, Lawrence counties
Harrisburg
Polk
1844
Sevier
Mena
Pope
1829
Crawford County
Russellville
Prairie
1846
Arkansas and Pulaski counties
Des Arc and

DeValls Bluff
Pulaski
1818
Arkansas and Lawrence counties (1818)
Little Rock
Randolph
1835
Lawrence County
Pocahontas
St. Francis
1827
Formed from Phillips County
Forrest City
Saline
1835
Independence and Pulaski
Benton
Scott
1833
Crawford and Pope counties
Waldron
Searcy
1838
Marion County
Marshall
Sebastian
1851
Crawford and Scott
Greenwood and

Fort Smith
Sevier
1828
Hempstead County
De Queen
Sharp
1868
Lawrence County
Ash Flat
Stone
1873
Izard, Independence, Searcy, Van Buren
Mountain View
Union
1829
Clark and Hempstead counties
El Dorado
Van Buren
1833
Conway, Izard, and Independece
Clinton
Washington
1828
Lovely County
Fayetteville
White
1835
Independence, Jackson and Pulaski counties
Searcy
Woodruff
1862
Jackson and St. Francis counties
Augusta
Yell
1840
Hot Spring, Pope, and Scott County
Danville and Dardanelle