Georgia Counties and Historical Facts
Georgia County records vary widely from county to county in both quality and quantity. Some have been carefully preserved while others have been much abused and neglected. Some Georgia records have simply disappeared.
For genealogists doing research in Kentucky there is no effective replace for an on-site search of county courthouse records.
Georgia County Records
Land records were recorded with the Clerk of the Superior Court in each county. Probate records were recorded with the Clerk of the Ordinary Court, as were marriages. Most civil court cases were handled completely by the Superior Court.
In 1777 the first Georgia counties were formed. However, they only covered a small part of the present-day area that is Georgia.
Soon, more Native American land was acquired, leading to the formation of new counties. Then land records began to be recorded by each county's superior court clerk.
The clerk of the ordinary court, meanwhile, kept records of marriages and probate records. The superior court handled most civil court cases.
Most of the county records for Georgia are available at the Georgia Archives in bound volumes, on microfilm and in collections of original, loose records.
See also a list of links to county and county seat government run websites.
List of Georgia Extinct Counties
Georgia has counties that no longer exist because they were discontinued, renamed or merged with another county.
A lot of these counties were established and disbanded within the 19th century; county borders have changed very little since 1900.
These are important for genealogy research purposes. Pay attention where the courthouse records went to if the county was eliminated or joined with some other county.
See the History of Georgia Counties for more details.
List of Georgia Counties with Burned Courthouses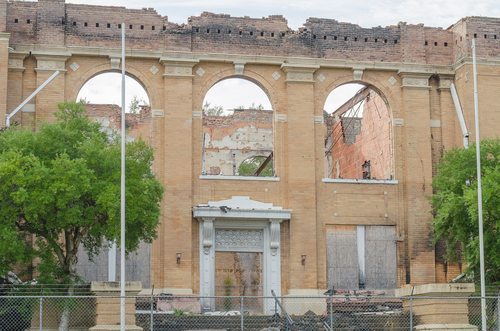 The damage to courthouses greatly has a bearing on genealogists in every way.
Not only are these historic structures torn from our lifetimes, so are the records they housed: marriage, wills, probate, land records, and others.
Once destroyed they're lost forever. Although they have been placed on mircofilm, computers and film burn too.
However, not all records were damaged or lost in some counties.
Baker – Flood – 1925, 1929.
Baldwin – Fire – 1861.
Bartow – Originally Cass Co. – . Courthouse destroyed by enemy fire during War Between the States in the 1860
Bulloch – Fire – 1864.
Burke -Fire – 1825, 1856.
Calhoun – Fire – 1888, 1920.
Carroll – Fire – 1927.
Charlton – County site then at Traders Hill. Destroyed by fire in 1877. Present site fire 19 February 1928.
Cherokee – Fire – 1865, 1928.
Clayton – Fire – 1864.
Clinch – Fire – 1856, 1867.
Cobb – Fire – 1864.
Coffee – Fire – 1898, 1938.
Colquitt – Fire – 1881.
Crawford – Fire – 1829.
Dade – Fire – 1865, 1895.
DeKalb – Fire – 1842, 1898.
Dooly – Fire – 1847.
Douglas – Fire – 1896, 1957.
Early – Fire – 1896.
Echols – Fire – 1897.
Emanuel – Fire – 1841, 1855, 1857, 1919, 1938.
Fayette – Fire – 1983
Forsyth – Fire – 1973.
Glynn – Storm – 1896.
Gordon – Storm – 1888.
Greene – Town burned by Indians in 1787.
Gwinnett – Fire – 1871.
Habersham -Fire – 1856. Blown up in 1898.
Hall – Fire – 1851, 1882. Tornado in 1936.
Harris – Set fire by Federal Troops in 1865, but quickly extinguished.
Hart – Fire – 1900, 1967. Courthouse burned in 1967. Clerk & Ordinary's Office in adjacent building.
Heard – Fire – 1893.
Henry – Fire – 1824. Some records destroyed by Sherman's men, 1864
Jenkins – Fire – 1919.
Lee – Fire – 1856. Co. seat then at Starkville. Fire at Leesburg in 1872.
Lowndes – Fire – 1858, 1869.
Macon -Fire – 1857.
Marion – Fire – 1845.
McIntosh – Fire – 1864, 1872, 1931.
Meriwether – Cyclone – 3 March 1893. Fire – 1976.
Miller – Fire – 1873, 1974.
Mitchell – Fire – 1869.
Muscogee – Fire – 1838.
Newton – Fire – 1883.
Paulding – Fire – The county has no record loss from fire. The old courthouse burned in the 1920s, but the new courthouse had already been built and the records transferred. The reason that there is record loss comes from when Polk County was cut out of Paulding and Dallas was made the county seat in 1852. They didn't bring the records with them, and their whereabouts are unknown. The books that still had blank pages in them were brought to Dallas and still exist. This means the marriages start in the 1830s, the deeds in the 1840s, and probate records in the 1840s.
Pickens – Fire – 1947.
Pierce – Fire – 1875.
Quitman – Fire – 1920.
Screven – Fire – 1860's, 1896.
Stewart – Fire – 1922.
Talbot – Fire – 1890.
Telfair – Fire in the early 1900's.
Thomas – Damaged by storm in 1849.
Toombs – Fire – 1919.
Troup – Mysterious fire 4 November 1936.
Twiggs – Fire – 1901.
Union – Fire – 1859.
Walker – Fire – 1883.
Ware – Fire – 1854.
Warren – Fire – 1909.
Washington – Fire – 1855, 1864 (Sherman).
Webster – Fire – 1914.
Wheeler – Fire – 1916.
Whitfield -Fire – 1864 (Sherman).
Wilkes – Fire – 1958.
Wilkinson – Fire – 1829, 1854, 1864, 1924.
Worth – Fire – 1879, 1893
List of Georgia Counties
| County | Date Formed | Parent County | County Seat |
| --- | --- | --- | --- |
| Appling | 1818 | Land ceded by the Creek Indians in theTreaty of Fort Jackson in 1814 and the Treaty of the Creek Agency in 1818. | Baxley |
| Atkinson | 1917 | Clinch and Coffee Counties | Pearson |
| Bacon | 1914 | Appling, Pierce and Ware Counties | Alma |
| Baker | 1825 | Early County. | Newton |
| Baldwin | 1803 | Creek cessions of 1802 and 1805. | Milledgeville |
| Banks | 1858 | Franklin and Habersham Counties | Homer |
| Barrow | 1914 | Gwinnett, Jackson and Walton counties. | Winder |
| Bartow | 1832 | Created from a portion of Cherokee County in 1832 and originally called Cass County after General Lewis Cass. | Cartersville |
| Ben Hill | 1906 | Irwin and Wilcox counties. | Fitzgerald |
| Berrien | 1856 | Coffee, Irwin, and Lowndes counties. | Nashville |
| Bibb | 1822 | portions of Houston, Jones, Monroe, and Twiggs counties. | Macon |
| Bleckley | 1912 | Pulaski County. | Cochran |
| Brantley | 1920 | Charlton, Pierce, and Wayne counties. | Nahunta |
| Brooks | 1858 | Lowndes and Thomas counties | Quitman |
| Bryan | 1793 | Chatham County | Pembroke |
| Bulloch | 1796 | Bryan and Screven Counties | Statesboro |
| Burke | 1777 | Originally organized as St George Parish. | Waynesboro |
| Butts | 1825 | Henry and Monroe counties. | Jackson |
| Calhoun | 1854 | Early and Baker counties. | Morgan |
| Camden | 1777 | St Mary and St Thomas Parishes. | Woodbine |
| Candler | 1914 | Bulloch, Emanuel and Tattnall counties. | Metter |
| Carroll | 1826 | Created by the state legislature from lands ceded by the Creek Indians in 1825 in theTreaty of Indian Springs. | Carrollton |
| Catoosa | 1853 | Walker and Whitfield counties. | Ringgold |
| Charlton | 1854 | Camden County. | Folkston |
| Chatham | 1777 | Christ Church and St Philip Parishes. | Savannah |
| Chattahoochee | 1854 | Muscogee and Marion counties. | Cusseta |
| Chattooga | 1838 | Walker and Floyd counties. | Summerville |
| Cherokee | 1831 | Cherokee Cession of 1831. | Canton |
| Clarke | 1801 | Jackson County. | Athens |
| Clay | 1854 | Randolph and Early counties. | Fort Gaines |
| Clayton | 1858 | Fayette and Henry counties. | Jonesboro |
| Clinch | 1850 | Lowndes and Ware counties. | Homerville |
| Cobb | 1832 | Cherokee County | Marietta |
| Coffee | 1854 | Clinch, Irwin, Telfair and Ware counties. | Douglas |
| Colquitt | 1856 | Thomas and Lowndes counties. | Moultrie |
| Columbia | 1790 | Richmond County | Appling |
| Cook | 1918 | Berrien County. | Adel |
| Coweta | 1826 | Created on Creek lands ceded in 1825 in the treaty of Indian Springs and Creek Cessions of 1826. | Newnan |
| Crawford | 1822 | Houston County. | Knoxville |
| Crisp | 1905 | Dooly County. | Cordele |
| Dade | 1837 | Walker County. | Trenton |
| Dawson | 1857 | Gilmer and Lumpkin counties. | Dawsonville |
| De Kalb | 1823 | Early County. | Bainbridge |
| Decatur | 1822 | Henry, Gwinnett, and Fayette counties. | Decatur |
| Dodge | 1870 | Montgomery, Pulaski and Telfair counties. | Eastman |
| Dooly | 1821 | Creek Cession of 1821. | Vienna |
| Dougherty | 1853 | Baker County. | Albany |
| Douglas | 1870 | Campbell and Carroll counties. | Douglasville |
| Early | 1818 | Creek Cession of 1814. | Blakely |
| Echols | 1858 | Clinch and Lowndes Counties | Statenville |
| Effingham | 1777 | St Mathew and St Philip Parishes. | Springfield |
| Elbert | 1790 | Wilkes County | Elberton |
| Emanuel | 1812 | Bulloch and Montgomery Counties | Swainsboro |
| Evans | 1914 | Bulloch and Tattnall County | Claxton |
| Fannin | 1854 | Gilmer and Union Counties | Blue Ridge |
| Fayette | 1821 | Creek Cession of 1821. | Fayetteville |
| Floyd | 1832 | Cherokee County | Rome |
| Forsyth | 1832 | Cherokee County | Cumming |
| Franklin | 1784 | Cherokee and Creek Cessions of 1783 | Carnesville |
| Fulton | 1853 | DeKalb County + the former Campbell and Milton Counties and a portion of Cobb County | Atlanta |
| Gilmer | 1832 | Cherokee County | Ellijay |
| Glascock | 1857 | Warren County | Gibson |
| Glynn | 1777 | St David and St Patrick Parishes | Brunswick |
| Gordon | 1850 | Cass (now Bartow) and Floyd Counties | Calhoun |
| Grady | 1905 | Decatur and Thomas Counties | Cairo |
| Greene | 1786 | Washington County | Greensboro |
| Gwinnett | 1818 | Cherokee Cession of 1817 and Creek Cession of 1818. | Lawrenceville |
| Habersham | 1818 | Cherokee Cessions of 1817 and 1819 | Clarkesville |
| Hall | 1818 | Cherokee Cessions of 1817 and 1819 | Gainesville |
| Hancock | 1793 | Greene and Washington counties | Sparta |
| Haralson | 1856 | Carroll and Polk Counties | Buchanan |
| Harris | 1827 | Muscogee and Troup counties | Hamilton |
| Hart | 1853 | Elbert and Franklin counties | Hartwell |
| Heard | 1830 | Carroll, Coweta and Troup Counties | Franklin |
| Henry | 1821 | Creek Cession of 1821 | McDonough |
| Houston | 1821 | Creek Cession of 1821 | Perry |
| Irwin | 1818 | Creek Cessions of 1814 and 1818 | Ocilla |
| Jackson | 1796 | Franklin County | Jefferson |
| Jasper | 1807 | Baldwin (FKA Randolph County 1807 – 12) | Monticello |
| Jeff Davis | 1905 | Appling and Coffee counties | Hazlehurst |
| Jefferson | 1796 | Burke and Warren Counties | Louisville |
| Jenkins | 1905 | Bulloch, Burke, Emanuel, and Screven Counties | Millen |
| Johnson | 1858 | Emanuel, Laurens and Washington counties | Wrightsville |
| Jones | 1807 | Baldwin County | Gray |
| Lamar | 1920 | Monroe and Pike Counties | Barnesville |
| Lanier | 1920 | Berrien, Clinch and Lowndes Countries | Lakeland |
| Laurens | 1807 | Wilkinson County | Dublin |
| Lee | 1826 | Creek Cessions of 1826 | Leesburg |
| Liberty | 1777 | St Andrew, St James, and St John Parishes | Hinesville |
| Lincoln | 1796 | Wilkes County | Lincolnton |
| Long | 1920 | Liberty County | Ludowici |
| Lowndes | 1825 | Irwin County | Valdosta |
| Lumpkin | 1832 | Cherokee, Habersham, and Hall Counties | Dahlonega |
| Macon | 1837 | Houston and Marion Counties | Oglethorpe |
| Madison | 1811 | Clarke, Elbert, Franklin, Jackson and Oglethorpe Counties | Danielsville |
| Marion | 1827 | Lee and Muscogee Counties | Buena Vista |
| McDuffie | 1870 | Columbia and Warren | Thomson |
| McIntosh | 1793 | Liberty County | Darien |
| Meriwether | 1827 | Formed form Troup County | Greenville |
| Miller | 1856 | Baker and Early Counties | Colquitt |
| Mitchell | 1857 | Baker County | Camilla |
| Monroe | 1821 | Creek Cession of 1821 | Forsyth |
| Montgomery | 1793 | Washington County | Mount Vernon |
| Morgan | 1807 | Baldwin County | Madison |
| Murray | 1832 | Cherokee County | Chatsworth |
| Muscogee | 1826 | Creek Cession of 1826 | Columbus |
| Newton | 1821 | Henry, Jasper, and Walton Counties | Covington |
| Oconee | 1875 | Clarke County | Watkinsville |
| Oglethorpe | 1793 | Wilkes County | Lexington |
| Paulding | 1832 | Cherokee County | Dallas |
| Peach | 1924 | Houston and Macon Counties | Fort Valley |
| Pickens | 1853 | Cherokee and Gilmer counties | Jasper |
| Pierce | 1857 | Appling and Ware Counties | Blackshear |
| Pike | 1822 | Monroe County | Zebulon |
| Polk | 1851 | Floyd and Paulding Counties | Cedartown |
| Pulaski | 1808 | Laurens County | Hawkinsville |
| Putnam | 1807 | Baldwin County | Eatonton |
| Quitman | 1858 | Randolph and Stewart counties | Georgetown |
| Rabun | 1819 | Cherokee Cession of 1819 | Clayton |
| Randolph | 1828 | Lee County | Cuthbert |
| Richmond | 1777 | St Paul Parish | Augusta |
| Rockdale | 1870 | Henry and Newton counties | Conyers |
| Schley | 1857 | Marion and Sumter counties | Ellaville |
| Screven | 1793 | Burke and Effingham Counties | Sylvania |
| Seminole | 1920 | Decatur and Early Counties | Donalsonville |
| Spalding | 1851 | Fayette, Henry, and Pike County | Griffin |
| Stephens | 1905 | Franklin and Habersham Counties | Toccoa |
| Stewart | 1830 | Randolph County | Lumpkin |
| Sumter | 1831 | Lee County | Americus |
| Talbot | 1827 | Muscogee County | Talbotton |
| Taliaferro | 1825 | Greene, Hancock, Oglethorpe, Warren, and Wilkes Counties | Crawfordville |
| Tattnall | 1801 | Montgomery County | Reidsville |
| Taylor | 1852 | Macon, Marion and Talbot Counties | Butler |
| Telfair | 1807 | Wilkinson County | McRae |
| Terrell | 1856 | Lee and Randolph Counties | Dawson |
| Thomas | 1825 | Decatur and Irwin Counties | Thomasville |
| Tift | 1905 | Berrien, Irwin and Worth Counties | Tifton |
| Toombs | 1905 | Emanuel, Tattnall, and Montgomery Counties | Lyons |
| Towns | 1856 | Rabun and Union Counties | Hiawassee |
| Treutlen | 1917 | Emanuel and Montgomery Counties | Soperton |
| Troup | 1826 | Creek Cession of 1826 | Lagrange |
| Turner | 1905 | Dooly, Irwin, Wilcox and Worth Counties | Ashburn |
| Twiggs | 1809 | Wilkinson County | Jeffersonville |
| Union | 1832 | Cherokee County | Blairsville |
| Upson | 1824 | Crawford and Pike Counties | Thomaston |
| Walker | 1833 | Murray County | Lafayette |
| Walton | 1818 | Creek Cession of 1818 | Monroe |
| Ware | 1824 | Appling County | Waycross |
| Warren | 1793 | Columbia, Hancock, Richmond, and Wilkes Counties | Warrenton |
| Washington | 1784 | Creek Cession of 1783 | Sandersville |
| Wayne | 1803 | Creek Cession of 1802 | Jesup |
| Webster | 1853 | Stewart County (Formally Kinchafoonee) | Preston |
| Wheeler | 1912 | Montgomery County | Alamo |
| White | 1857 | Habersham County | Cleveland |
| Whitfield | 1851 | Murray County | Dalton |
| Wilcox | 1857 | Dooly, Irwin, and Pulaski counties | Abbeville |
| Wilkes | 1777 | Cherokee and Creek Cessions of 1773 | Washington |
| Wilkinson | 1803 | Creek Cessions of 1802 and 1805 | Irwinton |
| Worth | 1853 | Dooly and Irwin Counties | Sylvester |