Maine Counties and Historical Facts
Maine Counties records vary extensively from county to county in either quality as well as quantity. Some have already been very carefully maintained while some have been substantially neglected and uncared for. Some Maine records have merely disappeared. For genealogists performing research in Maine there's no effective substitute for an on-site research of county courthouse records. For Definitions of all court terms see the Genealogy Encyclopedia.
County Resources – Maine has similar systems of early record keeping for probates, vitals and deeds to Massachusetts. The county seat has probates and deeds on file and the town offices hold vital records, typically. The Maine legislature mandated that marriages had to be filed with the county clerk beginning in 1828. However, that mandate was never uniformly followed. Many records were held in private homes and were subsequently lost, often in fires. Some holds have records that predate the town, which shows that they hold records for the towns from which they were created (parent towns). If records for a town begin long after the town was established, many records for that town were probably lost. Town Resources – A lot of information about New England ancestors can be found in early town meeting records. Town meeting records for Maine may be a bit difficult to track down, though, since some of them are no longer filed in the offices of the town clerks. The Maine State Archives is continuing to find, organize, and compile town records for the various towns in Maine. These Secretary of State's office publishes addresses for free on a yearly basis. Some towns keep records in the home of the town clerk, but annual elections mean that records are frequently moved. See also a list of links to county and county seat government run websites.
List of Maine Extinct Counties
Maine has counties that no longer are in existence. They were established by the state, provincial, or territorial government. A lot of these counties were created and disbanded within the 19th century; county borders have changed little since Nineteen hundred in the great number of states. These counties really should be looked at when you are conducting genealogy research. Pay close attention where the courthouse records went to if the county was abolished or combined with a different county.
Devonshire County: Devonshire County, District of Maine, Massachusetts Bay Colony was a short-lived county formed during the colonial territorial disputes between the Province of Massachusetts and the Province of Maine. The county existed from 1674 to 1675.
Yorkshire County: created in 1639 from Colonial Lands,. It was renamed renamed York County in 1652
List of Maine Counties with Burned Courthouses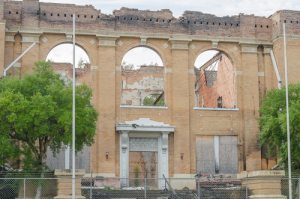 The harm to Maine courthouses considerably has a impact on family historians in every way. Not only are a lot of these historic buildings torn from our lifetimes, so are the records they housed: marriage, wills, probate, land records, and others. Once destroyed they're destroyed permanently. Although they have already been put on mircofilm, computers and film burn up too. The most sad aspect of this is the reason why nearly all of our courthouses are destroyed from arsonist. Although, you cannot assume all records were lost. Numerous Maine counties have dealt with a loss of records due to courthouse fires, floods, and theft.
Cumberland County Courthouse, Fire Loss
List of Maine Counties
| County | Date Formed | Parent County | County Seat |
| --- | --- | --- | --- |
| Androscoggin | 1854 | Cumberland, Kennebec, and Lincoln Countes | Auburn |
| Aroostook | 1839 | Penobscot County, and Washington County | Houlton |
| Cumberland | 1760 | As Cumberland County, MA from York County | Portland |
| Franklin | 1838 | Kennebec, Oxford, and Somerset Countes | Farmington |
| Hancock | 1789 | As Hancock County, MA, from Lincoln County | Ellsworth |
| Kennebec | 1799 | As Kennebec County, MA from Lincoln County | Augusta |
| Knox | 1860 | Lincoln and Waldo Countes | Rockland |
| Lincoln | 1760 | As Lincoln County, MA from York County | Wiscasset |
| Oxford | 1805 | As Oxford County, MA from Cumberland and York Countes | Paris |
| Penobscot | 1816 | As Penobscot County, MA from Hancock County | Bangor |
| Piscataquis | 1838 | Penobscot and Somerset Countes | Dover-Foxcroft |
| Sagahadoc | 1854 | Lincoln County | Bath |
| Somerset | 1809 | As Somerset County, MA from Kennebec County | Skowhegan |
| Waldo | 1827 | Hancock, Kennebec and Lincoln Countes | Belfast |
| Washington | 1789 | As Washington County, MA from Lincoln County | Machias |
| York | 1652 | As Yorkshire County, MA from the southern the District of Maine | Alfred |