Nebraska Counties records include a wide variety of genealogy topics that can guide you with your research, such as land ownership, courts, taxes, and naturalizations. Given that Nebraska court records cover a wide range of topics, they can help you in many different ways. For instance, they could allow you to identify ancestors' residences, identify occupations, locate financial information, confirm citizenship status, or clarify relationships between people. It all will depend on on what kind of court records that your ancestors" names can be found in. For Definitions of all court terms see the Genealogy Encyclopedia.
Kansas Counties – Nebraska has 93 Counties. The capital is Lincoln and the official state website is nebraska.gov/.
The Genealogical Society of Utah and the Nebraska State Historical Society have a partnership, which they use to microfilm Nebraska county records. The microfilming of county marriage records have been completed. Deed records and naturalization records are now being microfilmed as well. The FHL and the Nebraska State Historical Society have the completed microfilms on file. Research Guides for Genealogical Data for most of the counties in the state have also been published by the Nebraska State Genealogical Society. New guides are expected to be published on an ongoing basis.
The website for the state of Nebraska has links to each county's governmental offices. The county clerk's office holds many genealogically useful records, including delayed birth registrations, county commissioners' minutes, and notary records. Researchers may also find other records in those offices, including school registers, physician's registers, marks and brands, voter registrations, military discharge papers, estray notices, and ranch and farm names. The Nebraska State Historical Society also has a few county commissioners' minutes on file. The county clerk's office holds marriage records, while the register of deeds holds deeds and land records. The county court clerk's office holds probate records, as well as civil court records.
See also a list of links to county and county seat government run websites.
List of Nebraska Extinct Counties
Nebraska contains counties that no longer exist. They were established by the state, provincial, or territorial governing administration. A lot of these counties were established and disbanded during the 19th century; county boundaries have changed very little since Nineteen hundred in the great number of states. These counties needs to be investigated when doing genealogy and family tree research. Pay close attention where the courthouse records went to if the county was eliminated or consolidated with another county.
Blackbird County was created on March 16, 1855 from Nebraska Territory. It was abolished in 1889, area formed as Thurston in 1889.
Calhoun County was created on March 14, 1856 from Lancaster County. It was renamed to Saunders County in 1862.
Emmet County was created on 18 Feb 1867 renamed from L'Eau Qui Court, renamed Knox 1873
Forney County was created on March 23, 1854 from Nebraska Territory. it was renamed to Nemaha County in 1856.
Jackson County was created March 16, 1855 from Jones county. On January 26, 1856 the County lost all territory to the creation of  Filmore County.
Jones County was created November 23, 1854 from non-county area. On 16 March 16, 1855 the county lost area to creation of Clay County, Jackson County, Johnston County, Saline County, and York County. The County was eliminated on February 18, 1867 and remaining area merged into Jefferson County.
Greene County was created on 1855 from Cass and Pierce Counties. It was renamed to Seward County in 1862.
Izard County was created on November 23, 1854 from Nebraska Territory. It was renamed Stanton County in 1862
L'Eau Qui Court County was created on 10 Feb 1857 from Nebraska Territory and renamed Emmett County in 1867
McNeale County was created on 1855 from Burt County. It was abolished in 1856 and became part of Madison County
Old Pierce County was created on November 23, 1854, it was renamed to Otoe County in 1855.
Shorter County was created on January 7, 1860 Nebraska Territory renamed Lincoln 1861
West County was created on 13 Jan 1860 Nebraska Territory renamed Holt 1862
List of Nebraska Counties with Burned Courthouses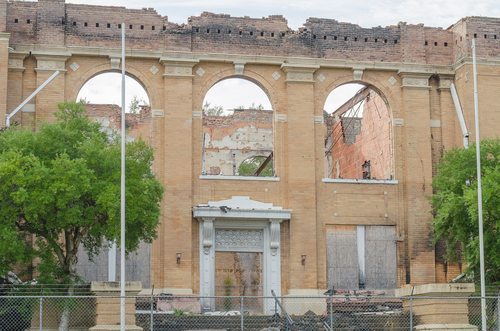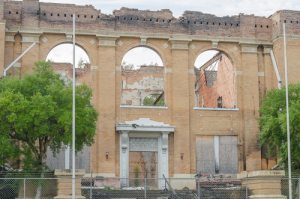 The harm to Nebraska courthouses significantly has a affect on family historians in each and every way. Not only are these historic buildings torn from our lifetimes, so are the files they kept: marriage, wills, probate, land records, and others. Once destroyed they are destroyed permanently. Despite the fact that they have already been put on mircofilm, computers and film burn too. The most heartbreaking side of this is the reason why nearly all of our courthouses are destroyed from arsonist. Though, not all records were destroyed. A number of Nebraska counties have endured a loss of records due to courthouse fires, floods, and theft.
Lincoln County Courthouse
Thomas County Courthouse
Thayer County Courthouse
List of Nebraska Counties
List of Nebraska Counties
| County | Date Formed | Parent County | County Seat |
| --- | --- | --- | --- |
| Adams | 1867 | Unorganized area of the Nebraska Territory | Hastings |
| Antelope | 1871 | Unorganized area of the Nebraska Territory | Neligh |
| Arthur | 1887 (1913) | Unorganized area of the Nebraska Territory | Arthur |
| Banner | 1888 | Formed from Cheyenne County | Harrisburg |
| Blaine | 1885 | Unorganized land | Brewster |
| Boone | 1871 | Unorganized land | Albion |
| Box Butte | 1887 | Formed from Dawes County | Alliance |
| Boyd | 1891 | Holt County, and Unorganized area of the Nebraska Territory (Indian Territory) | Butte |
| Brown | 1883 | Unorganized area of the Nebraska Territory | Ainsworth |
| Buffalo | 1855 | Unorganized area of the Nebraska Territory | Kearney |
| Burt | 1854 | One of Nine Original Counties | Tekamah |
| Butler | 1856 | Formed from Greene County | David City |
| Cass | 1854 | One of Nine Original Counties | Plattsmouth |
| Cedar | 1857 | Formed from Dixon County and Pierce County | Hartington |
| Chase | 1873 | Unorganized area of the Nebraska Territory | Imperial |
| Cherry | 1883 | Unorganized area of the Nebraska Territory | Valentine |
| Cheyenne | 1867 | Unorganized area of the Nebraska Territory | Sidney |
| Clay | 1855 | Formed from Unorganized area of the Nebraska Territory | Clay Center |
| Colfax | 1869 | Formed from Platte County | Schuyler |
| Cuming | 1855 | Formed from Burt County | West Point |
| Custer | 1877 | Unorganized area of the Nebraska Territory | Broken Bow |
| Dakota | 1855 | Formed from Burt County | Dakota City |
| Dawes | 1885 | Formed from Sioux County | Chadron |
| Dawson | 1860 | Unorganized area of the Nebraska Territory | Lexington |
| Deuel | 1888 | Formed from Cheyenne County | Chappell |
| Dixon | 1856 | Formed from Blackbird County, Izard County and Unorganized area of the Nebraska Territory | Ponca |
| Dodge | 1854 | One of Nine Original Counties | Fremont |
| Douglas | 1854 | One of Nine Original Counties | Omaha |
| Dundy | 1873 | Unorganized area of the Nebraska Territory | Benkelman |
| Fillmore | 1856 (1871) | Formed from Jackson County and Unorganized area of the Nebraska Territory | Geneva |
| Franklin | 1867 | Formed from Kearney County | Franklin |
| Frontier | 1872 | Unorganized area of the Nebraska Territory | Stockville |
| Furnas | 1873 | Unorganized area of the Nebraska Territory | Beaver City |
| Gage | 1855 | Unorganized area of the Nebraska Territory | Beatrice |
| Garden | 1909 | Formed from Deuel County | Oshkosh |
| Garfield | 1884 | Formed from Wheeler County | Burwell |
| Gosper | 1873 | Unorganized area of the Nebraska Territory | Elwood |
| Grant | 1887 | Unorganized area of the Nebraska Territory | Hyannis |
| Greeley | 1871 | Unorganized area of the Nebraska Territory | Greeley |
| Hall | 1858 | Unorganized area of the Nebraska Territory | Grand Island |
| Hamilton | 1867 | Unorganized area of the Nebraska Territory | Aurora |
| Harlan | 1871 | Formed from Kearney County | Alma |
| Hayes | 1877 | Unorganized area of the Nebraska Territory | Hayes Center |
| Hitchcock | 1873 | Unorganized area of the Nebraska Territory | Trenton |
| Holt | 1862 | Unorganized area of the Nebraska Territory (Formerly- West County) | O'Neill |
| Hooker | 1889 | Unorganized area of the Nebraska Territory | Mullen |
| Howard | 1871 | Formed from Hall County | Saint Paul |
| Jefferson | 1855 | Unorganized area of the Nebraska Territory | Fairbury |
| Johnson | 1855 | Formed from Nemaha County and Otoe County | Tecumseh |
| Kearney | 1860 | Unorganized area of the Nebraska Territory | Minden |
| Keith | 1873 | Unorganized area of the Nebraska Territory | Ogallala |
| Keya Paha | 1884 | Formed from Brown County and Unorganized area of the Nebraska Territory (Indian Territory) | Springview |
| Kimball | 1888 | Formed from Cheyenne County | Kimball |
| Knox | 1873 | Formed from Pierce County and Unorganized area of the Nebraska Territory (Formal names-L'Eau Qui Court (1857-1867) and Emmet (1867-1873)) | Center |
| Lancaster | 1855 | Formed from Cass County and Pierce County | Lincoln |
| Lincoln | 1861 | Unorganized area of the Nebraska Territory (Formerly Shorter County) | North Platte |
| Logan | 1885 | Unorganized area of the Nebraska Territory | Stapleton |
| Loup | 1855 | Unorganized area of the Nebraska Territory | Taylor |
| Madison | 1856 | Formed from Loup County and McNeale County and Unorganized area of the Nebraska Territory | Madison |
| McPherson | 1887 | Unorganized area of the Nebraska Territory | Tryon |
| Merrick | 1858 | Formed from Polk County and Unorganized area of the Nebraska Territory | Central City |
| Morrill | 1908 | Formed from Cheyenne County | Bridgeport |
| Nance | 1879 | Formed from Pawnee Reservation | Fullerton |
| Nemaha | 1856 | One of Nine original counties (Formerly Forney) | Auburn |
| Nuckolls | 1860 | Unorganized area of the Nebraska Territory | Nelson |
| Otoe | 1854 | One of nine Original Counties (Formerly Pierce) | Nebraska City |
| Pawnee | 1855 | Formed from Richardson County | Pawnee City |
| Perkins | 1887 | Formed from Kieth County | Grant |
| Phelps | 1873 | Formed from Kearney County | Holdrege |
| Pierce | 1856 | Formed from Izard County, McNeale County and Unorganized area of the Nebraska Territory | Pierce |
| Platte | 1856 | Formed from Greene County and Loup County | Columbus |
| Polk | 1856 | Formed from York County and Unorganized area of the Nebraska Territory | Osceola |
| Red Willow | 1873 | Unorganized area of the Nebraska Territory | McCook |
| Richardson | 1854 | One of Nine Original Counties | Falls City |
| Rock | 1857 | Formed from Brown County | Bassett |
| Saline | 1855 | Unorganized area of the Nebraska Territory | Wilber |
| Sarpy | 1857 | Formed from Cass County and Douglas County | Papillion |
| Saunders | 1865 | Formed from Douglas County and Lancaster County (Formerly Calhoun County (1856-1865)) | Wahoo |
| Scotts Bluff | 1881 | Formed from Cheyenne County | Gering |
| Seward | 1862 | Formed from Cass County and Pierce County (Formerly- Greene County) | Seward |
| Sheridan | 1885 | Formed from Sioux County | Rushville |
| Sherman | 1871 | Formed from Buffalo County and Unorganized area of the Nebraska Territory | Loup City |
| Sioux | 1877 | Unorganized area of the Nebraska Territory | Harrison |
| Stanton | 1855; renamed 1862 | Formed from Burt County (Formerly Izard County) | Stanton |
| Thayer | 1856 | Formed from Jefferson County | Hebron |
| Thomas | 1887 | Unorganized area of the Nebraska Territory | Thedford |
| Thurston | 1889 | Formed form Blackbird County and Omaha Reservation | Pender |
| Valley | 1871 | Unorganized area of the Nebraska Territory | Ord |
| Washington | 1854 | One of Nine Original Counties | Blair |
| Wayne | 1871 | Unorganized area of the Nebraska Territory | Wayne |
| Webster | 1867 | Unorganized area of the Nebraska Territory | Red Cloud |
| Wheeler | 1877 | Unorganized area of the Nebraska Territory | Bartlett |
| York | 1855 | Formed from Cass County, Pierce County and Unorganized area of the Nebraska Territory | York |