North Carolina Counties and Historical Facts
North Carolina County records vary widely from county to county in both quality and quantity. Some have been carefully preserved while others have been much abused and neglected. Some North Carolina records have simply disappeared.
For genealogists doing research in North Carolina there is no effective replace for an on-site search of county courthouse records.
North Carolina County Records
The FHL, North Carolina State Archives and Allen County Public Library all have centralized collections of county records available.
Other information, such as will and deed books, may be found at the county seats.
Many county clerks recorded documents and records from their parent counties when the new counties were formed. Sometimes all records were simply transferred.
So, some counties may have records on file that are older than the counties themselves. The county seat is home to the register of deeds, which keeps vital records for the county.
Probate records cab be found in the superior court clerk's office.
Other court records may also be available there, but many have been transferred to the North Carolina State Archives.
Probate records include estate records and wills. Land records may include plats, grants, deeds, and other documents. Court records may consist of bastardy bonds, dockets, constables' bonds, apprentice bonds, account books, orders, and court minutes.
Not all records are still extant. Some have been destroyed in fires and other circumstances over the years. See also a list of links to county and county seat government run websites.
List of North Carolina Extinct Counties
North Carolina has counties that no longer exist because they were discontinued, renamed or merged with another county.
A lot of these counties were established and disbanded within the 19th century; county borders have changed very little since 1900.
These are important for genealogy research purposes. Pay attention where the courthouse records went to if the county was eliminated or joined with some other county.
See the History of North Carolina Counties for more details.
List of North Carolina Counties with Burned Courthouses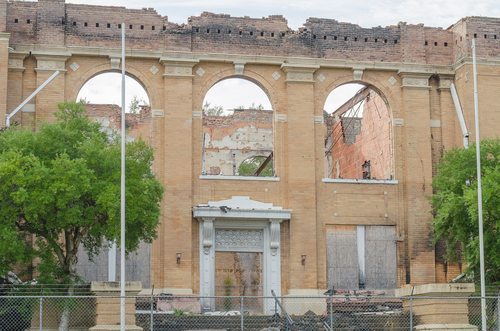 The damage to courthouses greatly has a bearing on genealogists in every way.
Not only are these historic structures torn from our lifetimes, so are the records they housed: marriage, wills, probate, land records, and others.
Once destroyed they're lost forever. Although they have been placed on mircofilm, computers and film burn too.
However, not all records were damaged or lost in some counties.
The first item is the county name, followed by the date of courthouse destruction, () describes what caused the destruction and if records were destroyed.
Alleghany County Courthouse – 1932 (fire, record loss)
Alexander County Courthouse – 1865 (civil war, record loss), 1967 (fire)
Craven County Courthouse – 1712 (records destroyed by Indians)
Anson County Courthouse – 1868 (fire)
Ashe County Courthouse – 1865 (fire, records fragmented)
Bladen County Courthouse – 1770 (fire), 1800 (fire), 1893 (fire)
Brunswick County Courthouse – 1865 (civil war, record loss), 1957 (clerk's office fire)
Buncombe County Courthouse – 1830 (fire), 1865 (fire)
Burke County Courthouse – 1865 (civil war, record loss)
Cabarrus County Courthouse – 1876 (fire)
Cherokee County Courthouse – 1865 (fire), 1895 (fire), 1926 (fire)
Chowan County Courthouse – 1848 (records destroyed by acting clerk)
Clay County Courthouse – 1870 (fire, records destroyed)
Craven County Courthouse – 1712 (records destroyed by Indians)
Currituck County Courthouse – 1842 (fire)
Davidson County Courthouse – 1866 (fire)
Gaston County Courthouse – 1874 (fire)
Greene County Courthouse – 1876 (fire)
Guilford County Courthouse – 1781 (fire), 1872 (fire)
Harnett County Courthouse – 1892 (fire), 1894 (fire)
Haywood County Courthouse – 1932 (records destroyed in move to new courthouse)
Hertford County Courthouse – 1830 (fire), 1822 (fire)
Hyde County Courthouse – 1789 (fire), 1827 (fire)
Iredell County Courthouse – 1854 (fire)
Jackson County Courthouse – 1913 (records lost when county seat moved)
Jones County Courthouse – 1862 (fire) 'Courthouse was burned during Civil War battle, many court records destroyed.
Lenoir County Courthouse – 1878 (fire), 1880 (fire) Most court records were destroyed
Lincoln County Courthouse – 1797 (records may have been destroyed by fire in private home)
Martin County Courthouse – 1862 (fire) 'Courthouse fire destroyed many court records.
Mitchell County Courthouse – 1907 (some records destroyed in move to new courthouse)
Montgomery County Courthouse – 1835 (fire), 1840 (fire), 1886 (may have suffered record loss from courthouse fire. The clerk said that he saved the records but that they were "in a state of great confusion.")
Moore County Courthouse – 1889 (fire) Courthouse fire destroyed most of the land records and many court records
New Hanover County Courthouse – 1789, 1819 & 1840 (all 3 courthouse fires may have destroyed some records)
Onslow County Courthouse – 1752 & 1755 (records destroyed by storm)
Orange County Courthouse – 1781 (records destroyed when buried in woods to avoid capture or destruction by Cornwallis)
Pitt County Courthouse – 1857 (fire) Courthouse fire destroyed most of the court records.
Rowan County Courthouse – 1865 (civil war, record loss) records were destroyed by Federal troops
Rutherford County Courthouse – 1907 (fire)
Sampson County Courthouse – 1921 (clerk's office fire) Some early court records are missing because of Federal sympathizers in 1865; Clerk's office fire in 1921. Early deed books of Duplin County prior to 1784
Swain County Courthouse – 1879 Courthouse fire destroyed many records and on January 7, 1908 the Courthouse was burned by rioters.  No records were saved
Wake County Courthouse – Several deed books were destroyed in register's office fire in 1832.
Warren County Courthouse – 1935 (Some early County records may have been destroyed) County Court Records from abt 1814 -1823 are missing There is a loss of records for around the 1935 time period. Deed Books 15 and 16, 1799-1803, are missing from the court house and from the NC Archives.
Washington County Courthouse – County records destroyed by bombardment in Civil War in 1862. Fires have destroyed most of the court records and many of the land records in 1869 and 1881.
Watauga County Courthouse – Courthouse fire in 1873 destroyed all of the land records and most of the court records.
Wayne County Courthouse – 1781 (records may have been destroyed in courthouse fire)
List of North Carolina Counties
| County | Date Formed | Parent County | County Seat |
| --- | --- | --- | --- |
| Alamance | 1849 | Orange County | Graham |
| Alexander | 1847 | Caldwell, Iredell and Wilkes Counties | Taylorsville |
| Alleghany | 1859 | Ashe County | Sparta |
| Anson | 1749 | Bladen County | Wadesboro |
| Ashe | 1799 | Wilkes County | Jefferson |
| Avery | 1911 | Caldwell, Mitchell and Watauga Counties | Newland |
| Beaufort | 1712 | Original county | Washington |
| Bertie | 1722 | Chowan County | Windsor |
| Bladen | 1734 | New Hanover County | Elizabethtown |
| Brunswick | 1764 | Bladen and New Hanover Counties | Bolivia |
| Buncombe | 1791 | Burke and Rutherford Counties | Asheville |
| Burke | 1777 | Rowan County | Morganton |
| Cabarrus | 1792 | Mecklenburg County | Concord |
| Caldwell | 1841 | Burke and Wilkes Counties | Lenoir |
| Camden | 1777 | Pasquotank County | Camden |
| Carteret | 1722 | Craven County | Beaufort |
| Caswell | 1777 | Orange County | Yanceyville |
| Catawba | 1842 | Lincoln County | Newton |
| Chatham | 1771 | Orange County | Pittsboro |
| Cherokee | 1839 | Macon County | Murphy |
| Chowan | 1668 | Albemarle County | Edenton |
| Clay | 1861 | Cherokee County | Hayesville |
| Cleveland | 1841 | Lincoln and Rutherford Counties | Shelby |
| Columbus | 1808 | Bladen and Brunswick Counties | Whiteville |
| Craven | 1705 | Bath County | New Bern |
| Cumberland | 1754 | Bladen County | Fayetteville |
| Currituck | 1668 | Albemarle County | Currituck |
| Dare | 1870 | Currituck, Hyde and Tyrrell Counties | Manteo |
| Davidson | 1822 | Rowan County | Lexington |
| Davie | 1836 | Rowan County | Mocksville |
| Duplin | 1750 | New Hanover County | Kenansville |
| Durham | 1881 | Orange and Wake Counties | Durham |
| Edgecombe | 1741 | Bertie County | Tarboro |
| Forsyth | 1849 | Stokes County | Winston-Salem |
| Franklin | 1778 | Bute County | Louisburg |
| Gaston | 1846 | Lincoln County | Gastonia |
| Gates | 1778 | Chowan, Hertford and Perquimans Counties | Gatesville |
| Graham | 1872 | Cherokee County | Robbinsville |
| Granville | 1746 | Edgecombe County | Oxford |
| Greene | 1799 | Dobbs (Glasgow) County | Snow Hill |
| Guilford | 1771 | Orange and Rowan County | Greensboro |
| Halifax | 1758 | Edgecombe County | Halifax |
| Harnett | 1855 | Cumberland County | Lillington |
| Haywood | 1808 | Buncombe County | Waynesville |
| Henderson | 1838 | Buncombe County | Hendersonville |
| Hertford | 1759 | Bertie, Chowan and Northampton Counties | Winton |
| Hoke | 1911 | Cumberland and Robeson Counties | Raeford |
| Hyde | 1712 | Original county | Swan Quarter |
| Iredell | 1788 | Rowan County | Statesville |
| Jackson | 1851 | Haywood and Macon Counties | Sylva |
| Johnston | 1746 | Craven County | Smithfield |
| Jones | 1778 | Craven County | Trenton |
| Lee | 1907 | Chatham and Moore Counties | Sanford |
| Lenoir | 1791 | Dobbs (Glasgow) County | Kinston |
| Lincoln | 1779 | Tryon County | Lincolnton |
| Macon | 1828 | Haywood County | Franklin |
| Madison | 1851 | Buncombe and Yancey Counties | Marshall |
| Martin | 1774 | Halifax and Tyrrell Counties | Williamston |
| McDowell | 1842 | Burke and Rutherford Counties | Marion |
| Mecklenburg | 1762 | Anson County | Charlotte |
| Mitchell | 1861 | Burke, Caldwell, McDowell, Watauga and Yancey Counties | Bakersville |
| Montgomery | 1779 | Anson County | Troy |
| Moore | 1784 | Cumberland County | Carthage |
| Nash | 1777 | Edgecombe County | Nashville |
| New Hanover | 1729 | Craven County | Wilmington |
| Northampton | 1741 | Bertie County | Jackson |
| Onslow | 1734 | New Hanover County | Jacksonville |
| Orange | 1752 | Bladen, Granville and Johnston Counties | Hillsborough |
| Pamlico | 1872 | Beaufort and Craven Counties | Bayboro |
| Pasquotank | 1668 | Albemarle County | Elizabeth City |
| Pender | 1875 | New Hanover County | Burgaw |
| Perquimans | 1668 | Albemarle County | Hertford |
| Person | 1791 | Caswell County | Roxboro |
| Pitt | 1760 | Beaufort County | Greenville |
| Polk | 1855 | Henderson and Rutherford Counties | Columbus |
| Randolph | 1779 | Guilford County | Asheboro |
| Richmond | 1779 | Anson County | Rockingham |
| Robeson | 1787 | Bladen County | Lumberton |
| Rockingham | 1785 | Guilford County | Wentworth |
| Rowan | 1753 | Anson County | Salisbury |
| Rutherford | 1779 | Tryon County | Rutherfordton |
| Sampson | 1784 | Duplin County | Clinton |
| Scotland | 1899 | Richmond County | Laurinburg |
| Stanly | 1841 | Montgomery County | Albemarle |
| Stokes | 1789 | Surry County | Danbury |
| Surry | 1771 | Rowan County | Dobson |
| Swain | 1871 | Jackson and Macon Counties | Bryson City |
| Transylvania | 1861 | Henderson and Jackson Counties | Brevard |
| Tyrrell | 1729 | Chowan, Currituck and Pasquotank Counties | Columbia |
| Union | 1842 | Anson and Mecklenburg Counties | Monroe |
| Vance | 1881 | Franklin, Granville and Warren Counties | Henderson |
| Wake | 1771 | Cumberland, Johnston and Orange Counties | Raleigh |
| Warren | 1779 | Bute County | Warrenton |
| Washington | 1799 | Tyrrell County | Plymouth |
| Watauga | 1849 | Ashe, Caldwell, Wilkes and Yancey Counties | Boone |
| Wayne | 1779 | Dobbs (Glasgow) County | Goldsboro |
| Wilkes | 1777 | Surry County | Wilkesboro |
| Wilson | 1855 | Edgecombe, Johnston, Nash and Wayne Counties | Wilson |
| Yadkin | 1850 | Surry County | Yadkinville |
| Yancey | 1833 | Buncombe and Burke Counties | Burnsville |