Mississippi Counties and Historical Facts
Mississippi County records vary widely from county to county in both quality and quantity. Some have been carefully preserved while others have been much abused and neglected. Some Mississippi records have simply disappeared.
For genealogists doing research in Mississippi there is no effective replace for an on-site search of county courthouse records.
Mississippi County Records
A large collection of county records from Mississippi can be found at the Mississippi Department of Archives and History on microfilm. However, it is not a complete collection. The FHL can also provide copies of those records on microfilm.
However, the various courthouses in each county should still be consulted, since some records may not have been moved to the archives yet. Many of those records, including probate records and marriage licenses, can contain genealogical data.
Researchers should note that marriage records for both African Americans and white people can be found at the chancery clerk's office at the county courthouse in each county, along with probate records and deeds.
Deeds, probate records, and divorces may be found at the chancery clerk at the county courthouse. Microfilmed marriage books for both whites and blacks are indicated, in that order, under "Marriages" and can be found in the county Clerk of Circuit Court.
Court records may be found in the appropriate clerk's office at the courthouse.
See also a list of links to county and county seat government run websites.
List of Mississippi Extinct Counties
Mississippi has counties that no longer exist because they were discontinued, renamed or merged with another county.
A lot of these counties were established and disbanded within the 19th century; county borders have changed very little since 1900.
These are important for genealogy research purposes. Pay attention where the courthouse records went to if the county was eliminated or joined with some other county.
See the History of Mississippi Counties for more details.
List of Mississippi Counties with Burned Courthouses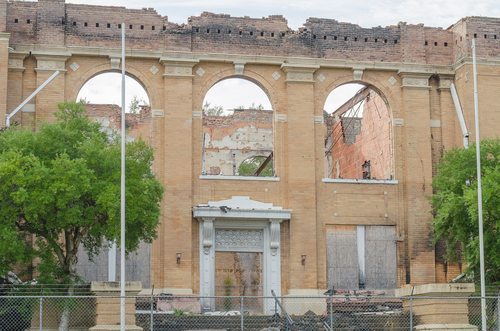 The damage to courthouses greatly has a bearing on genealogists in every way.
Not only are these historic structures torn from our lifetimes, so are the records they housed: marriage, wills, probate, land records, and others.
Once destroyed they're lost forever. Although they have been placed on mircofilm, computers and film burn too.
However, not all records were damaged or lost in some counties.
Alcorn County Courthouse – Corinth – Record Loss in 1917
Attala County Courthouse – Kosciusko – 1858, 1860 and 1896
Bolivar County Courthouse – Rosedale and Cleveland – Fire in 1863, Flood in 1865
Calhoun County Courthouse – Pittsboro – Fire in 1922
Chickasaw County Courthouse – Houston – Fire in 1863
Choctaw County Courthouse – Ackerman – Fire 1874, 1888
Covington County Courthouse – Collins – Record loss in 1904
Desoto County Courthouse – Hernando – Record loss in 1940
Franklin County Courthouse – Meadville – Fire in 1877
Greene County Courthouse – Leakesville – Fire in 1875
Holmes County Courthouse – A courthouse fire in 1884 destroyed many of the records, but the deeds were housed in a separate building and Will Book I was rescued.
Jackson County Courthouse – Pascagoula – Fire in 1875
Jefferson County Courthouse – Fayette – Record loss in 1904, Fire in 1990
Jones County Courthouse – Laurel and Ellisville – Unknown Date
Kemper County Courthouse – DeKalb – Fire in 1882
Lee County Courthouse – Tupelo – Fire in 1873 & 1904
Lincoln County Courthouse – Brookhaven – Unknown 1893
Montgomery County Courthouse – Winona – Record loss, 1903.
Newton County Courthouse – Decatur – Record loss, 1877 and 1910.
Oktibbeha County Courthouse – Starkville – Record loss, 1880.
Panola County Courthouse – Sardis – Record loss, 1886
Perry County Courthouse – New Augusta – Record loss, 1877
Pike County Courthouse – Magnolia – Record loss, 1882
Prentiss County Courthouse – Booneville – Record loss, 1912.
Simpson County Courthouse – Mendenhall – Record loss, 1840, 1872
Smith County Courthouse – Raleigh – Record loss, 1892, 1915
Sunflower County Courthouse – Indianola – Record loss, 1870.
Tallahatchie County Courthouse – Charleston/Sumner – Record loss at Sumner, 1908
Tippah County Courthouse – Ripley – Record loss, 1863
Union County Courthouse – New Albany – Record loss, 1882
Wayne County Courthouse – Waynesboro – Record loss, 1892
List of Mississippi Counties
List of Mississippi Counties
| County | Date Formed | Parent County | County Seat |
| --- | --- | --- | --- |
| Adams | 1799 | One of two original counties | Natchez |
| Alcorn | 1870 | Tippiah and Tishomingo Counties | Corinth |
| Amite | 1809 | Wilkinson County | Liberty |
| Attala | 1833 | Madison County | Kosciusko |
| Benton | 1870 | Marshall and Tippah Counties | Ashland |
| Bolivar | 1836 | Tallahatchie and Washington Counties | Cleveland and Rosedale |
| Calhoun | 1852 | Chickasaw, Lafayette and Yalobusha Counties | Pittsboro |
| Carroll | 1833 | Lowndes, Monroe, Washington and Yazoo Counties | Carrollton and Vaiden |
| Chickasaw | 1836 | Monroe County and Un-Organized | Houston |
| Choctaw | 1833 | Lowndes, Madison, Monroe and Yazoo Counties | Ackerman |
| Claiborne | 1802 | Jefferson (Pickering) County | Port Gibson |
| Clarke | 1833 | Wayne County | Quitman |
| Clay | 1871 | Chickasaw, Lowndes, Monroe and Oktibbeha Counties (formerly (Colfax County) | West Point |
| Coahoma | 1836 | Un-Organized | Clarksdale |
| Copiah | 1823 | Franklin and Hinds Counties | Hazlehurst |
| Covington | 1819 | Lawrence and Wayne Counties | Collins |
| Desoto | 1836 | Monroe and Washington Counties | Hernando |
| Forrest | 1906 | Perry County | Hattiesburg |
| Franklin | 1809 | Adams County | Meadville |
| George | 1910 | Greene and Jackson Counties | Lucedale |
| Greene | 1811 | Wayne County | Leakesville |
| Grenada | 1870 | Carroll, Choctaw, Tallahatchie and Yalobusha Counties | Grenada |
| Hancock | 1812 | Un-Organized | Bay Saint Louis |
| Harrison | 1841 | Hancock County | Gulfport and Biloxi |
| Hinds | 1821 | Un-Organized (Choctaw Cession of 1820) | Jackson and Raymond |
| Holmes | 1833 | Yazoo County | Lexington |
| Humphreys | 1918 | Holmes, Sunflower, Washington and Yazoo Counties | Belzoni |
| Issaquena | 1844 | Washington County | Mayersville |
| Itawamba | 1836 | Monroe County | Fulton |
| Jackson | 1812 | Un-Organized | Pascagoula |
| Jasper | 1833 | Jones and Wayne Counties | Bay Springs |
| Jefferson | 1799 | One of two original Counties (formerly Pickering) | Fayette |
| Jeffrson Davis | 1906 | Covington and Lawrence Counties | Prentiss |
| Jones | 1826 | Covington and Wayne Counties (formerly Davis (1865-1869 (Civil War)) | Laurel |
| Kemper | 1833 | Lowndes, Rankin and Wayne Counties | De Kalb |
| Lafayette | 1836 | Monroe County | Oxford |
| Lamar | 1904 | Marion and Pearl River Counties | Purvis |
| Lauderdale | 1833 | Rankin and Wayne Counties | Meridian |
| Lawrence | 1814 | Marion County | Monticello |
| Leake | 1833 | Madison and Rankin Counties | Carthage |
| Lee | 1866 | Itawamba and Pontotoc Counties | Tupelo |
| Leflore | 1871 | Carroll and Sunflower Counties | Greenwood |
| Lincoln | 1870 | Amite, Copiah, Franklin, Lawrence and Pike Counties | Brookhaven |
| Lowndes | 1830 | Monroe County and Un-Organized | Columbus |
| Madison | 1828 | Yazoo County | Canton |
| Marion | 1811 | Amite, Franklin and Wayne Counties | Columbia |
| Marshall | 1836 | Monroe County | Holly Springs |
| Monroe | 1821 | Un-Organized (Chickasaw Cession of 1816) | Aberdeen |
| Montgomery | 1871 | Carroll and Choctaw Counties | Winona |
| Neshoba | 1833 | Jones, Madison, Rankin and Wayne Counties | Philadelphia |
| Newton | 1836 | Neshoba County | Decatur |
| Noxubee | 1833 | Lowndes and Rankin Counties | Macon |
| Oktibbeha | 1833 | Lowndes County | Starkville |
| Panola | 1836 | Monroe and Washington Counties | Batesville |
| Pearl River | 1890 | Hancock and Marion Counties | Poplarville |
| Perry | 1820 | Greene County | New Augusta |
| Pike | 1815 | Marion County | Magnolia |
| Pontotoc | 1836 | Monroe County | Pontotoc |
| Prentiss | 1870 | Itawamba and Tishomingo Counties | Booneville |
| Quitman | 1877 | Coahoma, Panola, Tallahatchie and Tunica Counties | Marks |
| Rankin | 1828 | Hinds County | Brandon |
| Scott | 1833 | Covington, Jones and Rankin Counties | Forest |
| Sharkey | 1876 | Issaquena, Warren and Washington Counties | Rolling Fork |
| Simpson | 1824 | Copiah County | Mendenhall |
| Smith | 1833 | Covington, Jones and Rankin Counties | Raleigh |
| Stone | 1916 | Harrison County | Wiggins |
| Sunflower | 1844 | Bolivar County | Indianola |
| Tallahatchie | 1833 | Washington and Yazoo Counties | Charleston |
| Tate | 1873 | DeSoto and Marshall Counties | Senatobia |
| Tippah | 1836 | Monroe County | Ripley |
| Tishomingo | 1836 | Monroe County | Iuka |
| Tunica | 1836 | Washington County and Un-Organized | Tunica |
| Union | 1870 | Lee, Pontotoc and Tippah Counties | New Albany |
| Walthall | 1912 | Marion and Pike Counties | Tylertown |
| Warren | 1809 | Claiborne County | Vicksburg |
| Washington | 1827 | Warren and Yazoo Counties | Greenville |
| Wayne | 1809 | Washington County (AL) | Waynesboro |
| Webster | 1874 | Chickasaw, Choctaw and Montegomery Counties (formerly Sumner County) | Walthall |
| Wilkinson | 1802 | Adams County | Woodville |
| Winston | 1833 | Lowndes, Rankin, and Wayne Counties | Louisville |
| Yalobusha | 1833 | Monroe, Washington and Yazoo Counties | Water Valley |
| Yazoo | 1823 | Hinds County | Yazoo City |