Louisiana Parishes and Historical Facts
Louisiana Parish records vary widely from county to county in both quality and quantity. Some have been carefully preserved while others have been much abused and neglected. Some Louisiana records have simply disappeared.
For genealogists doing research in Louisiana there is no effective replace for an on-site search of parish courthouse records.
[
Louisiana Parish Records
Parish clerks hold the majority of these records, while some cities have these functions divided among register of conveyances and district court clerks.
The Louisiana Section of the State Library of Louisiana provided some of the information on parish formation.
Court records, marriage records, and other documents are recorded according to parish, not county, in Louisiana.
Probate and land records are also recorded that way. Parish clerks should be consulted for information concerning those records.
However, district court clerks and registers of conveyances also exist in some parishes. Their records should be consulted as well.
The FHL has many records on file for Louisiana. Those records were compiled by the Genealogical Society of Utah and may include the following record types: Court, Property, Notarial, Probate, Tax, Vital.
Information on the formation of parishes can be found at the State Library of Louisiana. The Parish Clerks of Court and State Office of Vital Records can provide copies of birth certificates.
However, access may be restricted unless relationship to the person of interest can be proven. See also a list of links to parish and parish seat government run websites.
List of Louisiana Extinct Parishes
Louisiana has parishes that no longer exist because they were discontinued, renamed or merged with another parish.
A lot of these counties were established and disbanded within the 19th century; parish borders have changed very little since 1900.
These are important for genealogy research purposes. Pay attention where the courthouse records went to if the parish was eliminated or joined with some other parish.
See the History of Louisiana Counties for more details.
List of Louisiana Counties with Burned Courthouses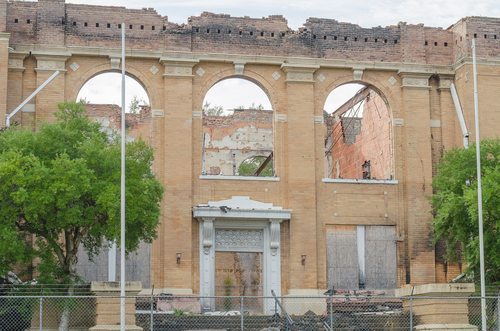 The damage to courthouses greatly has a bearing on genealogists in every way.
Not only are these historic structures torn from our lifetimes, so are the records they housed: marriage, wills, probate, land records, and others.
Once destroyed they're lost forever. Although they have been placed on mircofilm, computers and film burn too.
However, not all records were damaged or lost in some counties.
Avoyelles Parish Courthouse – There was records destruction in 1856? from Unknown causes.
Bossier Parish Courthouse – In 1888, the courthouse at Bellevue was partly burned.
Calcasieu Parish Courthouse– Courthouse was destroyed by a disastrous fire on April 23, 1910, as well as most of downtown Lake Charles, and many of the records of the parish were burned or damaged.
Catahoula Parish Courthouse – There was a total records destruction in the early 1900's due to unknown causes
Claiborne Parish Courthouse – The courthouse at Old Athens along with all parish records were destroyed by fire on November 6, 1849
Concordia Parish Courthouse – A tornado destroyed the courthouse around 1843 (most records were destroyed) and it was destroyed by flood in 1927.
Grant Parish Courthouse – The Courthouse had an unknown records loss in the 1880's.
Jackson Parish Courthouse – A courthouse fire in Vernon, before the parish seat was moved to Jonesboro, destroyed most of the records prior to then. The first courthouse, built in Jonesboro in 1912, was almost completely destroyed by an explosion. Fortunately few, if any, of our records were destroyed.
Livingston Parish Courthouse – On October 15, 1875, the parish courthouse at Port Vincent burned, apparently destroying the official records which were maintained there.
Madison Parish Courthouse –
Morehouse Parish Courthouse – Had a Record Loss in 1870 due to unknown reasons.
Ouachita Parish Courthouse – In April of 1864, Yankee gunboats partially destroyed the second courthouse. In 1882 the third courthouse was destroyed by fire.
Plaquemines Parish Courthouse – Courthouse destroyed by a fire in 2001.
Rapides Parish Courthouse – 1864?
Vermillion Parish Courthouse – The Courthouse suffered a total records Loss in around 1885.
Washington Parish Courthouse – The courthouse burned twice, first in 1854, then again in 1897. The fires resulted in a loss of nearly 68 years worth of records.  Records from the 1820-1830 decade were kept on file in the state land office and escaped the fire.  Some of the records from the second fire were salvaged and others were brought in to be re-recorded.  So, only the records from the 1840-1860 period are completely lost.
West Feliciana Parish Courthouse –
Winn Parish Courthouse – 1886?
List of Louisiana Parishes
List of Louisiana Parishes
| Parishes | Date Formed | Parent Parishes | Parishes Seat |
| --- | --- | --- | --- |
| Acadia | 1886 | from part of St. Landry Parish. | Crowley |
| Allen | 1912 | from part of Calcasieu Parish. | Oberlin |
| Ascension | 1807 | One of the original 19 parishes. | Donaldsonville |
| Assumption | 1807 | One of the original 19 parishes. | Napoleonville |
| Avoyelles | 1807 | One of the original 19 parishes. | Marksville |
| Beauregard | 1912 | from part of Calcasieu Parish. | DeRidder |
| Bienville | 1848 | from part of Claiborne Parish. | Arcadia |
| Bossier | 1843 | from part Claiborne Parish. | Benton |
| Caddo | 1838 | from part of Natchitoches Parish. | Shreveport |
| Calcasieu | 1840 | from part of St. Landry Parish. | Lake Charles |
| Caldwell | 1838 | from part of Catahoula Parish and Ouachita Parish. | Columbia |
| Cameron | 1870 | from parts of Calcasieu Parish and Vermilion Parish. | Cameron |
| Catahoula | 1808 | from parts of Ouachita Parish and Rapides Parish. | Harrisonburg |
| Claiborne | 1828 | from part of Natchitoches Parish. | Homer |
| Concordia | 1807 | One of the original 19 parishes. | Vidalia |
| De Soto | 1843 | from parts of Caddo Parish and Natchitoches Parish. | Mansfield |
| East Baton Rouge | 1810 | from West Florida territory. | Baton Rouge |
| East Carroll | 1877 | when Carroll Parish was divided. | Lake Providence |
| East Feliciana | 1824 | when Feliciana Parish was divided. | Clinton |
| Evangeline | 1910 | from part of St. Landry Parish. | Ville Platte |
| Franklin | 1843 | from parts of Carroll Parish, Catahoula Parish, Madison Parish and Ouachita Parish | Winnsboro |
| Grant | 1869 | from parts of Rapides Parish and Winn Parish. | Colfax |
| Iberia | 1868 | from parts of St. Martin Parish and St. Mary Parish. | New Iberia |
| Iberville | 1807 | One of the original 19 parishes. | Plaquemine |
| Jackson | 1845 | from parts of Claiborne Parish, Ouachita Parish and Union Parish | Jonesboro |
| Jefferson | 1825 | from part of Orleans Parish | Gretna |
| Jefferson Davis | 1912 | from part of Calcasieu Parish. | Jennings |
| La Salle | 1908 | from part of Catahoula Parish. | Jena |
| Lafayette | 1823 | from part of St. Martin Parish. | Lafayette |
| Lafourche | 1807 | One of the original 19 parishes. Was named Interior Parish until 1812 and Lafourche Interior Parish until 1853. | Thibodaux |
| Lincoln | 1873 | from parts of Bienville Parish, Claiborne Parish, Jackson Parish and Union Parish. | Ruston |
| Livingston | 1832 | from part of St. Helena Parish. | Livingston |
| Madison | 1838 | from Concordia Parish. | Tallulah |
| Morehouse | 1844 | from parts of Carroll Parish and Ouachita Parish. | Bastrop |
| Natchitoches | 1807 | One of the original 19 parishes. | Natchitoches |
| Orleans | 1807 | One of the original 19 parishes. Today coterminous with the City of New Orleans. | New Orleans |
| Ouachita | 1807 | One of the original 19 parishes. | Monroe |
| Plaquemines | 1807 | One of the original 19 parishes. | Pointe a la Hache |
| Pointe Coupee | 1807 | One of the original 19 parishes. | New Roads |
| Rapides | 1807 | One of the original 19 parishes. | Alexandria |
| Red River | 1871 | from parts of Bienville Parish, Bossier Parish, Caddo Parish and Natchitoches Parish. | Coushatta |
| Richland | 1868 | from parts of Carroll Parish, Franklin Parish, Morehouse Parish and Ouachita Parish. | Rayville |
| Sabine | 1843 | from parts of Caddo Parish and Natchitoches Parish. | Many |
| St. Bernard | 1807 | One of the original 19 parishes. | Chalmette |
| St. Charles | 1807 | One of the original 19 parishes. | Hahnville |
| St. Helena | 1810 | from West Florida territory. | Greensburg |
| St. James | 1807 | One of the original 19 parishes. | Convent |
| St. John the Baptist | 1807 | One of the original 19 parishes. | Edgard |
| St. Landry | 1807 | One of the original 19 parishes. | Opelousas |
| St. Martin | 1807 | One of the original 19 parishes. | Saint Martinville |
| St. Mary | 1811 | from part of St. Martin County. | Franklin |
| St. Tammany | 1810 | from West Florida territory. | Covington |
| Tangipahoa | 1868 | from parts of Livingston Parish, St. Helena Parish, St. Tammany Parish and Washington Parish. | Amite |
| Tensas | 1843 | from part of Concordia Parish. | Saint Joseph |
| Terrebonne | 1822 | from part of Lafourche Parish. | Houma |
| Union | 1839 | from part of Ouachita Parish. | Farmerville |
| Vermilion | 1844 | from part of Lafayette Parish. | Abbeville |
| Vernon | 1871 | from parts of Natchitoches Parish, Rapides Parish and Sabine Parish. | Leesville |
| Washington | 1819 | from part of St. Tammany Parish. | Franklinton |
| Webster | 1871 | from parts of Bienville Parish, Bossier Parish and Claiborne Parish. | Minden |
| West Baton Rouge | 1807 | One of the original 19 parishes. Was named Baton Rouge Parish until 1812. | Port Allen |
| West Carroll | 1877 | when Carroll Parish was divided. | Oak Grove |
| West Feliciana | 1824 | when Feliciana Parish was divided. | Saint Francisville |
| Winn | 1852 | from parts of Catahoula Parish, Natchitoches Parish and Rapides Parish. | Winnfield |