Georgia is located in the southeastern part of the United States. It was founded in 1733. It was the 13th U.S. colony to be founded, completing the original 13 colonies. Georgia gained its statehood during the American Revolution, which took place from 1775 to 1783. Some of the first people to sign the Declaration of Independence were from the state of Georgia. It became the 4th state to ratify the United States Constitution on January 2, 1788. It wasn't until the late 1700s that Georgia's economic state really began to prosper. It became an agricultural hub in the first part of the 1800s. That was thanks in large part to the rice and cotton plantations that were so common in the area. In fact, Georgia was among the wealthiest states in the South, as of 1860. That was well-demonstrated by stately southern plantations, especially in the central and coastal regions.
Georgia Colony got its name from Great Britain's King George II. One of Georgia's nicknames is the Buzzard State, which is a reference to a law passed in the state's early days to protect buzzards. In honor of the state's peanut industry, it also has the nickname of the Goober State. More commonly, Georgia is known as the Peach State, and car license plates for the state even display the peach emblem. It is also called the Empire State of the South, which compares its size and rapidly-developing economy to that of New York, the Empire State.
In 1733 Georgia was first founded. The goal of founding it was to give New World non-Roman Catholics a fresh start in life. The founder, James Oglethorpe was connected to debtors prisons, but only upstanding settlers were allowed to live in Georgia, not criminals. However, there is a lasting myth floating around that Georgia was originally a debtors' colony.
About 5,000 people were sent to Georgia from Great Britain to colonize the area. E. Merton Coulter and Albert B. Saye, A List of the Early Settlers of Georgia (Athens, Ga.: University of Georgia Press, 1949) features information on those original settlers. Each one received 50 acres of land. However, some received as much as 500 acres, if they paid their own way to the colony.
Starting in 1734 Protestants from central Europe, who were called Salzburgers, came to Georgia. They were the first settlers who were not from England. They settled in Ebenezer, which is in present-day Effingham County. In 1753, Georgia was given royal province status. That led to people moving tot he area from North and South Carolina, as well as Virginia. Portuguese Jews, Scottish Highlanders, Swiss, and Piedmontese Italians also came to the area.
There were 12 parishes in Georgia at the start of the Revolutionary War. It also consisted of a lot of former Creek and Cherokee Indian lands, which had been ceded to the colony as of 1773. In 1777, Georgia's first constitution was created. That led to several counties being established. Those counties were Camden, Liberty, Effingham, Glynn, Wilkes, Burke, Chatham, and Richmond. Franklin County and Washington County were founded in 1784. There were 50 counties in Georgia as of 1820, many of them having been subdivided from the first 10 counties.
The Civil War ran from 1861 to 1865 in the United States. It had a large impact on the social and economic status of the state. When the war ended and slavery was abolished, tenant farming replaced the slave-run plantation system. However, the crops still remained the same. Generally, they were tobacco, cotton, grain, or peanut crops. When the 1930s came, the Great Depression kept Georgia's economy in bad condition. Then the cotton plantations were attacked by boll weevils. So, several people chose to leave Georgia and move to other states around that time. Industrial development didn't come to Georgia in full swing until the 1950s. Within a decade, industry had replaced agriculture as the state's main income source. Atlanta, which is the state's capital, is a major economic hub and industrial center, not just for the state, but also for the entire country.
The railroads and the few factories in Georgia were strained after the Civil War, leaving Georgia's economy devastated. Rome, Roswell, Atlanta, and Griswaldville foundries and factories were demolished at that time. The end of slavery also meant that millions of dollars was lost. At the same time, the soil was becoming too worn out from constant farming, bringing an end to agricultural prosperity.
Georgia didn't recover right away after the war ended. Federal direct taxes and other obstacles kept the economic status of the area from improving. That led to more and more racial conflicts in the region, displacing several residents. As a result, when a federal census was taken in 1870, several people, both white and African American, were missed.
The last wave of migration in the 1800s in Georgia occurred during the 10 years after the war. Many people migrated to Georgia from North Carolina during that time. Many of them were drawn to its pine forests, as well as its coal, granite, marble, and kaoline industries. However, the cotton industry remained the state's most important industry well into the 1900s.
Since Atlanta was a center for transportation, it recovered more quickly than the rest of the state when the Civil War ended. It is still a travel hub, with roads, railroads, and airline travel to, from, and through the city. Atlanta and the suburbs of the city are industrial and modern, but most of the state is still rural land, much of which is used for farming.
Georgia Ethnic Group Research
The Native American population in the state of Georgia consisted mainly of the Creek and Cherokee tribes. However, they were later moved to either Oklahoma Territory or Indian Territory land, for the most part. Some Creeks remained behind, but many of those eventually moved to Alabama, instead of staying in Georgia.
North Carolina and Georgia Native American records are similar, even though the Native Americans in each of those two areas had completely different histories. The federal Cherokee records for the state of Georgia are particularly extensive. The Washington, D.C. National Archives holds those records. Unpublished typescripts of state Cherokee and Creek records have been indexed by the Georgia Archives. Information on white relatives of those Native Americans may also be available.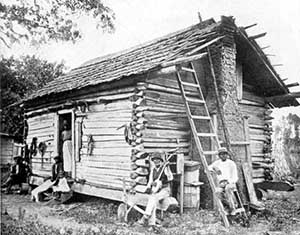 There are several records relating to African Americans on file at the Georgia Archives. Those records include: Lists of Free Persons of Color, Marriages, Slave Lists, Imported Slave Lists, Apprenticeship Bonds, Trial dockets, Lists of Slave Owners, Cemetery Records, Church Records, Bills of Sale, Deeds Transferring Slaves, Plantation Records
Not all of the above records were recorded in each county. In fact, there are far less slave records than there are records for free persons of color.
Freedman's Bureau records can be found at the National Archives, along with military records and federal census records. Post-Civil War Freedman's Bureau Georgia office records will soon be available on microfilm at the National Archives. Some former slave records can be found at the FHL, which also has a CD-Rom available for sake that lists Freedman's Bank depositors. Freedman's Bank offices were located in Savannah, Atlanta, and Augusta.
Georgia History Databases and other Helpful Links
Finally, these websites provide a tremendous amount of state-specific details to those in search of facts for Georgia genealogy projects.