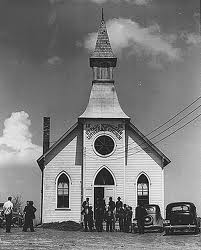 California Church records undoubtedly are a abundant source of information for the genealogical and historical researcher. In many parts of California, church records predate civil records. They for this reason record vital occasions, supplying birth, marriage, and death information which may often be lost. Aside from providing names and dates, church records may expose associations between people and depict a family's standing in the community. In addition, records of a personal nature are not uncommon, and these could provide a glimpse into an ancestor's persona or habits.
Prior to California County and city governments collected vital records, many people noted significant dates, events, and names in their family Bible. Family Bibles are important research tools. Even though the dates are not guaranteed, Family Bibles are a tangible link with past generations.
There are no centralized repositories dealing with church records in California. Scattered records can be found in genealogical publications, the DAR compilations, and on microfilm. The Spanish missions have played a central role in California's religious history.
Printed secondary sources of transcribed cemeteries exist for most California counties. The California State Society of the DAR has collected hundreds of such records. Transcripts are housed both at the national DAR and with some local chapters and libraries.
California Church and Bible Links