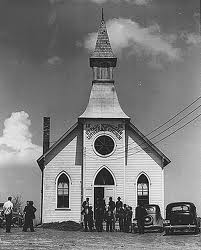 Florida Church records tend to be a exceptional resource for the genealogical and historical researcher. In many parts of Florida, church records predate civil records. They consequently record vital events, supplying birth, marriage, and death details that might in any other case be lost. Aside from furnishing names and dates, church records may expose associations between people and show a family's status in the community. In addition, entries of a personal nature are not uncommon, and these can provide you with a peek into an ancestor's personality or habits.
Florida church records can contain valuable information. However, early church records are few and far between. A large list of state churches that were open in the 1930s was put together in a volume by the WPA. That volume is called Preliminary List of Religious Bodies in Florida (Jacksonville, Fla.: Historical Records Survey, 1939). The Florida room at the State Library of Florida now holds the original survey forms that were used to create that collection. The Florida Historical Society also has a copy of that collection on file. Most of the archives and libraries across Florida also have collections of church records available. For information on specific denominations, those denominations should be contacted for repository information. Gainesville's P. K. Yonge Library at the University of Florida is one of the major church record repositories.
Early Spanish settlers brought the Roman Catholic religion to Florida. Saint Augustine's Roman Catholic Cathedral Parish records beginning in 1594 are available at the St. Augustine Catholic Diocese. Those records include baptism records, marriage records, and burial records. Copies of the records from the St. Augustine diocese can also be found at the P. K. Yonge Library. 1576 to 1803 records from The Floridas are also there, along with records from the Diocese of Louisiana. A 2-volume collection called the Roman Catholic Records, St. Augustine Parish, White Baptisms, 1784-1791 and 1792-1799 was published by the WPA in 1941.
The Southern Baptist Historical Library and Archives is home to most of Florida's Baptist records.
Beginning around 1822, there were two Methodist churches in Fernandina. They were part of the South Carolina Conference. By the time Florida gained its statehood, there were over 10,000 Methodist church members in the state.
There were Episcopalian parishes founded in the following places by 1845: Apalachicola, Jacksonville, Key West, Pensacola, Tallahassee.
Many small towns in the state also had Episcopalian churches around that time. In 1840, the Presbyterian churches of Alabama, Florida, and Georgia all included parts of what is now Florida. The P. K. Yonge Library is home to the following collections: Protestant Episcopal Church,
Diocese of Florida: Journal, 1838-1984 and
Diocese of Central Florida: Diocese, 1894-1984
Roman Catholic
"Catholic Church History, 1539–1989, West Coast of Florida", 1989.
"The Cross in the Sand: The Early Catholic Church in Florida, 1513–1870" , 1983 by Gannon, Michael.
Baptists –
"A History of Florida Baptists" , 1972 by Edward Earl Joiner.
"Inventory of the Church Archives of Florida: Baptist Bodies" (Jacksonville, Fla.: Historical Records Survey, 1939–40).
Methodists –
"Florida Flame: A History of the Florida Conference of the United Methodist Church", 1987 by Temple, Robert M. Jr. .
"From Saddlebags to Satellites: A History of Florida Methodism", 1965 by Brooks, William Erle.
"History of Methodism in Alabama and West Florida: Being An Account of the Amazing March of Methodism Through Alabama and West Florida", 1960 by Lazenby, Marion Elias.
"The Trail of the Florida Circuit Rider: An Introduction to the Rise of Methodism in Middle and East Florida", 1944 by Thrift, Charles Tinsley.
Episcopalians –
The Episcopal Diocese of Florida, 1892–1975″, 1989 by Bentley, George R.
"A Goodly Heritage: The Episcopal Church in Florida, 1821–1892", 1965 by Cushman, Joseph D. Includes a bibliography.
Before Florida County and city governments stored vital records, many people recorded crucial dates, events, and names in their family Bible. Family Bibles are helpful research tools. Although the dates may not be guaranteed, Family Bibles are a tangible link with past generations.
Florida Church and Bible Links
Guide to the Supplementary Vital Statistics from Church Records in Florida. 3 vols. , 1942.
The Pioneer Churches of Florida. Chuluota, Fla.: The Mickler House Publishers, 1977.
Florida Church Books (amazon.com)
Florida Bible Books (amazon.com)