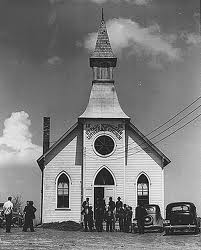 Nevada Church records tend to be a good resource for the genealogical and historical researcher. In many parts of Nevada, church records predate civil records. They consequently record vital occurrences, providing birth, marriage, and death details that may in any other case be lost. Furthermore offering names and dates, church records may show you associations between people and portray a family's status in the community. In addition, records of a personal nature are not uncommon, and these could provide a glimpse into an ancestor's persona or behaviors.
Prior to Nevada County and city governments gathered vital records, many people noted crucial times, events, and names in their family Bible. Family Bibles are valuable research tools. Even though the dates may not be guaranteed, Family Bibles are a tangible link with past generations.
Nevada was founded mainly on the bases of various gold and mineral strikes. Since each group was rather transient, religious groups had trouble making any impact on Nevada settlers and setting up permanent churches in the area. Many early churches were also destroyed by various fires. Nevertheless, several groups eventually gained footholds in Nevada, including: The Church of Jesus Christ of Latter-day Saints (Mormons), Roman Catholics , Methodists, Episcopalians, Congregationalists, Jews.
The two largest still existing denominations in Nevada are the Church of Jesus Christ of Latter-day Saints and the Roman Catholic Church.
The Nevada Historical Society has Episcopalian records on file from each Nevada parish for the years of 1862 to 1969. The Nevada Diocese of Reno is now the primary Episcopalian church in the state. The Roman Catholics have two primary dioceses in the state. One is located in Reno and the other is located in Las Vegas.
Both the Las Vegas FHC and the FHL have the microfilmed records of the Church of Jesus Christ of Latter-day Saints on file. Meanwhile, the Desert Southwest District is the primary United Methodist Church in the state and has many Methodist records on file.
Nevada Church and Bible Links
Early Nevada Churches by Marjorie A. Hanes, (Reno: Nevada State Society, Daughters of the American Revolution, 1974) A description of early churches.
Nevada Church Books (amazon.com)
Nevada Bible Books (amazon.com)