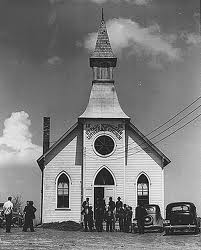 Maryland Church records undoubtedly are a extraordinary source for the genealogical and historical researcher. In many parts of Maryland, church records predate civil records. They for this reason record vital events, supplying birth, marriage, and death facts that might in any other case be lost. Apart from supplying names and dates, church records may uncover associations between people and show a family's standing in the community. In addition, entries of a personal nature are not unusual, and these may provide you with a peek into an ancestor's persona or habits.
The Maryland Historical Society holds the biggest collection of Maryland church records. There is also a consolidated index of those records. Copies of several of the records are also kept by the Maryland State Archives, which also has indexes available. The Maryland Genealogical Society Bulletin has published many church records, and some, including the records for St. Paul's church of Baltimore, have been published in their own specific books.
It can be difficult to find Catholic records for Maryland from before the Revolutionary War. That's due in large part to the disfranchisement of the Catholics when the Anglican Church came into power in the area in 1692. However, many Society of Friends and German church records are readily available. The Maryland Historical Society has some Quaker records on file, as do the Friends Historical Library in Swarthmore, Pennsylvania and the Maryland Historical Society.
Prior to Maryland County and city governments compiled vital records, many people documented very important dates, events, and names in their family Bible. Family Bibles are helpful research resources. Even though the dates cannot be guaranteed, Family Bibles are a tangible link with past generations.
Further Reading
Directory of Maryland Church Records (Westminster, Md.: Family Line Publications, 1987), arranged by county and giving a range of dates of available records for over 2,600 churches with mailing addresses
First Parishes of the Province of Maryland (Baltimore: The Norman, Remington Co., 1923)
History of the Maryland Synod (Harrisburg, Pa.: n.p., 1920)
Catholic Families of Southern Maryland (1980; reprint, Baltimore: Genealogical Publishing Co., 1985) – a source for Saint Mary's County in the 1700s
Quaker Records in Maryland (Annapolis, Md.: Hall of Records Commission, 1966) – is an excellent guide to the original and microfilmed Friends' records at the Maryland State Archives
Quakerism on the Eastern Shore (Baltimore: Maryland Historical Society, 1970)