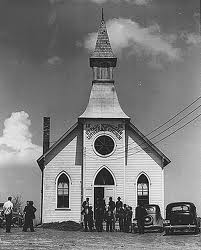 Alabama Church records definitely are a rich resource for the genealogical and historical researcher. In many parts of Alabama, church records predate civil records. They consequently document vital occasions, providing birth, marriage, and death information and facts which could otherwise be lost. Furthermore offering names and dates, church records may reveal associations between people and show a family's status in the community. In addition, entries of a personal nature are not unheard of, and these can offer a view into an ancestor's character or behaviors.
State church records for multiple denominations are placed on microfilm by the Samford University Library, which is located in Birmingham, Alabama. The records are available to the public.
The largest denomination in the state is the Baptist (Southern Convention) group. On October 2, 1808, the first Baptist Church was established in the state. It was built in the Huntsville area, on the Flint River. Their denomination is the only one in the state that has a somewhat centralized system of records. Those records can be found at the Samford University Library. Issues of the denomination's state newspaper from 1835 to the present are included, along with personal records from church members, and microfilmed minutes from different current and defunct congregations.
The Roman Catholics are the oldest denomination in Alabama. They came to the area in 1699, when Iberville's colony was established. Local churches generally maintain their own records. However, the Mobile parish records are in the process of being published.
The first record of Episcopalians in Alabama came in 1764, when the first minister was ordained and put in charge of ministering to the settlers from England. In 1939, a volume of records from the Protestant Episcopal Church in Alabama was created by the WPA Historical Records Survey. That volume contains information on parish records, a short history of each parish and an organized index of the parishes.
Each parish maintains its own records. The Birmingham Public Library has a copy of Alabama Historical Records Survey, Inventory of the Church Archives of Alabama, Protestant Episcopal Church on file.
The first Methodist to preach in Alabama was Lorenzo Dew, in 1803. In 1809, the South Carolina Conference sent Methodist missionaries to Tombigbee. Birmingham Southern College holds some Methodist records for churches in northern Alabama, while records for Methodist congregations in the southern part of the state may be found in Montgomery, at Huntington College. Some issues of the Christian Advocate newspaper (from 1880 to the present day) can be found at Birmingham Southern College.
In 1818, Huntsville became the home of the first Presbyterian Church in the state. Each local congregation generally maintains its own records. However, Samford University holds some records for congregations that no longer exist.
Right before Alabama County and city governments collected vital records, many people documented important dates, events, and names in their family Bible. Family Bibles are beneficial research tools. Even though the dates are not guaranteed, Family Bibles are a tangible link with past generations.
Alabama Church and Bible Links