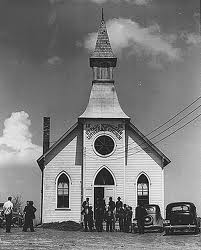 Wyoming Church records certainly are a rich source for the genealogical and historical researcher. In many parts of Wyoming, church records predate civil records. They therefore record vital occasions, giving birth, marriage, and death information that may otherwise be lost. Apart from offering names and dates, church records may show you relationships between people and portray a family's standing in the community. In addition, records of a personal nature are not unusual, and these could provide a glimpse into an ancestor's identity or behaviors.
Right before Wyoming County and city governments compiled vital records, many people recorded significant dates, events, and names in their family Bible. Family Bibles are beneficial research resources. Although the dates can't be guaranteed, Family Bibles are a tangible link with past generations.
In 1939, the Works Projects Administration (WPA) completed a church inventory guide for Wyoming. It was called "A Directory of Churches and Religious Organizations in the State of Wyoming." 470 organizations, congregations, and institutions present in the 1930s were listed in the directory. Although not a full listing for that time frame, the directory contains a lot of helpful information about the cities and counties where certain congregations were located.
In the 1870s, Star Valley became home to a small group of Mormons from Idaho. Then, in the 1880s, they were joined by several more Mormons. Today, Star Valley is still home to a large group of Mormons. In 1895, the Big Horn Basin was also settled by Mormons. However, the biggest and most organized group of Latter-day Saints (Mormons) to come to Wyoming came from Idaho and Utah in 1900. The FHL holds the Mormon branch, ward, and mission records.
In 1936, the WPA created and inventory of congregations of Presbyterians in Wyoming. It was called "Inventory of the Church Archives in Wyoming: Presbyterian Churches." That collection was indexed and photocopied by the Philadelphia, Pennsylvania Presbyterian Historical Society and is now on file at the Wyoming State Archives. It contains one United Presbyterian Church of North America associated congregation and 19 of the United States Presbyterian Church congregations, out of the 42 that existed at the time. Each of the inventories consisted of a number of questions regarding which records were available and for what years. The FHL holds this collection, which has been microfilmed. An index for it is also available.
When Irish immigrants came to Wyoming as laborers, they brought Catholicism to the area with them. In fact, out of the first 4 Diocese of Cheyenne bishops, 3 were Irish. Established in 1887, the Diocese of Cheyenne serves all of Wyoming, including those living in the Yellowstone Park area. They have an extensive record collection. Researchers interested in information should contact them at Diocese of Cheyenne, 2105 Capitol Ave., Cheyenne, WY 82001. It is also worth noting that Olivet Cemetery, which is located in Cheyenne, is a diocesan cemetery.
The Rock Springs and Cheyenne Greek Orthodox churches existed as the only two of their kind in the state for several years. It took until 1964 for more Greek Orthodox churches to be opened in the state. The Rock Springs Church consisted of members representing a wide variety of countries in Eastern Europe.
Methodists in Wyoming predate the area becoming a territory. In 1867, a Methodist church was constructed in Laramie. Three years later, another was constructed in Cheyenne. Five years later, in 1875, the African-American members of the Cheyenne church decided to start their own church, which became known as the African Methodist Episcopal Church.
There have been some Jewish residents in Wyoming since it was a territory. These days, both Rock Springs and Cheyenne have several Jewish groups residing in and around them. There are also other Jewish residents across the state.
Wyoming Church and Bible Links