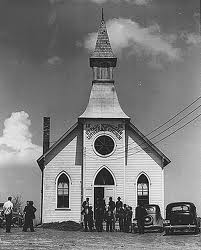 There were several early religious congregations in Kentucky. They included: Roman Catholics, Lutherans, Baptists, Church of Christ, Episcopalians, Methodists, Presbyterians
Certain church records were placed on microfilm, while others were published. Some were also stored in repositories of church records, but many are still kept by each local church. There are also several Kentucky periodicals that have published court records over the years. Some repositories include the Filson Library, Kentucky Historical Society, FHL, DAR Library, and University of Kentucky Library. The Presbyterian Historical Society holds a collection of Presbyterian records called the Shane Manuscript Collection. Other libraries also have copies of it available on microfilm.
When the Civil War ended, several Irish Catholics came to Kentucky. Many Catholics settled near the Ohio River. The records for Roman Catholics are generally kept by local parishes and churches.
Kentucky Ancestors, Bluegrass Roots, and other publications often publish Bible records. The Internet also includes some location and names, but genealogical data on the Internet is far from complete.
Kentucky Church and Bible Links