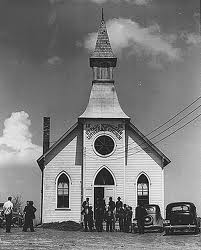 Michigan Church records definitely are a exceptional resource for the genealogical and historical researcher. In many parts of Michigan, church records predate civil records. They therefore document vital occurrences, giving birth, marriage, and death facts that might otherwise be lost. Aside from offering names and dates, church records may uncover relationships between people and reflect a family's position in the community. In addition, entries of a personal nature are not unheard of, and these may provide a glimpse into an ancestor's personality or behaviors.
Before Michigan County and city governments compiled vital records, many people documented crucial dates, events, and names in their family Bible. Family Bibles are invaluable research resources. Although the dates can't be guaranteed, Family Bibles are a tangible link with past generations.
The Roman Catholic Church was the earliest denomination to settle in what is now Michigan. They created their first mission in the area at Sault Ste. Marie in 1668. They also congregated at Mount Clemens in the late 1770s at St. Anne's, which later came to Detroit. Parish records date back to 1703. The first Michigan Protestants were the Moravians. They also congregated at Mount Clemens in the latter part of the 1770s. In 1800 Congregationalists came to Michigan and three years later the first Methodist minister came to the area.
Large collections of both Protestant Episcopal Church and Presbyterian Church records can be found in Ann Arbor's Michigan Historical Collections. Other denominations are also represented in those collections. Researchers interested in records from the Dutch Reformed Church should contact or visit Grand Rapids, since those records are held there at the Calvin College and Seminary Library. Hancock, Michigan is home to the Finnish-American Historical Archives which has a collection of Finnish church records on file. Many Baptist records can be found in Kalamazoo at Kalamazoo College's Upjohn Library.
The Detroit Public Library's Burton Historical Collection holds many of the records from some of the earliest churches in the Detroit area. Records for St. Paul's Cathedral and the Central Methodist Church in that collection date back to 1820. The 1720 to 1722 records from the Catholic Mission at St. Joseph can also be found in that collection.
The Inventory of the Church Archives of Michigan was completed as part of the WPA's Michigan Historical Records Survey. Between 1936 and 1942 several of those records were published. The Detroit Public Library's Burton Historical Collection holds several of the inventories that were not published.
Michigan Church and Bible Links