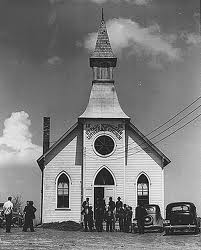 Rhode Island Church records can be a exceptional source for the genealogical and historical researcher. In many parts of Rhode Island, church records predate civil records. They consequently document vital occurrences, supplying birth, marriage, and death information and facts that may often be lost. Apart from offering names and dates, church records may uncover relationships between people and show a family's position in the community. In addition, entries of a personal nature are not unheard of, and these may provide a glimpse into an ancestor's persona or behaviors.
Right before Rhode Island County and city governments compiled vital records, many people recorded important dates, events, and names in their family Bible. Family Bibles are important research resources. Despite the fact that the dates are not guaranteed, Family Bibles are a tangible link with past generations.
Providence Plantation and Rhode Island saw a large influx of Baptists, Quakers and Anglicans. Many local church organizations still hold records from those earliest members. However, Rhode Island church records, in general, were not kept as well as records in seventeenth century Massachusetts were kept. The Rhode Island State Archives and the FHL completed the microfilming of several church records in 1970, including an updated version of a WPA church records survey that was taken in 1939. That information can be found at the Rhode Island State Archives or can be requested from it.
Baptist Records: The original Baptist colony in the United States was founded by Roger Williams. The earliest records of the Baptist churches don't have a lot of genealogical value, but they can be helpful in some ways. Some Baptist ministers kept better records than others, especially regarding marriages. The Newport Historical Society Library has some Baptist records on file, and newer records can be found in local Baptist churches, as well as at the Rhode Island Historical Society.
Quaker Records: The vital records for Rhode Island Friends and Narragansett have been indexed in Arnold's volume 7. However, since it is just an index, it doesn't contain as much valuable information as the original vital records contain. The Newport Historical Society holds vital records for the island of Rhode Island settlements. The Friends materials for the remainder of the colony are under the care of a curator in the manuscript department of the Rhode Island Historical Society. A large portion of the Quaker families eventually left Rhode Island for the Caribbean. Others moved to North Carolina. Some also moved to either Duchess County, New York or Monmouth County, New Jersey.
Episcopal Records: By the early 1700s, there were three separate Rhode Island Episcopal congregations.
Roman Catholic Records: In the 1800s, French Catholic and Irish Catholic churches were established in Rhode Island. Each parish has records on file, as does the Diocesan Archives. The Archdiocese of Boston's Chancery Archives also has some of the early Irish records on file.
Rhode Island Church and Bible Links