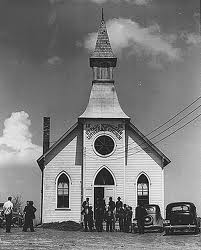 Indiana Church records are a extraordinary resource for the genealogical and historical researcher. In many parts of Indiana, church records predate civil records. They for this reason document vital events, supplying birth, marriage, and death information and facts that may often be lost. Aside from supplying names and dates, church records may show you relationships between people and portray a family's standing in the community. In addition, entries of a personal nature are not unusual, and these can offer a glimpse into an ancestor's character or habits.
Previous to Indiana County and city governments compiled vital records, many people noted significant times, events, and names in their family Bible. Family Bibles are invaluable research tools. Despite the fact that the dates may not be guaranteed, Family Bibles are a tangible link with past generations.
By 1749 Vincennes was home to a Jesuit priest. However, the Catholic presence in the area was low in the late 1700s. It wasn't until the 1830s that populations of Catholics at Fort Wayne and Vincennes, along with other immigrants, led to the Catholic presence increasing in the state.
The major denominations in the area in Indiana's early days were the Presbyterians, Baptists, and Methodists. Several Quakers also came from North Carolina and took up residence in the Whitewater Valley. Most German settlers were Lutherans. They founded United Brethren Churches in the area. In the beginning of the 1800s the Christian Church (Disciples of Christ) was founded in Indiana. Several Jewish families also came to Indiana, settling mainly in the big cities in the middle of the 1800s.
The Methodist circuit riders conformed well to Indiana's frontier lifestyle. That led to several camp meetings being held. The Methodists ministered to pioneers across the region.
Records from the various religious denominations can be found in the following locations: Baptist at Franklin College (in Franklin),
Methodist at DePauw University (in Greencastle),
Mennonite at Goshen College (in Goshen),
Presbyterian at Hanover College (in Hanover),
Disciples of Christ at Their Historical Society in Nashville, Tennessee,
French Catholic at Vincennes University in the Byron R. Lewis Collection,
Catholic Church Histories and Records at the Catholic Archives, University of Notre Dame, South Bend, Indiana. Quaker records at Earlham College (in Richmond)
Indiana Church and Bible Links
Extracts from the minutes of the proceedings of the Associate Reformed Synod of the West, held at Chillicothe (O.), October 18t
Indiana Church Books (amazon.com)
Willard Heiss's Abstracts of the Records of the Society of Friends in Indiana, 6 vols. with index (Indianapolis: Indiana Historical Society, 1962–77). It is also available on microfiche from the society.
L. C. Rudolph and Judith E. Endelman's Religion in Indiana: A Guide to Historical Resources (Bloomington: Indiana University Press, 1986) is organized in three sections: 1) published books, articles, theses, and dissertations; 2) primarily unpublished materials, listed by repository, which do not include individual congregations; and 3) congregational histories listed by county.The story of Harmony, an intentional religious community of Pennsylvanian Germans that spawned the town by the same name, is covered in Karl J. R. Arndt, A Documentary History of the Indiana Decade of the Harmony Society, 1814–1824, 2 vols. (Indianapolis: Indiana Historical Society, 1975, 1978). A general finding aid is a Directory of Churches and Religious Organizations in Indiana (Indianapolis: Indiana Historical Records Survey, 1941)
Indiana Bible Books (amazon.com)