Indiana Birth, Marriage, Divorce as well as Death records, also known as vital records, provide you with information about crucial events in your ancestors life.
Vital records, typically retained by a civic authority, gives people an even more comprehensive picture of your ancestor, help you differentiate between two people using the exact same name, and allow you to discover links to a new generation. They can comprise of information like the occasion date and place, parents' names, occupation and residence. The cause of death is also provided in most Indiana death records.
Indiana vital records are a basis of Indiana ancestors and family history research because they were normally documented at or close to the time of the event, helping to make the document more likely to be correct. This web page includes links, information that can help you request copies from Indiana state and county vital records keepers. Vital records (births, deaths, marriages, and divorces) mark the key events of our lives and are the cornerstone of genealogy and family history research.
Indiana Department of Health, issues, documents, and stores certified copies of vital records including birth, marriage, divorce death certificates for occurrences that took place in Indiana.  To verify current fees or for information on how to expedite a document, call (317) 233-2700.
How to Order Indiana Vital Records
Physical Address: Indiana State Department of Health, 2 North Meridian Street, Indianapolis, IN 46204; PH: (317) 233-1325
Mailing Address: Vital Records, Indiana State Department of Health, P.O. Box 7125, Indianapolis, IN 46206-7125; All mail orders should include a Personal check or money order made payable to Indiana Department of Public Health. Do not send cash.
Website Address: http://www.in.gov/isdh/
Ordering Vital Records Online – get the certificates within 2-5 days with a credit or debit card from USAVital.com or VitalChek.com
Ordering Vital Records by Mail: You can download an application online for Indiana Birth Certificate, Death Certificate Applications. Please allow up to 4-6 weeks for processing of all type of certificates ordered through the mail.
Background of Indiana Vital Records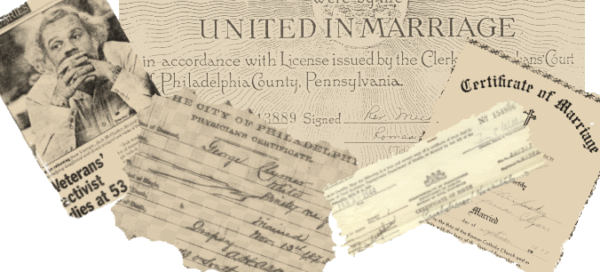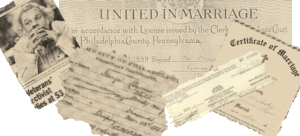 In 1788 the first law was passed that regulated marriages in the area. In 1800 recording marriage licenses was officially required by law. According to the Northwest Territory statutes, males had to be at least 17 to be married, and females had to be at least 14. Also, banns were required to be read 15 days prior to the date of marriage.
The county clerk's office issued marriage licenses and held copies of them in their records beginning when each county was formed. Some counties used marriage applications starting in 1906, while other counties used marriage transcripts from 1882 onward. Some counties have used both at different points in time. Couples were required to obtain marriage licenses from the bride's county of residence until 1940. Cincinnati, Ohio was an area where licenses were not required for couples from Kentucky, Indiana, or Ohio to be married. So, Cincinnati records may contain some records relating to those "Gretna Green" marriages for Indiana residents.
In 1958 the state began collecting marriage records. That State Board of Health, Division of Vital Records compiled the "Indiana Marriage Index," which begins with listings from 1958. Indexes exist and are organized according to groom and bride. The indexes also list county of marriage, county of license, and date of marriage. A book of marriage indexes from 1958 to 1965 has been compiled. Microfilmed indexes for the years of 1966 to 1981 are also available. They can be found at the Indiana State Archives, Indiana Commission on Public Records.
The county health office in each Indiana county began recording death and birth records in 1882. In January of 1900 the State Board of Health began requiring the registration of deaths. However, they didn't require that births be recorded until October of 1907. State death certificates spanning 1900 to 1918 have not been indexed. The Division of Vital Records or the County Health Department may be able to provide copies of certificates. Certain cities also have their own birth registrations available. They are: Ft. Wayne (1870), Indianapolis (1872), Kokomo (1875), Logansport (1874).
A county-by-county index of vital records was started by the Works Projects Administration (WPA). However, it was never completed. Of the 92 counties, only 68 are featured in the index, and those records only cover deaths from 1882 to 1920 and marriages from 1850 to 1920. The Allen County Public Library and the Indiana State Library have printed copies of the completed indexes on file, as do other repositories across the state.
There have been several projects started to organize vital records in recent years. They include: Indiana Marriages Thru 1820: In the Counties of Washington, Jefferson, Clark, Scott, Jackson, Jennings, Switzerland, Ripley; Indiana Marriages Thru 1820; The Hoosier Genealogist
The Indiana State Library's website also lists an index to Indiana marriages that took place before 1850.
The Circuit court office holds divorce records. The Indiana files may contain divorce records for other states because residency wasn't required until 1859 and onward. Indiana Vital Records Collection was published on CD-ROM by Heritage Quest in 1991. It contains more than 5.4 million records, which were part of the 1942 WPA indexing project.
Searchable Indiana Vital Records Databases and Links