Pennsylvania Birth, Marriage, Divorce and Death records, also referred to as vital records, provide you with information about crucial events in your ancestors life. Vital records, generally kept by a civic authority, can provide you an even more comprehensive picture of your ancestor, assist you to distinguish between two people with the identical name, and enable you to uncover links to a new generation.
They can comprise of information and facts like the occurrence date and place, parents' names, occupation and residence. The cause of death is also included in the majority of Pennsylvania death records.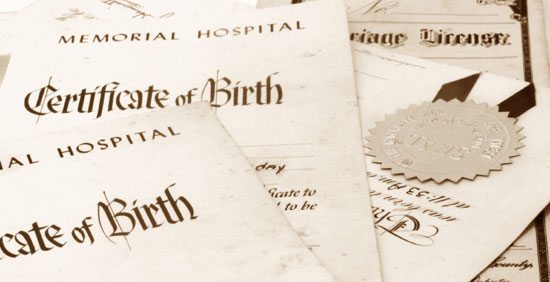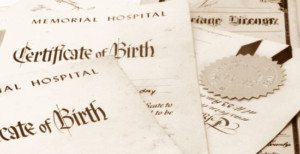 Pennsylvania vital records are a basis of Pennsylvania genealogy and family history research because they were usually recorded at or close to the time of the event, making the record more likely to be accurate.
This page contains links, information that can help you obtain copies from Pennsylvania state and county vital records keepers. Vital records (births, deaths, marriages, and divorces) mark the milestones of our lives and are the foundation of family history research.
Pennsylvania Division of Vital Records, issues, documents, and stores certified copies of vital records including birth, marriage, divorce death certificates for occurrences that took place in Pennsylvania.  To verify current fees and information the telephone number is (724) 656-3100.
Ordering Pennsylvania Birth and Death Certificates: The State Division of Vital Records Office is the legal custodian of all birth and death records in our state from 1906 to present. The fee for a birth certificate is $20 and death certificate is $9. Death non-certified copies (which should suffice for genealogy purposes because they have all the same info without the raised state seal) are only $3. Pennsylvania birth and death certificates prior to 1906 can be accessed through the courthouse in the county where the person was born or died.
Ordering Pennsylvania Marriage Certificates: The State Division of Vital Records Office does not have marriage records. If the marriage records should be available from the Marriage License Clerks, County Court House in county where license was issued. The fee for the copy varies.
Ordering Pennsylvania Divorce Certificates:  The State Division of Vital Records Office does not have divorce records. If the divorce records should be available from the Prothonotary, County Court House in county where license was granted. The fee for the copy varies.
How to Order Pennsylvania Vital Records
Physical Address: Division of Vital Records, 101 South Mercer Street, Central Building, Room 401, New Castle, PA 16103; PH (724) 656-3100; Fax: (724) 652-8951
Mailing Address: Division of Vital Records, ATTN (Birth of Death) Unit, 101 South Mercer Street, P.O. Box 1528, New Castle, PA 16103. All mail orders should include a Personal check or money order made payable to Vital Records. Do not send cash.
Website Address: www.portal.state.pa.us/
Ordering Vital Records Online – get the certificates within 2-5 days with a credit or debit card from USAVital or Social Security Death Index
Ordering Vital Records by Mail: You can download an application online for Pennsylvania  Birth Certificate, Death Certificate Applications. Please allow up to 4-6 weeks for processing of all type of certificates ordered through the mail.
Background of Pennsylvania Vital Records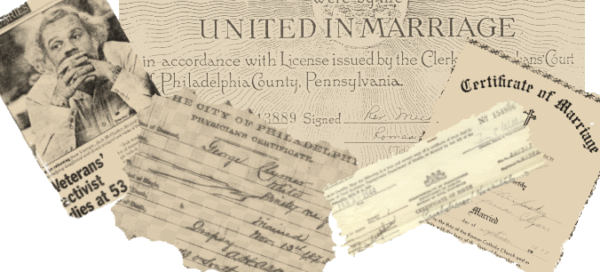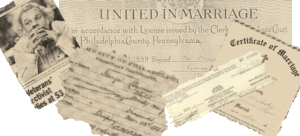 In 1682, a colonial law was enacted that led to burials, births, and marriages being recorded in Pennsylvania. However, civil records wound up including very few of those recordings.
In the middle of the 1800s a new law was enacted, which required those events to be recorded with the County Register of Wills, who had to send copies to a central repository in Harrisburg.
Those records cover the years of 1852 to 1854, but they are only extant for 49 counties and they are not necessarily complete for those counties. County courthouses should have copies of those records on file, and many have also been stored on microfilm at the Pennsylvania State Archives. There are indexes available, which are organized according to county name, event, and year.
The State Library of Pennsylvania, Carnegie Library of Pittsburgh, and Historical Society of Pennsylvania each have microfilmed copies of some of those records available. The city of Philadelphia recorded deaths and births that occurred between 1860 and 1893.
In the later parts of the 1800s other cities also recorded vital records. Some of those cities included: Pittsburgh, Pottsville, Easton, Allegheny, Harrisburg, Williamsport. However, there are gaps in many of those records.
Marriages were recorded by each county's orphans' court clerk from 1885 onward. The Historical Society of Pennsylvania and the Pennsylvania State Archives each have some of those records on file.
Deaths, births, and delayed birth registrations were also recorded with each county's orphans' court from 1893 to 1906. Some of those delayed recordings go back as far as the 1860s. Some of those records are available at the Pennsylvania State Archives. Records for Philadelphia from 1860 to 1915 can be found at the Historical Society of Pennsylvania and the Philadelphia City Archives.
In colonial times Pennsylvania did not require marriage licenses. However, there were several marriage bonds issued, and some of the information for the years of 1743 to 1790 has survived. That information has been published in series 2, volume 2 by the Pennsylvania Archives. The date of the bond and the names of the parties are listed in the records.
Pennsylvania Archives series 2, volumes 8 and 9 contain early marriage records from churches. There are almost no civil vital records for Pennsylvania from the 1800s still in existence, other than those mentioned above and those from the county orphans' courts that were recorded in 1885.
However, there are many records available that can be good substitutes for those records, such as justice of the peace records, newspaper records, census records, church records, inscriptions from grave markers, and other notices. The county court of common pleas holds most records of divorces in Pennsylvania in 1804. The clerk who handles those records is usually the prothonotary.
The Statutes at Large from colonial Pennsylvania only contain records of two divorces. One was granted in 1769. The other was voided in 1772. During the Revolutionary War and after it ended, the General Assembly had the power to grant divorces. They were generally granted on the grounds of adultery. From 1785 to 1804 the supreme court also had concurrent jurisdiction over divorce cases. Divorce papers
from 1786 to 1815 from the supreme court can be found at the Pennsylvania State Archives. Philadelphia's city archives holds that city's divorce records for the years of 1786 to 1815.
Searchable Pennsylvania Vital Records Databases and Links