Maryland Birth, Marriage, Divorce along with Death records, generally known as vital records, provide you with details about significant occasions in your ancestors life.
Vital records, usually held by a civic office, can provide people a far more comprehensive picture of one's ancestor, assist you to differentiate involving two people utilizing the identical name, and allow you to uncover links to a brand new generation. They can include information like the occasion date and place, parents' names, profession and residence. The cause of death is also included in many Maryland death records.
Maryland vital records really are a basis of Maryland ancestors and family history research simply because they were typically documented at or close to the time of the event, making the document more likely to be correct. This web page contains links, information that can help you obtain copies from Maryland state and county vital records keepers. Vital records (births, deaths, marriages, and divorces) mark the milestones of our lives and are the basis of family history and ancestors research.
Maryland Division of Vital Records, issues, documents, and stores certified copies of vital records including birth, marriage, divorce death certificates for occurrences that took place in Maryland.  To speak to a customer service representative the telephone number is (410) 764-3038. For genealogical studies, you must apply through the Maryland State Archives, see below.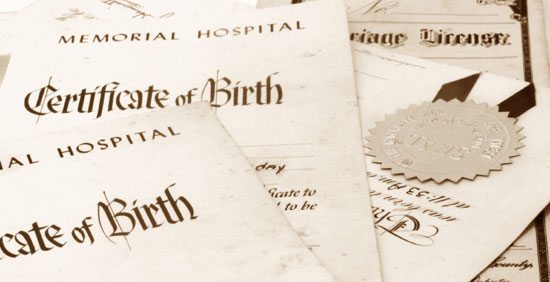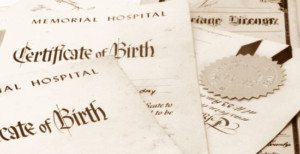 Ordering Maryland Birth and Death Certificates: The State Division of Vital Records has birth and death records from August 1898  to present. The fee for a birth certified copy is $24 and death certified copy is $12. Records for city of Baltimore are available from January 1875.
Ordering Maryland Marriage Certificates: The State Division of Vital Records has marriage records from January, 1990 to present. The fee for a marriage certified copy is $12. Certified marriages may also obtained Clerk of Circuit Court in county where license was issued or Clerk of Court of Common  Pleas of Baltimore City (for licenses issued in City of Baltimore).
Ordering Maryland Divorce Certificates: The State Division of Vital Records has divorce records from  January, 1992 to present. The fee for a divorce certified copy is $12. Certified divorce decrees may be obtained through the Clerk of Circuit Court in the city/county where the divorce was granted. Some items may be verified.
How to Order Maryland Vital Records
Physical and Mailing Address: Division of Vital Records Division of Vital Records & Mental Hygiene, 6550 Reisterstown Rd., Reistertown Road Plaza, Baltimore, MD 21215, (410) 764-3038 or (800) 832-3277. All mail orders should include a Personal check or money order made payable to Division of Vital Records. Do not send cash.
Website Address: http://dhmh.maryland.gov/
Ordering Vital Records Online – get the certificates within 2-5 days with a credit or debit card from USAVital.com or VitalChek.com
Ordering Vital Records by Mail: You can download an application online for Maryland Birth Certificate, Marriage Certificate, Divorce Verification, Death Certificate Applications. Please allow up to 4-6 weeks for processing of all type of certificates ordered through the mail.
State of Maryland Archive
State of Maryland Archives files, stores, and issues certified copies of vital records including birth, death, marriage and divorce certificates for events that occurred in Maryland.
Physical Address: 350 Rowe Blvd., Annapolis, MD 21401; Phone: (410) 260-6400 or (800) 235-4045
Website Address:  http://guide.mdsa.net/
Birth Records: 1898 for Maryland counties and since 1875 for Baltimore City
Death Records: prior to 1969
Marriage Records:  since 1640
Background of Maryland Vital Records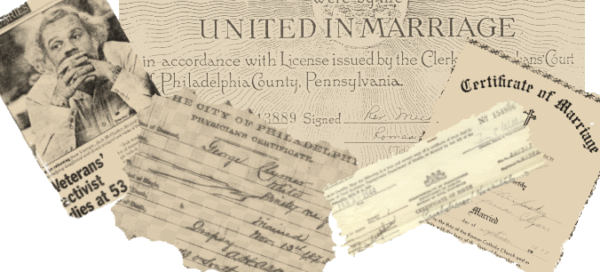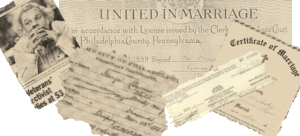 Burials, births, and marriages were required by law to be recorded in Maryland as of 1640. Three days prior to a marriage, banns had to be posted. However, most of those records are no longer extant. The Maryland State Archives is home to an index of those that have survived. All resident births, deaths, and marriages were required to be recorded by the Anglican Church when it became the colony's official church, which was in 1692. However, African Americans were not included in those recordings. Pre-revolution parish registers exist for each county that was created before 1770. Several of those records do include listings of African American people.
Starting in 1865, county circuit court clerks were supposed to record deaths and births. However, not all counties complied with that rule. In 1875, Baltimore began recording deaths and births. Maryland's counties didn't all uniformly record them until 1898. In 1972, cities and counties stopped recording deaths and births. Instead, a state recording system was put into place. The Maryland State Archives has a microfilmed collection of birth index that covers Baltimore City from 1875 to 1978 and the state of Maryland for 1898 to 1998. Death records for the state from 1898 to 1987 with indexes for the years of 1898 to 1968 can also be found there. The Maryland State Archives is also home to death records for the City of Baltimore from1875 to 1987 with indexes available for 1875 through 1971. There are restrictions on accessing the records themselves, but the indexes are available to the public. The restriction for death records is 20 years. For birth records, the restriction is 100 years. Deaths through 1987 and births through 1924 can be certified by the state archives. The state archives also holds records for county civil marriages that span the years of 1914 to 1950. However, indexes are only available through 1930.
The Division of Vital Records holds the following collections of records: Maryland Births from April 1898 with City of Baltimore Births from January 1875, Maryland Deaths Occurring Less Than Twenty Years Ago, Maryland Marriages from June 1951 are Also Available from the Division of Vital Records
The Maryland State Archives records are much easier to access than the records found at the Division of Vital Records, which have certain restrictions attached to them. The Maryland State Archives may have early marriage records from the 1770s through 1919 on file. However, some of those records may still be held in the circuit court clerk's office in the county where the license originated. There are also microfilmed indexes of many of those records available at the archives, including an index of marriages for the city and county of Baltimore from 1777 to 1851, as well as indexes from 1650 to 1695 and 1777 to 1886 for the following counties: Anne Arundel, Caroline, Charles, Dorchester, Frederick, Kent, Prince George's, Somerset
Some Pre-statehood records also exist for certain counties. Indexes of some of them are held on microfilm at the Maryland State Archives. Available indexes include the following: Kent, Somerset, Charles, and Talbot from the 1600s, Anne Arundel County Births (1804 to 1877) and Deaths (1865 to 1880), Calvert County Births (1898 to 1923) and Deaths (1898 to 1916), Kent Births from 1865 to 1873, Annapolis Deaths from 1898 to 1916
Marriages that were implied based on probate, land, and court records from 1674 to 1851 have also been indexed. That index is available at the Maryland State Archives, along with indexes of church, Bible, and cemetery records, which can substitute for missing vital records, in some cases. Newman's Maryland Revolutionary Records lists marriage information found in pension files from the Revolutionary War.
No divorces were granted prior to the Revolutionary War. However, there were a few separations. From the end of the Revolutionary War to 1842, the state legislature was responsible for granting divorces. Information about those divorces can be found in Mary Keysor Meyer, Divorces and Names Changed in Maryland by Act of the Legislature, 1634–1854 (1970; reprint, Baltimore: Genealogical Publishing Co., 1972). Circuit court clerk offices hold records from later divorces. However, some copies of those records are available at the Maryland State Archives, along with records of adoptions granted before June 1, 1947.
Further Reading
Maryland Marriages (1634–1820), 3 vols (Baltimore: Genealogical Publishing Co., 1975–93) – gathered from church and estate as well as public records.
Maryland Eastern Shore Vital Records and Supplement, 6 vols. (Silver Spring and Westminster: Family Line Publications, 1982– 2001) – covers births, marriages, and deaths (1648–1825) from church and court records.
Searchable Maryland Vital Records Databases and Links