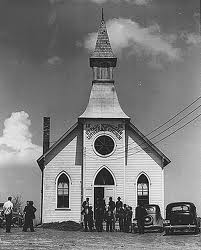 New Hampshire Church records are a extraordinary source for the genealogical and historical researcher. In many parts of New Hampshire, church records predate civil records. They consequently document vital events, supplying birth, marriage, and death information and facts that could otherwise be lost. Besides offering names and dates, church records may show you associations between people and depict a family's status in the community. In addition, records of a personal nature are not unusual, and these could offer a peek into an ancestor's personality or habits.
Right before New Hampshire County and city governments collected vital records, many people noted important times, events, and names in their family Bible. Family Bibles are helpful research tools. Even though the dates can't be guaranteed, Family Bibles are a tangible link with past generations.
Many original church record manuscripts are on file at the New Hampshire Historical Society, as are several typescript records. That collection shows when members came to the church, when they left, and reasons why they left. It also lists burials, baptisms, and marriages. An inventory of all church records in New Hampshire is currently being compiled by the New Hampshire Society of Genealogists.
Some early Baptist church records from New Hampshire have been indexed and are on microfilm at both the Historical Commission of the Southern Baptist Convention and the American Baptist Historical Society.
New Hampshire Church and Bible Links