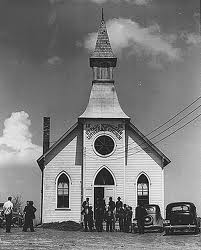 Ohio Church records tend to be a extraordinary source of information for the genealogical and historical researcher. In many parts of Ohio, church records predate civil records. They consequently record vital occurrences, providing birth, marriage, and death facts that might in any other case be lost. Aside from providing names and dates, church records may show you relationships between people and show a family's status in the community. In addition, records of a personal nature are not uncommon, and these can offer a view into an ancestor's personality or habits.Right before Ohio County and city governments compiled vital records, many people recorded crucial dates, events, and names in their family Bible. Family Bibles are helpful research resources. Although the dates can't be guaranteed, Family Bibles are a tangible link with past generations.
Religion played a major role in the early settlement of Ohio.
In 1772 the first Moravian mission was founded in the area. Quakers and Presbyterians also came to the area early on. In fact, the Quakers held 43 meetings in the area from 1801 to 1883. The Presbyterians were responsible for founding 17 Ohio towns between the years of 1784 and 1799. Other groups who came to the Ohio area before 1850 included: Baptists,
Congregationalists, Multiple Reformed Groups, Lutherans, Disciples of Christ, United Brethren, Methodists, Catholics.
The Catholics and the Methodists made up the largest religious presences in Ohio as of 1890.
In 1798 the Ohio Methodist circuit was founded. Methodists set up camp meetings, log cabins, and circuit riders throughout the region. New York members of the Church of Jesus Christ of Latter-day Saints then came to Kirtland, Ohio in 1831. There is no thorough compilation or index of Ohio church records. However, the FHL has many of those records on microfilm. A church records survey is also currently being conducted by the Ohio Genealogical Society.
An Inventory of the Church Archives of Ohio Presbyterian Churches was established by the Historical Records Survey for Ohio. The FHL has several microfilmed records on file for the Church of the Brethren of the Southern District of Ohio and the Miami Valley Quakers. A large manuscript collection of Shaker records can be found at the Western Reserve Historical Society, and Mennonite records can be found in Bluffton, Ohio at Bluffton College.
Ohio Church and Bible Links