Mono County, California Records
Mono County, California (Map It) was created on April 24, 1861 primarily from Calaveras County, Fresno County, and Mariposa County . Mono County was named for Mono Lake, which, in 1852, was named for an Indian tribe that inhabited the Sierra Nevada from north of Mono Lake to Owens Lake. The tribe's western neighbors, the Yokuts, called them monachie, meaning "fly people," because the pupae of a fly was their chief food staple and trading article
Mono County is bordered by Inyo County (south), Fresno County (southwest), Madera County (southwest), Tuolumne County (west), Alpine County (northwest), Douglas County, Nevada (north), Lyon County, Nevada (northeast), Mineral County, Nevada (east), Esmeralda County, Nevada (southeast). .
Mono County Cities and Towns include Aspen Springs, Benton, Bridgeport, Chalfant, Coleville, Crowley Lake, June Lake, Lee Vining, Mammoth Lakes, McGee Creek, Mono City, Paradise, Sunny Slopes, Swall Meadows, Topaz, Walker .
Since its creation Mono County boundries have changed to include these:
Mono County, California Courthouse Records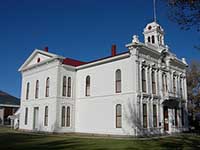 Mono County, CA Courthouse
Old Mono County Courthouse
The Mono County Courthouse is located in Bridgeport, California. Land from Amador County was added in 1866. Learn More About State of California Court, Tax, Land and Probate Records.
Courthouse History - After a survey of state boundaries, in 1863 citizens of Mono were alarmed to learn that their county seat, Aurora, lay three miles inside the Territory of Nevada. It was reported that upon hearing the news, the presiding judge immediately closed the court and announced that he would try no further cases there. Voters selected Bridgeport as the new center of government and built a landmark Italianate building that remains in use as one of the state's oldest operating courthouses. The courthouse is listed on the National Register of Historic Places.
The Clerk's Office DOES NOT DO RESEARCH. Most staff will assist people in finding the materials, but it is up to the individual to do the research. Some early court records from the various courts may have been sent to the California State Archives. Besides court minutes and judgements, these records include tax lists, wills, deeds, estate inventories, and marriage bonds. The California State Archives has microfilm of selected county records, 1850–1919.
The following dates indicates what vital, land, probate, and court records are in Mono county. The date listed for each record is usually the earliest registration filed. The date does not indicate that there are alot records for that year and does not mean that all such events were actually filed with the clerk. Some counties encompass land settled in the eighteenth century; their records pre-date county formation. Land transactions and vital records recorded in the county are at the county recorder's office. The county clerk general has probate books and files from the county's superior court, civil court records, and naturalizations. Divorces may be in either place, depending on how filed.
Mono County, California Census Records
Mono County, California Vital Records
Mono County, California Resources
Mono County, California External Links