Calaveras County, California Records
Calaveras County, California (Map It) was created on  February 18, 1850 as an original county . Calaveras County was named from the Calaveras River which was reportedly so designated by an early explorer when he found, on the banks of the stream, many skulls of Indians who had either died of famine or had been killed in tribal conflicts over hunting and fishing grounds. The meaning of the word calaveras is "skulls."
Calaveras County is bordered by Stanislaus County (southwest), San Joaquin County (west), Amador County (north), Alpine County (northeast), Tuolumne County (south & southeast) .
Calaveras County Cities and Towns include Angels Camp, Arnold, Avery, Copperopolis, Dorrington, Forest Meadows, Glencoe, Mokelumne Hill, Mountain Ranch, Murphys, Rail Road Flat, Rancho Calaveras, San Andreas, Sheep Ranch, Vallecito, Valley Springs, Wallace, West Point .
Since its creation Calaveras County boundries have changed to include these:
Calaveras County, California Courthouse Records
Calaveras County, CA Courthouse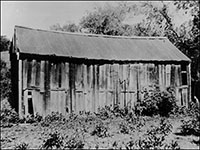 Old Calaveras County Courthouse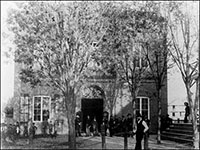 Old Calaveras County Courthouse
The Calaveras County Courthouse is located in San Andreas, California. Learn More About State of California Court, Tax, Land and Probate Records.
Courthouse History - Local history has it that the county seat was "captured" from Double Springs, a cattle ranch-cum-mining town, when residents of nearby Jackson invited county officials for a few rounds of drinks and then made off with the county records. The remains of this building, made of camphor panels shipped from China, can still be seen in Double Springs, making it one of the oldest surviving structures once used as a courthouse in California.
In 1866, after the government was finally moved to San Andreas, Calaveras's fifth and current county seat, officials designated a local theater for use as the first courthouse. This two-story brick building was used as the center of county government for nearly 100 years, and it was here in 1883 that Judge C. V. Gottschalk tried and sentenced the notorious highwayman Black Bart. In 1966, the courthouse was replaced by a more modern facility and turned over to the Calaveras County Historical Society. The old courthouse, which is listed on the National Register of Historic Places, is still used occasionally for overflow cases and visiting judges.
The Clerk's Office DOES NOT DO RESEARCH. Most staff will assist people in finding the materials, but it is up to the individual to do the research. Some early court records from the various courts may have been sent to the California State Archives. Besides court minutes and judgements, these records include tax lists, wills, deeds, estate inventories, and marriage bonds. The California State Archives has microfilm of selected county records, 1850–1919.
The following dates indicates what vital, land, probate, and court records are in Calaveras county. The date listed for each record is usually the earliest registration filed. The date does not indicate that there are alot records for that year and does not mean that all such events were actually filed with the clerk. Some counties encompass land settled in the eighteenth century; their records pre-date county formation. Land transactions and vital records recorded in the county are at the county recorder's office. The county clerk general has probate books and files from the county's superior court, civil court records, and naturalizations. Divorces may be in either place, depending on how filed.
Calaveras County, California Census Records
Calaveras County, California Vital Records
Calaveras County, California Resources
Calaveras County, California External Links