San Joaquin County, California Records
San Joaquin County, California (Map It) was created on  February 18, 1850 as one of the original 27 counties . San Joaquin County was named for the county takes its name from the San Joaquin River. In the early 1800s Lieutenant Moraga, commanding an expedition in the lower great Central Valley of California, gave the name of San Joaquin (meaning Saint Joachim) to a rivulet that springs from the Sierra Nevada mountains and empties into Buena Vista Lake
San Joaquin County is bordered by Stockton, Lathrop, Lodi, Manteca, Ripon, Tracy, Escalon .
San Joaquin County Cities and Towns include Stanislaus County (south & southeast), Alameda County (west), Contra Costa County (west), Sacramento County (north), Amador County (northeast), Calaveras County (east) .
Since its creation San Joaquin County boundries have changed to include these:
Most of San Joaquin County has been in the county since 1850.
Territory was in Sacramento County from 1850 to 1878 when it was added to San Joaquin County.
Territory which at one time was in San Joaquin County is now in Stanislaus County
San Joaquin County, California Courthouse Records
San Joaquin County, CA Courthouse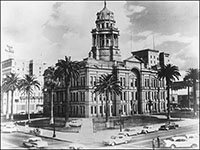 Old San Joaquin County Courthouse
The San Joaquin County Courthouse is located in Stockton, California. Land was later added from Sacramento County in 1878. Learn More About State of California Court, Tax, Land and Probate Records.
Courthouse History - Of all the substantial buildings erected in the late-19th-century boom years in Stockton ("destined to become the Chicago of the West," according to one writer at the time), the courthouse was the most impressive. Among its many marvels was a gas well "providing heat and light without cost to taxpayers" and a statue of Justice atop a dome that rose 172 feet above the street. The building was demolished in 1961 to make room for a new courthouse.
The Clerk's Office DOES NOT DO RESEARCH. Most staff will assist people in finding the materials, but it is up to the individual to do the research. Some early court records from the various courts may have been sent to the California State Archives. Besides court minutes and judgements, these records include tax lists, wills, deeds, estate inventories, and marriage bonds. The California State Archives has microfilm of selected county records, 1850–1919.
The following dates indicates what vital, land, probate, and court records are in San Joaquin county. The date listed for each record is usually the earliest registration filed. The date does not indicate that there are alot records for that year and does not mean that all such events were actually filed with the clerk. Some counties encompass land settled in the eighteenth century; their records pre-date county formation. Land transactions and vital records recorded in the county are at the county recorder's office. The county clerk general has probate books and files from the county's superior court, civil court records, and naturalizations. Divorces may be in either place, depending on how filed.
San Joaquin County, California Census Records
San Joaquin County, California Vital Records
San Joaquin County, California Resources
San Joaquin County, California External Links