San Bernardino County, California Records
San Bernardino County, California (Map It) was created on April 26, 1853 from Los Angeles County . San Bernardino County was named for the Saint Bernard is the patron saint of mountain passes. The name Bernardino means "bold as a bear." The Spanish gave the name San Bernardino to the snowcapped peak in southern California, in honor of the saint; from him the county derived its name
San Bernardino County is bordered by Inyo County (north), Clark County, Nevada (northeast), Mohave County, Arizona (east), La Paz County, Arizona (southeast), Riverside County (south), Orange County (southwest), Los Angeles County (west), Kern County (west) .
San Bernardino County Cities and Towns include Adelanto, Apple Valley, Barstow, Big Bear Lake, Chino, Chino Hills, Colton, Fontana, Grand Terrace, Hesperia, Highland, Loma Linda, Montclair, Needles, Ontario, Rancho Cucamonga, Redlands, Rialto, San Bernardino, Twentynine Palms, Upland, Victorville, Yucaipa, Yucca Valley .
Since its creation San Bernardino County boundries have changed to include these:
San Bernardino County, California Courthouse Records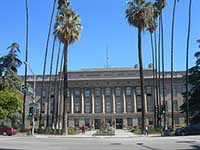 San Bernardino County, CA Courthouse
Old San Bernardino County Courthouse
The San Bernardino County Courthouse is located in San Bernardino, California. Land was added from Los Angeles County in 1878. Learn More About State of California Court, Tax, Land and Probate Records.
Courthouse History - After supervisors approved a $40,000 tax to construct a new Hall of Records in the late 1880s, south county residents voted to separate from San Bernardino and formed Riverside County in 1893. Undeterred, San Bernardino supervisors approved another tax to finance the construction of this Romanesque Revival building, which was demolished in 1928 after the construction of the current courthouse. The clock in this photo was removed and stored for more than 40 years until it was reinstalled in a new tower a half block from the site of the old courthouse.
The Clerk's Office DOES NOT DO RESEARCH. Most staff will assist people in finding the materials, but it is up to the individual to do the research. Some early court records from the various courts may have been sent to the California State Archives. Besides court minutes and judgements, these records include tax lists, wills, deeds, estate inventories, and marriage bonds. The California State Archives has microfilm of selected county records, 1850–1919.
The following dates indicates what vital, land, probate, and court records are in San Bernardino county. The date listed for each record is usually the earliest registration filed. The date does not indicate that there are alot records for that year and does not mean that all such events were actually filed with the clerk. Some counties encompass land settled in the eighteenth century; their records pre-date county formation. Land transactions and vital records recorded in the county are at the county recorder's office. The county clerk general has probate books and files from the county's superior court, civil court records, and naturalizations. Divorces may be in either place, depending on how filed.
San Bernardino County, California Census Records
San Bernardino County, California Vital Records
San Bernardino County, California Resources
San Bernardino County, California External Links