Modoc County, California Records
Modoc County, California (Map It) was created on April 19, 1855 from Siskiyou County . AAAAA County derived its name from a fierce Indian tribe that lived at the Pit River headwaters. One historian suggests that the word modoc means "the head of the river." Another states that the word is derived from the Klamath word moatakni meaning "southerners," i.e., the people living south of the Klamath tribe
Modoc County is bordered by Lassen County (south), Shasta County (southwest), Siskiyou County (west), Klamath County, Oregon (north), Lake County, Oregon (north), Washoe County, Nevada (east). .
Modoc County Cities and Towns include Adin, Alturas, California Pines, Canby, Cedarville, Daphnedale Park, Davis Creek, Eagleville, Ft. Bidwell, Lake City, Likely, Lookout, Newell, New Pine Creek, Stronghold, Tionesta .
Since its creation Modoc County boundries have changed to include Territory was in Shasta County from 1850 to 1852 and then in Siskiyou County from 1852 until 1874 when the territory was moved to Modoc County..
There is a collection of old California maps at MapGeeks.org
Modoc County, California Courthouse Records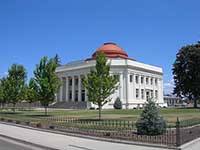 Modoc County, CA Courthouse
Old Modoc County Courthouse
The Modoc County Courthouse is located in Alturas, California. Learn More About State of California Court, Tax, Land and Probate Records.
Courthouse History - The dome of this Neoclassic courthouse, Modoc's third since the county was formed from part of Siskiyou in 1874, can be seen from miles around Alturas. The dome was traditionally painted copper but was repainted gold in 1974, some say to reflect the "Golden State" name while others believe it was the result of a mix-up of paint cans. The basement, which was once used as the jail, no longer houses prisoners but was remodeled and is home to the Public Guardian, the Veterans Service Officer, and other county offices.
The Clerk's Office DOES NOT DO RESEARCH. Most staff will assist people in finding the materials, but it is up to the individual to do the research. Some early court records from the various courts may have been sent to the California State Archives. Besides court minutes and judgements, these records include tax lists, wills, deeds, estate inventories, and marriage bonds. The California State Archives has microfilm of selected county records, 1850–1919.
The following dates indicates what vital, land, probate, and court records are in Modoc county. The date listed for each record is usually the earliest registration filed. The date does not indicate that there are alot records for that year and does not mean that all such events were actually filed with the clerk. Some counties encompass land settled in the eighteenth century; their records pre-date county formation. Land transactions and vital records recorded in the county are at the county recorder's office. The county clerk general has probate books and files from the county's superior court, civil court records, and naturalizations. Divorces may be in either place, depending on how filed.
Modoc County, California Census Records
Modoc County, California Vital Records
Modoc County, California Resources
Modoc County, California External Links