Lassen County, California Records
Lassen County was established on April 1, 1864 from Shasta County and Plumas County. Lassen County's name was derived from Mount Lassen, which was named in honor of Peter Lassen.  He was a Danish immigrant who settled in Plumas County before coming to the Honey Lake Valley around 1855.  He had a small mill in the area, but mainly looked for gold.  He was killed in 1859 out in the Black Rock Desert.  It has never been determined who killed him.  He also had a ranch down toward Lassen Peak before coming here.
Lassen County Cities and Towns include Sierra County (southeast), Plumas County (south), Shasta County (west), Modoc County (north), Washoe County, Nevada (east).
Lassen County Cities and Towns include Bieber, Clear Creek Junction, Doyle, Herlong, Janesville, Johnstonville, Litchfield, Madeline, Milford, Nubieber, Patton Village, Ravendale, Standish, Spaulding, Susanville, Termo, Wendel, Westwood
Lassen County has had some Boundary Changes which include:
Territory was in Shasta County from 1850 to 1864 when it was moved to Lassen County.
Territory in Butte County from 1850 to 1854 was in Plumas County from 1854 to 1864 when it was moved to Lassen County.
Territory in Butte County from 1850 to 1854 was in Plumas County from 1854 to 1872 when it was added to Lassen County.
Lassen County, California Courthouse Records
Lassen County, CA Courthouse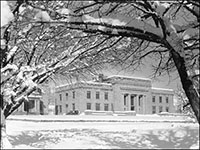 Old Lassen County Courthouse
The Lassen County Courthouse is located in Susanville, California. Land from Plumas County was added in 1872. Learn More About State of California Court, Tax, Land and Probate Records.
Courthouse History - The first settlers of what was then known as Honey Lake Valley presumed that they were part of the Nevada Territory, though officials of Plumas County insisted that the valley belonged to California. After tensions on jurisdiction and taxation culminated in a shootout in February 1863, a survey of state boundaries determined that the valley was indeed part of California, and Lassen County was established. The Masonic Lodge and the Magnolia Saloon served as courthouses until a two-story wooden building was constructed in 1867. In 1915, residents approved a bond measure for a new courthouse built of native stone. It remains in use and is listed on the National Register of Historic Places.
The Clerk's Office DOES NOT DO RESEARCH. Most staff will assist people in finding the materials, but it is up to the individual to do the research. Some early court records from the various courts may have been sent to the California State Archives. Besides court minutes and judgements, these records include tax lists, wills, deeds, estate inventories, and marriage bonds. The California State Archives has microfilm of selected county records, 1850–1919.
The following dates indicates what vital, land, probate, and court records are in Lassen county. The date listed for each record is usually the earliest registration filed. The date does not indicate that there are alot records for that year and does not mean that all such events were actually filed with the clerk. Some counties encompass land settled in the eighteenth century; their records pre-date county formation. Land transactions and vital records recorded in the county are at the county recorder's office. The county clerk general has probate books and files from the county's superior court, civil court records, and naturalizations. Divorces may be in either place, depending on how filed.
Lassen County, California Census Records
Lassen County, California Vital Records
Lassen County, California Resources
Lassen County Historical Society, PO Box 321, Susanville, CA 96130; 530-257-2996
Lassen Historical Museum, 105 N. Weatherlow Street, P.O. Box 321, Susanville, CA 96130; Phone (530) 257-4584
Lassen County, California External Links